Stuff in Kentucky You Should Know About but Probably Don't: White Reaper's "The World's Best American Band"
Kentucky has much more to offer than just thoroughbreds, bourbon, and basketball. This state is filled with multitudes of great things that are flying just below the radar. In the upcoming weeks, I hope to expose some of the little known treasures our state has to offer in a very originally named series called Stuff In Kentucky You Should Know About but Probably Don't. Today is episode one.
Things that are great deserve to be recognized and the Louisville based band, White Reaper, is great, actually they're the best. No literally, the name of their latest album is The World's Best American Band. Certainly, a bold claim to make and while they're definitely opening themselves up to scrutiny with such a daring title, I love their fire. I also love their music.
Before I begin, I'll start by saying I got paid $0 to write this article, their new album was so good I felt obligated to share it on this platform.
After listening to The World's Best American Band in its entirety I was confounded on how to describe the band's sound. This album is retro. It grabs all the best parts of music from the 60's, 70's and 80's and combines them with bands own unique modern flair. I think it's generally unfair to describe a new band by comparing their sound to an older, more well known, band's sound but it's fun so I'm going to do it anyway.
This album sounds like Cheap Trick, Van Halen, Queen, Electric Light Orchestra, The Rolling Stones, Thin Lizzy and AC/DC all chopped up in a soup with a nice modern punk rock stock. It is seriously awesome. The track list is as follows:
The World's Best American Band
Judy French
Eagle Beach
Little Silver Cross
The Stack
Party Next Door
Cyrstal Pistol
Tell Me
Daisies
Another Day
I highly recommend checking this album out along with the rest of White Reaper's music. You can find them on all of the major music platforms (iTunes, Spotify, SoundCloud, etc). They are a prime example of the great, young musical talent Kentucky has been producing for quite some time now. Nowhere do they display this talent more than with their new album The Next Great American Band.
They also just recently released their tour dates in case you're in town for a show.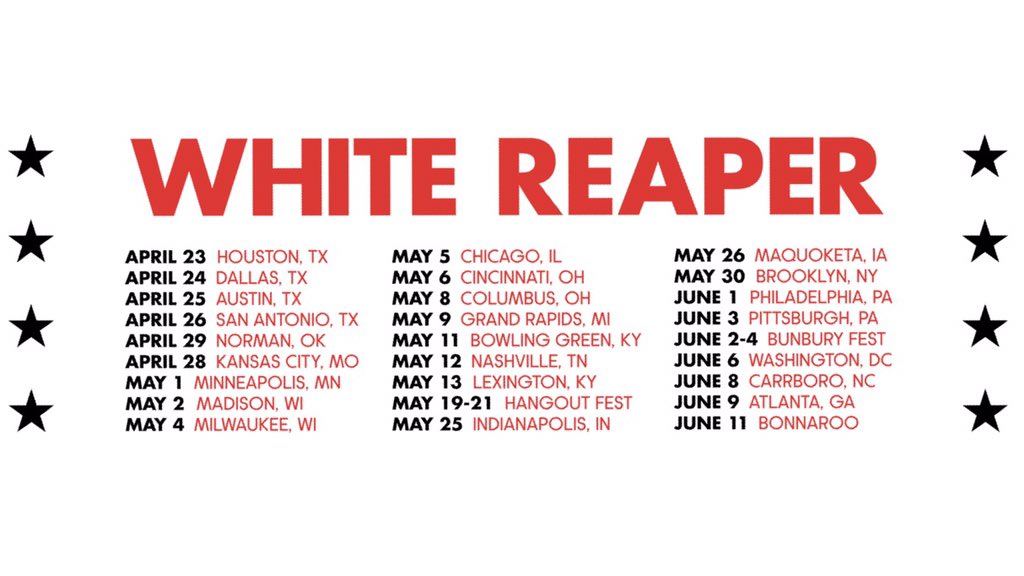 If you're interested in the Kentucky music scene, then this band is a great place to start. They're unique and raw sound is a refreshing break from the over produced radio garbage we've become so accustomed to. They just flat out rock, man. They'll make you one proud Kentuckian, without a doubt.