Clutch Baseball 2017 Preview + Exclusive Funkhouser Offer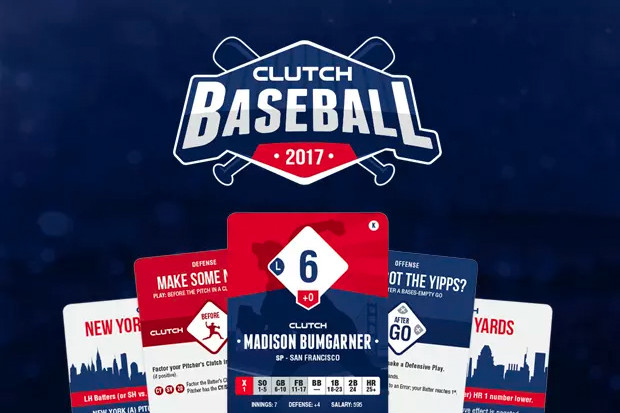 All through high school, a friend of mine and I played a series of board and card games. However, there was not one game that we played more than a title called MLB Showdown. Showdown was a collectible card game where every card was a different MLB player, with their own set of stats and charts. You would create your own team of players, a hand of strategy cards and then roll your way through nine full innings of baseball tabletop fun. We kept binders of cards, swapping players in and out based on cards we just got in a booster pack, or whatever whim we were on at the moment. As the big sports nerds as we were, we also kept complete scorebooks of each match up, as each game had some amazing series of rolls that changed the course of each game.
A week ago, a spiritual successor to MLB Showdown has hit crowdfunding site IndieGoGo, taking pre-orders for their take on of one of the best baseball tabletop simulators in history. The game is called Clutch Baseball 2017.
Clutch Baseball 2017 is a collectible card and dice fantasy baseball game that boasts 400 unique MLB player cards, 70 strategy cards and 30 stadium cards that add stadium effects to your matchup.
An entire game will play out over the course of nine innings, like a normal baseball game. Teams will consist of 25 cards, which include position players, a bench, starting and relief pitchers, as well as a closer. Each player has a point value based on how good their stats and hit charts are, and teams have a point cap of 6,000 points for your 25-man roster. For example, Clayton Kershaw is the top pitcher in the game. He has a command of 7, and when he has the advantage, batters can only get hits on rolls of 19 or higher (with a 20-sided die). He is also worth 725 points, which is a big cut on your 6000 point salary cap. So, you have a lot of important decisions to make to create a squad that is solid in all positions.
---
So how does an at-bat work in Clutch Baseball? It's actually pretty simple…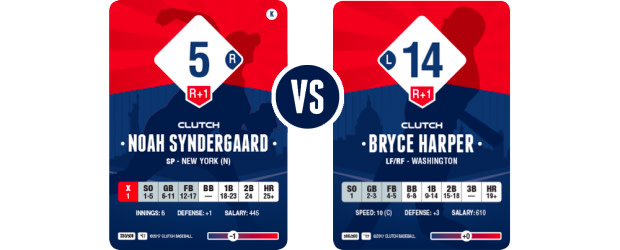 In an at-bat with the cards pictured above, the defense (Syndergaard) would roll a 20-sided die as his pitch. If his roll, which is added to his 'command' rating of five, is higher than Harper's on-base rating of 14, Snydergaard would earn the advantage in the swing. If Snydergaard's roll+command was less than Harper's on-base of 14, Harper would earn advantage of the swing.
In the swing, no matter who has advantage, the batter will roll their 20-sided die and the result would be read off of the card that has advantage. If the pitcher had advantage in the example above, the batter would have to roll an 18 or higher in the swing to get on base. If the batter had advantage, Harper would reach base on 6 or higher, and hit a home run on a roll of 19+.
These are just the basic rules, but there are more advanced rules for fatigue, base-running, fielding, etc. For complete rules, Click Here
---
IndieGoGo Campaign
In the Clutch Baseball IndieGoGo campaign, you have a couple of options on how to get your hands on a set of cards and get to playing. They have Starter Sets that you can choose whether you want players from the East, Central or West. Starter Sets come with enough players for one deck and a play-mat and dice. The Ultimate Starter Set comes with a Starter Set, 10 booster packs, a t-shirt, and limited edition cards only available in the IndieGoGo campaign that includes Career Year cards for David Ortiz and Ken Griffey Jr. Finally, you can also buy the 500 card set as a whole.
Because this is an IndieGoGo campaign, games won't be shipped out immediately, the campaign still has a month left to go. However, the game is slated to be shipped out in March, which seems to be a pretty quick turnaround for a crowdfunding campaign.
Clutch Baseball IndieGoGo Campaign
---
Exclusive Funkhouser Offer – Bonus Cards!
The guys at Clutch Baseball have given Funkhouser an exclusive offer for anyone who purchases a Clutch Baseball set at any backer level. Any KSR Funkhouser reader who makes a Clutch Baseball set purchase during their IndieGoGo campaign will receive bonus cards that wouldn't come with any other set.
So what do you have to do get these bonus cards? If you make a purchase at any level, you will see a spot at the bottom of the checkout page that says "Contribution Appearance". If you click the third option – "other", and type in your name, followed by KSR (as pictured below), the Clutch Baseball guys will know to get you your bonus cards when your order gets shipped out.
---
If there is a game that needed to hit the shelves again for me, it was MLB Showdown. It's an easy game to get anyone into even if they're familiar with baseball, and the roll of the die really puts the action in your hand. I have not played Clutch Baseball 2017, but in everything that I have read and seen, it should hopefully bring back the magic of its tabletop predecessor. I look forward to seeing the set when it comes out in March, because there is no doubt it will be hitting my table.