Tyler Ulis named to the All-NBA Summer League Second Team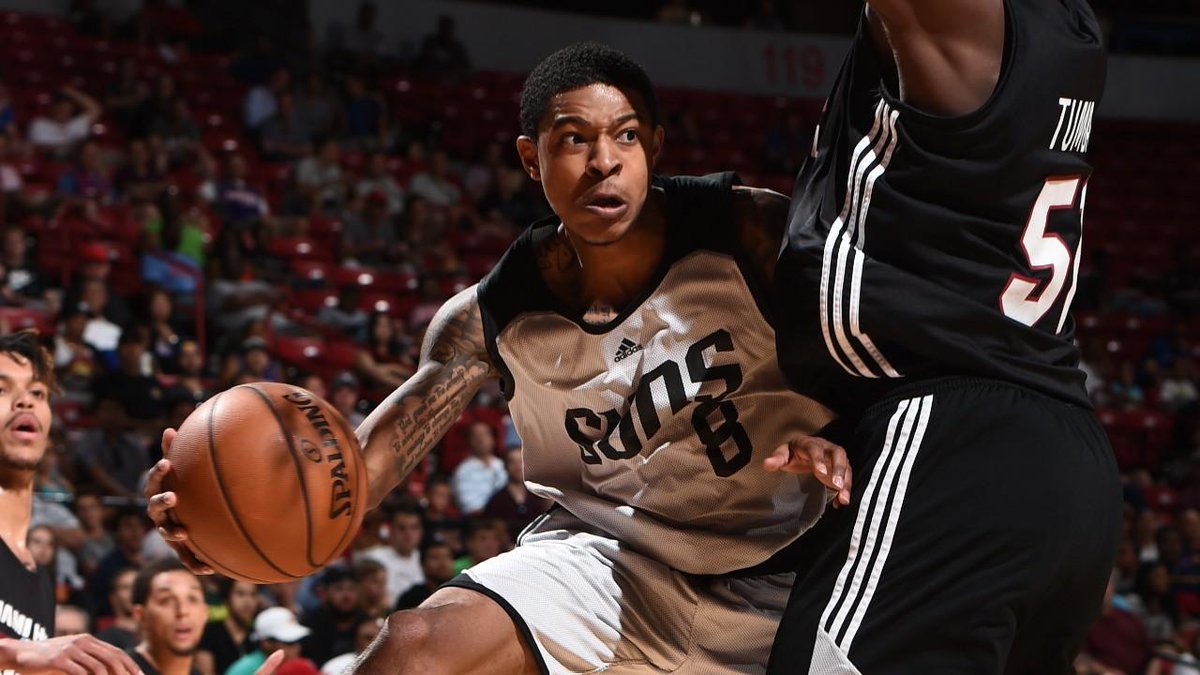 Several former Cats showed out at the NBA Summer League in Las Vegas, but only one made the league's All-Tournament teams: Tyler Ulis. Ulis received Second Team honors for his performances in Vegas, most notably Saturday's three pointer at the buzzer in overtime, which eliminated Jamal Murray and the Denver Nuggets and advanced the Phoenix Suns to yesterday's semifinals. The Suns ultimately fell to the Timberwolves, but Ulis' game winner had the internet buzzing all weekend. In fact, let's watch it one more time:
Ulis averaged 14.5 points, 6.3 assists, and 2.8 steals in Phoenix's six-game run in the Summer League. Here are the rest of the All-Tournament selections:
Samsung All-NBA Summer League First Team
Tyus Jones (Minnesota)
Jordan McRae (Cleveland)
Bobby Portis (Chicago)
Ben Simmons (Philadelphia)
Alan Williams (Phoenix)
Samsung All-NBA Summer League Second Team
Jaylen Brown (Boston)
Thon Maker (Milwaukee)
Kelly Oubre (Washington)
Norman Powell (Toronto)
Tyler Ulis (Phoenix)
Sports Illustrated's Ben Golliver also put Ulis on his All-Tournament Second Team, predicting that Ulis will soon have a "League Pass cult following":
"The Kentucky product played with poise, good pace and control, doing well to get to his favorite spots for mid-range shots and generate good shots in the basket area despite his size limitations," Golliver wrote. "Although he struggled with turnovers, his shot, and his one-on-one defensive responsibilities in a semifinals loss to the Timberwolves, Ulis's strong overall body of work proved that he could hang with the professional competition in Las Vegas. Phoenix has a lot of backcourt bodies, as always, but Ulis should make a push for some back-up minutes in what should be a rebuilding season."
Golliver also noted that fellow Sun Devin Booker was likely left off the NBA's All-Tournament team because he ended his Summer League run early, but included him on his personal All-Tournament First Team.
"Booker, 19, looked so good in scorching performances against the Blazers and Celtics that there wasn't anything else to prove. Known primarily for his shooting stroke, the 2015 lottery pick was a one-man offense in this format, scoring off the dribble and from beyond the arc while also repeatedly setting up his teammates for easy looks by drawing significant attention. Booker also impressed with his confidence and command, seeking out one-on-one matchups and carrying himself like a veteran."
Highlights for both Ulis and Booker below: