The new KFC Colonel's Wednesday Morning Wakeup
Chances are all of you have seen the new KFC commercials over the past several months featuring a new Colonel, and chances are you have an opinion about them. Three months ago, SNL alum Darrell Hammond brought the Colonel to life, and his over-the-top, folksy portrayal was immediately panned. I loved Hammond in his roles on SNL, but hearing him cackle, wheeze, and soft-shoe his way through the ads was kind of a turnoff. The Colonel was a real person, after all.
Apparently, a lot of people agreed, so KFC replaced him with fellow SNL alum Norm Macdonald, who debuted as the Colonel in this ad on Sunday, in which he claims Hammond was an imposter:
Did Hammond really get fired or is this a publicity stunt by KFC? Will Macdonald be replaced by another SNL alum in three months? If so, I vote for Will Farrell just because.
More importantly, does this mean the Colonel's voice will change on the Waze app? I really hope so, because after listening to Hammond warn me about robot chickens on the side of the road all weekend, it's time for something new. Waze voice rankings is a post for another day, but even though they deleted him, Elvis will always be my #1. Without him, I'm not sure I would have made it through the ice storm in Mississippi in February.
Now that we all want some fried chicken and peanut butter and banana sandwiches, let's go through the day's agenda…
We're on commitment watch for Sacha Killeya-Jones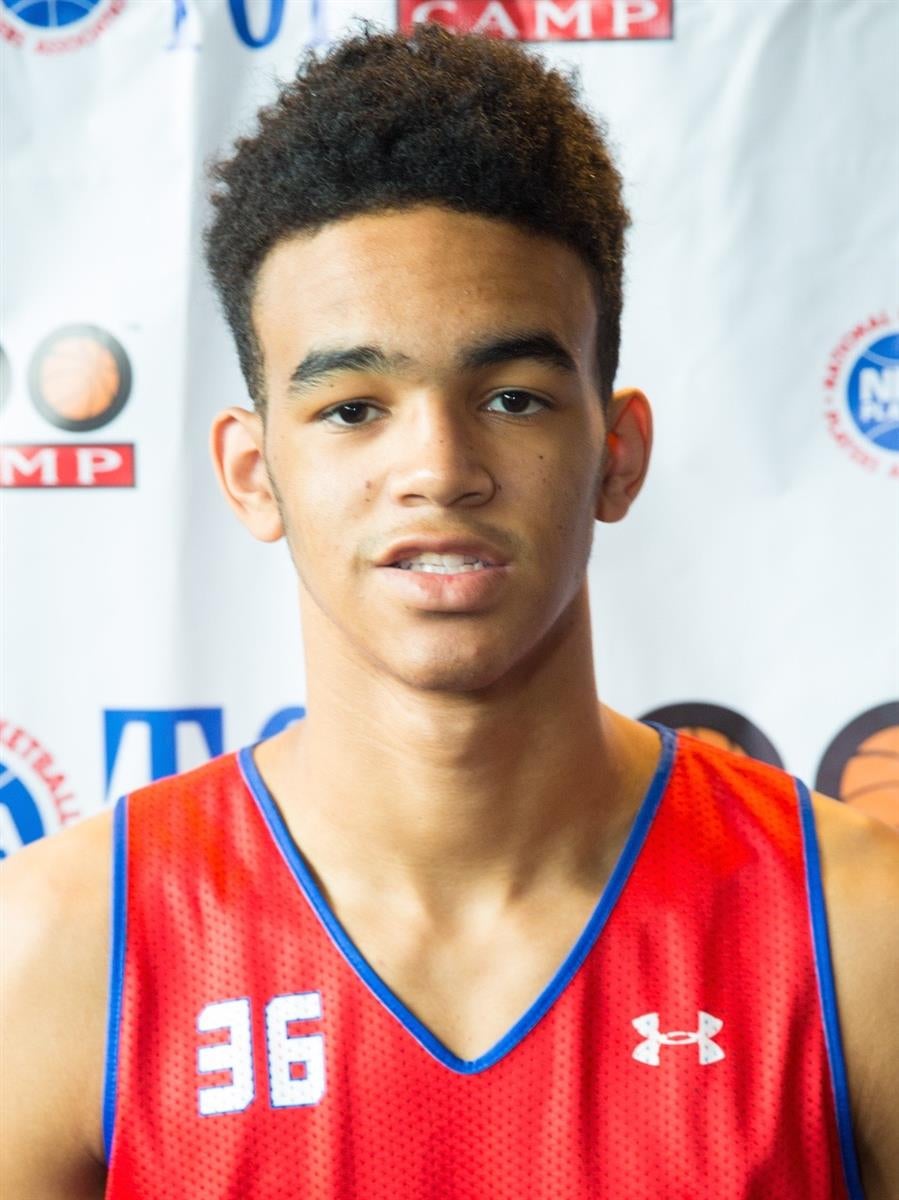 A few minutes ago, Evan Daniels said he believes the talented 2016 power forward will commit "very soon," maybe even today, and "all signs point to him picking Kentucky." Well then. Let the F5ing begin.
For more on Killeya-Jones, scroll down.
We'll hear from Stoops and the defense
Yesterday, you got an extensive practice report from Nick Roush and Freddie Maggard, and today, you'll probably hear more from Matt on the radio since he was there for a little bit. In case you missed it, some quick highlights:
Chris Westry more than passed the "eye test": At 6'4″, the freshman corner is one of the best examples on the team of "SEC size," and in the span of ten days, started running with the first team. Even though he was wearing a red no-contact jersey, Westry was the subject of many pictures and tweets yesterday and received plenty of one-on-one instruction from Mark Stoops.
Sihiem King is FAST: The freshman running back wowed reporters with his speed. King showed that he'll play early and often as well, giving Kentucky a much-needed playmaker at punt return.
Alex Montgomery looked good, along with Blake Bone: It was a good day for the wide receivers, who made several eye-popping grabs, many of them one-handed in Montgomery's case. It helped that Patrick Towles put them right where his receivers needed them, turning in an impressive performance in his second practice as starting quarterback.
The New York Times has a great profile about Kentucky and bourbon
In case you didn't get enough bourbon talk in my feature last night, The New York Times' James Conaway has a great piece on Kentucky and bourbon online for your viewing pleasure. Beaumont Inn even gets a mention.
Is there still time to install these theater seats at the new CWS?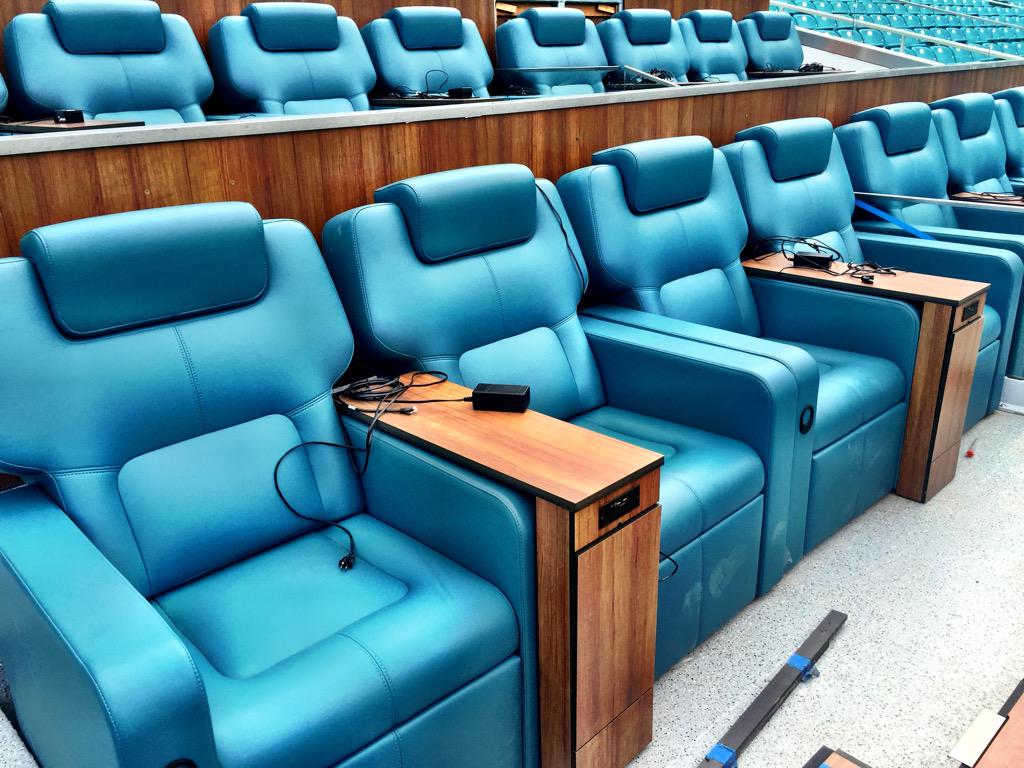 The Miami Dolphins are debuting "Living Room" boxes in their lower bowl this season, complete with theater-style reclining seats. The seats come in pods of four, with flatscreen TVs in front of the chairs so you can also watch other games: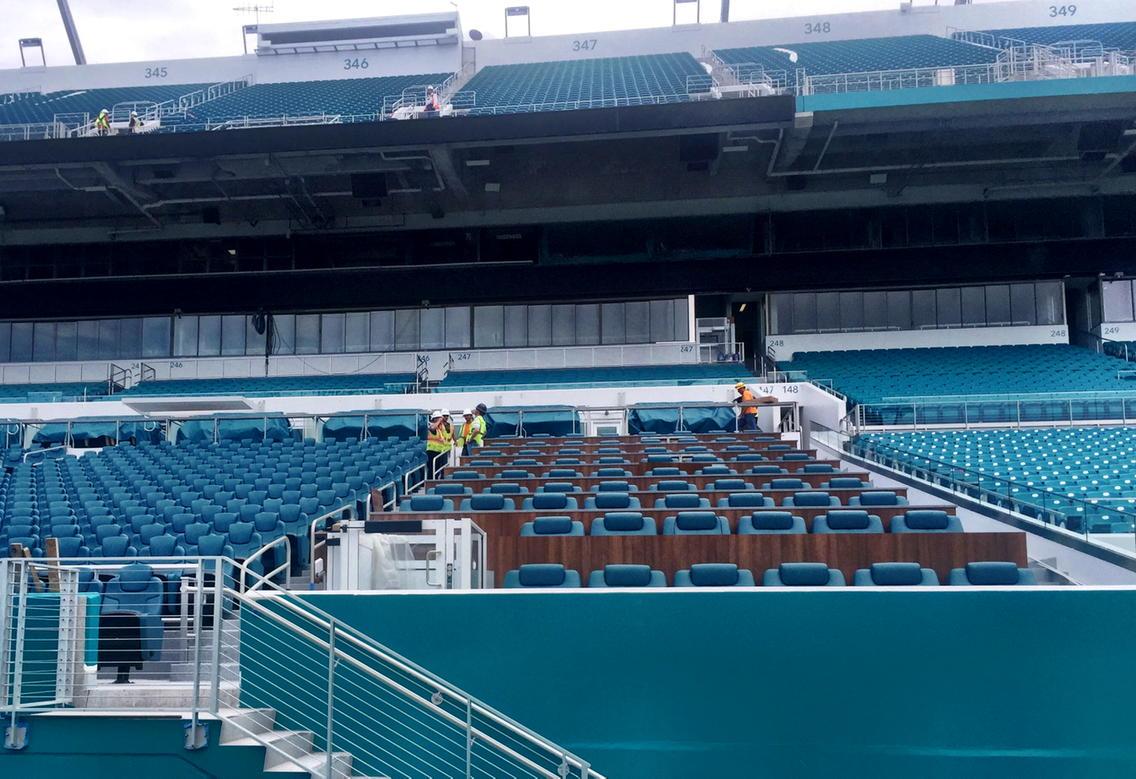 Each pod costs $75,000 for the season, and sold out quickly. Ridiculous, but I want it.
Anthony Davis did the Nae Nae on the "Late Late Show"
Richmond Bramblet has a recap and video of his appearance a few posts under this one, so scroll down.
Have you seen "The Gift"? If not, get ready to cover your ears during KSR today
Matt saw the thriller last week and gave listeners a week to see it so he can talk about it on the show. I'm behind on my movies, so hopefully he'll give us a "spoiler alert" so I can turn down in time.