Saturday Night Notes From Rupp Arena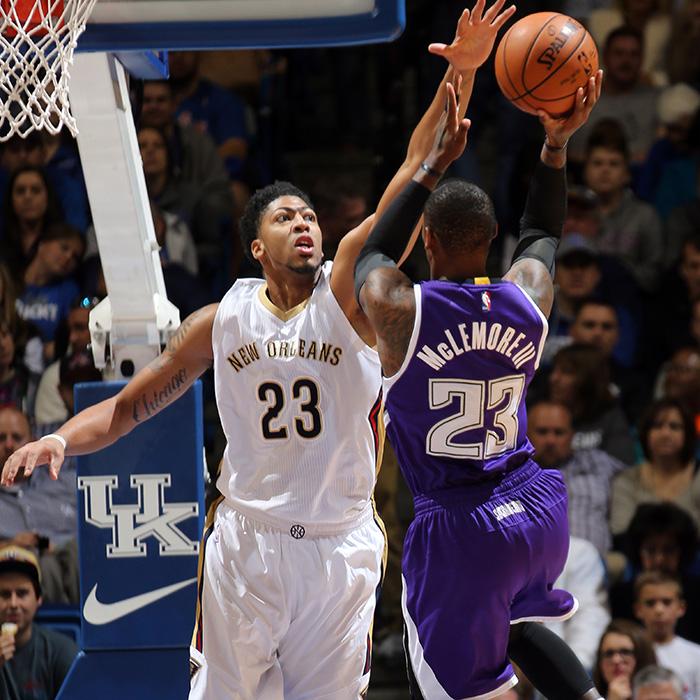 The Kings beat the Pelicans tonight in Rupp Arena's NBA preseason game. The score was 107-98 (I think?) but the real story was Big Blue Nation's reception for the former Wildcats. Some of Kentucky basketball's best fans were in attendance to watch some of Kentucky basketball's best players, making for a fun night of meaningless, exhibition basketball. I won't bore you with a review of the game (because I didn't pay much attention) but here are a few notes before I call it a night…
Rupp Arena was almost a sellout.
The attendance was announced at 19,183 and it was every bit of that. The upper level was entirely full, all the way to the corners. That has to be a record for the most people to ever watch a Kings or Pelicans preseason game. Hell, the Kings arena only holds 17,000. I can't imagine too many NBA preseason games reaching 19, probably ever.
You people are crazy.
Let's watch Boogie dunk on A.D. again.
#KingsReplay: @boogiecousins dunks on Anthony Davis 😳 https://t.co/qonOiyI2q1

— Sacramento Kings (@SacramentoKings) October 17, 2015
Boogie fouled out.
I thought we were going to get a Boogie ejection in an NBA preseason game tonight. He took a charge and the ref called it the other way, sending him to the bench with six fouls. It was terrible call and Cousins did not hesitate to let the ref know that. He was pulled to the bench by his teammates, ending his night and the show he was putting on for Big Blue Nation.
Davis will win be the NBA MVP within the next three years.
I'll put money that. I know tonight was only a preseason game, but he has gotten sooooooooo good.
We were robbed of a Marshall Henderson sighting.
The Kings released the former SEC villain the day before they boarded the plane for Lexington. I bet they were afraid of what he may do in Rupp Arena.
I couldn't hear a word anyone said in the locker room after the game.
I made my way into the Kings locker room (Kentucky's locker room) after the game and the music was blaring. Speaker is definitely blown. Charge that one to Vivek.
I talked to Boogie for a little bit off the record (that's a story I'll tell one day) and attempted to get some quotes from Willie and Rondo, but the music was too loud to accomplish anything. I think Rondo said something about eating a fish sandwich on a roller coaster. That may not be accurate.
I also made the mistake of going to the locker room too early, before the rest of the media. I won't go into detail but I'll tell you I was the only one wearing clothing. The nudity ruined a potentially great SnapChat story.
Here's that box score. I'm off to the after party…