The NBA playoffs are now underway and 8 former Cats are on a mission for the Larry O'Brien trophy. Here's everything you need to know about how the former Cats performed:
Former Cat Player of the Week: John Wall
Wall was key in the Wizard's game 1 trip to Chicago and the theft of home court advantage. John finished with 16 points, 6 rebounds, and 6 assists. That statline was accomplished on just 4-14 shooting so if Wall can get his shot to fall then an even bigger game 2 could be in the works. The Wizards and Wall are back in action tomorrow night at 7 on TNT.
Terrence Jones: 36 minutes, 12 points.
Houston was one of the many teams to give up home court over the weekend as the Trailblazers took down the Rockets in OT. Jones, and all of the Rockets, got dominated by the physical basketball force known as LaMarcus Aldridge. Aldridge set a franchise record by going in for 46 points and 18 rebounds. Jones, James Harden, and D12 will need to solve the Blazer riddle quick if they are going to make it to the second round. Game 2 is Wednesday at 9:30.
Patrick Patterson: 26 minutes, 9 points.
The Raptors took on the dinosaurs over the weekend and dropped game 1 in Toronto. Brooklyn was built almost entirely for a playoff run and the young Raptors may not have what it takes to win 4 against the more experienced team. P-Pat came off the bench to score 9  but there isn't much he can do against the guard heavy Nets. Game 2 is tomorrow at 7:30.
Michael Kidd-Gilchrist: 15 minutes, 5 points.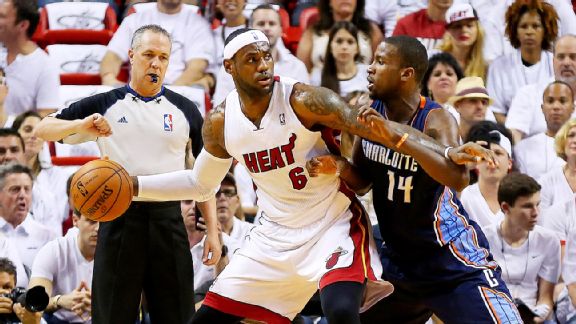 MKG has what is probably the toughest job in all of sports: find a way to stop the best player in all of basketball on his quest for a third straight championship. Lebron dominated the Bobcats and the smaller Kidd-Gilchrist as just one inch and 20 lbs of muscle make all the difference for the great one. Game 2 tips Wednesday at 7.
Chuck Hayes: 6 minutes, 0 points.
Tayshaun Prince: 4 minutes, 0 points.
Tayshaun got the start in the Grizzlies' loss to the Thunder but played just 4 minutes as he had to deal with a stomach bug. In his place Tony Allen came off the bench to score 13 points but Memphis really needed someone who could slow down KD who finished with 33 points and 8 boards. Prince is now fully recovered and Game 2 tipped off at 8 o'clock.
Nazr Mohammed:  2 minutes, 0 points.
Nazr continues to provide defensive player of the year, Joakim Noah (gag), some relief off the bench.
Marquis Teague did not make the trip to Toronto with his Brooklyn teammates.
Which of the Cats are you pulling for to advance to the second round?