My Fitbit's Thursday Morning Wakeup As I expect many of you do, I have a love/hate relationship with my Fitbit. The story of how I even got one is kind of ridiculous. In short, someone (a 5'6″ 17-year-old boy also named Tyler Thompson) registered theirs with my email address by accident, so I received their progress reports. Even though I didn't actually own the Fitbit, I felt guilty about the report telling me I'd only walked 1,500 steps that day. Get with it, fake Tyler Thompson! What a lazy ass, right? Who only walks 1,500 steps in a day?? It bothered me so much that I decided to get one of my own, and two weeks later, I don't know if it's changed my life, but it's definitely made me more aware of it.
For those that don't have one, a Fitbit is a fitness tracker that counts your steps per day, miles walked, heart rate, etc. It even tracks your sleep, which is kind of fascinating. The standard goal is to get 10,000 steps per day, which isn't quite as easy as you would imagine, especially if you work from home like this blogger right here. I knew I had a tendency to be lazy on my days in front of the computer, but I had no idea just how bad it was. One day last week, I only got 3,000 steps and had to face the fact that sometimes, I'm a lazy ass, not much better than the other Tyler Thompson and his Fitbit.
Because I'm me, I am now obsessed with hitting my step goal, even if it means walking around the house in circles. Or doing jumping jacks before bed (1 jumping jack = 2 steps). Or looking up hacks like fastening your FitBit to a fan, or maybe even your dog. Don't worry, I haven't resorted to such desperate measures yet, but you better believe I was pacing my living room at 10 p.m. the other night waiting for that sweet buzz on my wrist to release me from its shackle of guilt. Am I getting more exercise? Yes. Am I crazier for it? Definitely.
Fellow Fitbit addicts, gimme a shoutout in the comments. Maybe we can make a group or something and be Fitbitter together. Sadly, I'm already looking forward to how many steps I'll be taking walking around the tailgating lots at Commonwealth on September 5.
Plenty to do before then, so let's get to it…
No practice report today
The team will practice today, but there's no media availability, which means no updates from Stoops, Dawson, or Eliot. Don't worry, we'll still have plenty of football info coming your way from Freddie Maggard and Nick Roush.
The USA Basketball Training Camp rolls on in Vegas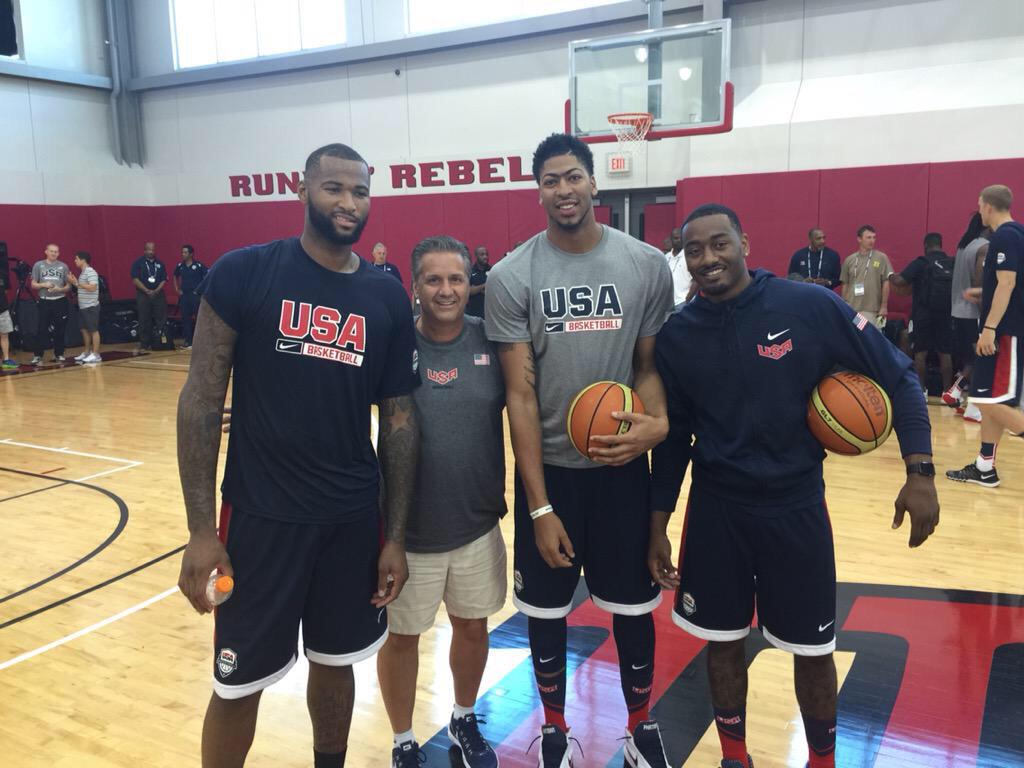 Yesterday, we were treated to this epic pic of Cal, DeMarcus Cousins, Anthony Davis and John Wall at the Team USA Training Camp in Vegas, which will surely hang in the halls of the Joe Craft Center soon. I fully expect the four to go to recreate the old picture of them at a fancy dinner with a caption about who picks up the check at some point this week as well. Maybe Turtle will join them.
Jared Lorenzen's quest to be the new Jets QB continues
When it was announced Jets starting QB Geno Smith would be out 6-10 weeks after getting sucker punched in the locker room, Jared Lorenzen lobbied for the job on Twitter and got immediate national attention. Yesterday, Jared did an AMA (chat) on Reddit and did the sports talk circuit, including this interview on The Rich Eisen Show:
SB Champ & former Kentucky Mr. Football @JaredLorenzen22 dials in to #REshow to offer his QB services to the @nyjets https://t.co/dGLS1QkMvn

– Chris Law (@ChrisLaw) August 12, 2015
Keep it up, Jared. Let's make this happen.
Patrick Towles got up to some mischief
#lexingtonpolicescanner A woman says her neighbor is practicing witchcraft and is casting shadows in the hallway.

— HLpublicsafety (@HLpublicsafety) August 13, 2015
Did you hear about any Dementor attacks on campus last night? Exactly. Good job, Patrick.
Of all the UK Basketball trivia questions, ESPN chose this one for its calendar?
I mean, that's just cruel.
KSR is at All Sports at Fayette Mall in Lexington
If you're in the area, come on out to see it on the field, see it on the court, pick it up at All Sports, pick it up at All Sports.