Kentucky's NBA Summer League Recap
As the NBA Summer League wraps up tonight in Las Vegas, let's take a look back at the individual performances by the former Wildcats around the NBA, from the future stars to the guys barely hanging on. We saw some of the Cats play their way into contracts, while others fell short in what may be their last shot at another run in the league.
We'll start with Aaron Harrison, the one who needed a big summer more than anyone…

Aaron Harrison, Charlotte Hornets
(13.4 PPG, 4.8 RPG, 3.4 APG, 29 MPG)
The undrafted Harrison played out of position in the Orlando Summer League, taking on the role of point guard for the Hornets. Harrison had never played point guard before, but he accepted the new challenge and handled it very well.
Patrick Ewing, an assistant with Charlotte, said, "If he's gonna make an NBA roster the position he'll have to play is the point. But I think he's done a fantastic job. He's running the ball club, he's taking his shots when he has it, but he's also sharing it with other guys on the team."
Harrison's stellar play at the point earned him a two-year contract immediately after summer league play concluded. He will still have to work to earn a spot, but he has the potential, and now the opportunity, to be one of the rare undrafted players to make it in the league.
Andrew Harrison, Memphis Grizzlies
(5.4 PPG, 3.0 APG, 2.0 RPB, 23.2 MPG)
While Aaron Harrison had a terrific summer, Andrew would probably like a do-over. The second-round draft pick had an up-and-done five games with Memphis, leaving a lot of room for improvement heading into training camp in September.
Like his brother, Andrew was asked to take on a new role, playing off the ball at shooting guard alongside Russ Smith. Smith was outstanding at the point, adding to the pressure for Harrison to step it up. It's possible those two are competing for the team's third PG spot, and Smith was the MVP for the Orlando Summer League champion Grizzlies.
If Andrew is to make the team, he can thank his size and defense, not anything he did in Orlando. It helps that Nick Calathes just announced he will leave the team to return to Greece.
Karl-Anthony Towns, Minnesota Timberwolves
(12.8 PPG, 7.2 RPG, 1.8 APG, 31.2 MPG)
The No. 1 overall pick didn't have to prove himself in Las Vegas to earn a spot with his new team. Towns is good. He'll be a starter right out of the gate as a rookie.
But he did participate in summer league play, as all rookies do, and he gave Timberwolves fans a lot to look forward to, proving his worth on both ends of the floor.
Though it wasn't the showing Jahlil Okafor gave Sixers fans in Vegas, Towns showed flashes of what he will one day become, while reminding us he is still a rook. He began his summer league career with an airballed three-pointer, but also made some moves in the paint that demonstrated why he went first overall and will undoubtedly be a star.
For Towns it was simply about getting some run in his new jersey and staying healthy, and that was a success.
Willie Cauley-Stein, Sacramento Kings
(11.4 PPG, 5.4 RPG, 2.8 BPM, 22.4 MPG)
There are some who believe Willie Cauley-Stein went too early at sixth overall to Sacramento, and he did all he could to silence those critics in the Las Vegas Summer League.
The consensus All-American lived up to the hype defensively, with 2.8 blocks per game on the stats sheet, though it seemed like many more. (It was many more.) He also stayed in his lane offensively, scoring when it came to him within the flow and not forcing anything. That explains his .512 field goal percentage over five games.
Stats and analysis aside, this one hustle play pretty much sums up Cauley-Stein's summer league:
That alone has Kings fans pumped to see what he can do with DeMarcus Cousins this fall.
Trey Lyles, Utah Jazz
(11.3 PPG, 5.6 RPG, 1.3 SPG, 24.2 MPG)
Lyles missed Utah's first two games in the Utah Summer League while he worked out his rookie deal, then joined the team for the final game in Utah and the five Las Vegas Summer League games.
The late start made for a slow one, but he wrapped up his summer run with a 20-point game against Julius Randle and the Lakers, one that included four made three-pointers and nine boards for a near double-double.
Mike Gallagher of RotoWorld.com called Lyles a "steal" for the Jazz and a great fit in the offense with his ability to stretch the floor and play both forward positions. (Lyles has John Calipari to thank for that.)
His versatility has his new franchise salivating.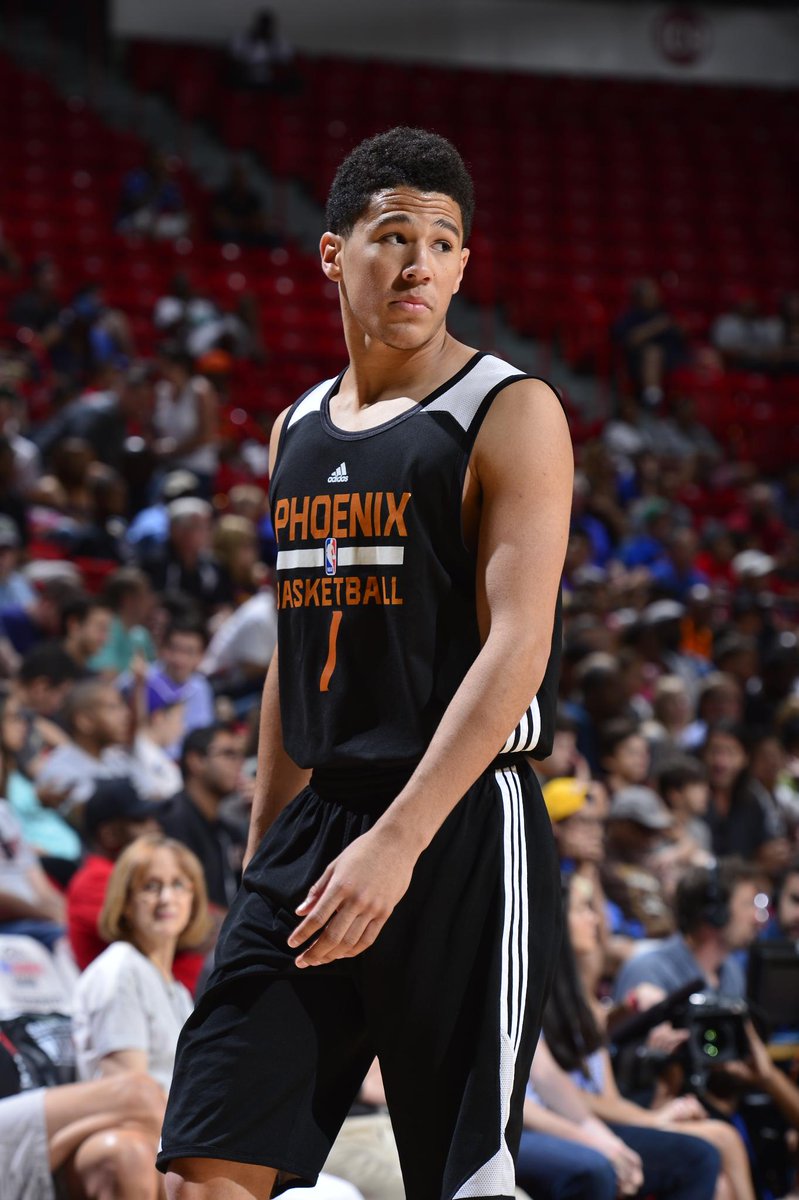 Devin Booker, Phoenix Suns
(15.3 PPG, 40.0 3P%, 4.9 RPG, 30.4 MPG)
A 31-point performance in the semifinal was the highlight of the Las Vegas Summer League for Devin Booker. That was all he needed to make some noise entering his rookie season in the NBA.
It was a slow start for the youngster, however. He missed 11 of his first 13 three-point attempts in the first three games, before finding the hot hand and shooting 11-for-27 from downtown in the next four. It reminded me of his Kentucky debut in the Bahamas when he couldn't buy a bucket, and we all know how that turned out once the real basketball rolled around.
Booker will be more than fine in Phoenix in that Kentucky-heavy backcourt.
Dakari Johnson, Oklahoma City Thunder
(7.6 PPG, 8.6 RPG, 26.7 MPG)
Johnson was the third-leading rebounder in the Orlando Summer League with almost nine rebounds per game. He had games with 11, 11 and 10 rebounds and played 10 more minutes per game than he did at Kentucky. That's a testament to his hard work and conditioning leading up to the draft and throughout the summer. He arrived in Orlando in great physical shape, by his standards.
Scott Howard-Cooper of SI.com, who ranked Johnson sixth on his July 17 Rookie Ladder, wrote, "Call it an encouraging start to what could be a long process."
Luckily, Johnson doesn't have the pressure of being thrown into action right away. He will likely be the third option inside for OKC, assuming he makes the final roster.
Julius Randle, Los Angeles Lakers
(11.5 PPG, 4.0 RPG, 1.3 RPG 20.5 MPG)
Randle was just happy to see an NBA floor again after missing all but one game in his rookie season. He made the most of his return to the floor in Las Vegas, looking like a star on the young Lakers roster. It appears the rust is gone and he's ready to be a playmaker alongside Kobe Bryant and D'Angelo Russell next season. I foresee several screen-and-rolls in his future with that L.A. backcourt.
A little bit of this, too:
It's going to be a big year for Randle.
James Young, Boston Celtics
(9.5 PPG, 3.4 RPG, 1.0 APG, 21.2 MPG)
The biggest news from James Young's summer is that he will work out with Kevin Durant in the coming weeks leading up to training camp. Durant, who shares an agent with Young, invited the former Cat out to Los Angeles to work out together.
Young said, "I can't wait. He's a great guy, a great offensive player, one of the best players in the league, one of my favorite players growing up. He's an older guy, he's been in the league and he's doing great, and why not learn from somebody who is doing great? It will definitely take my game up to another level, especially confidence-wise, too."
As for how he played in five summer leagues games in Utah and Vegas, Young was inconsistent, but showed promise. He scored 16 points with nine rebounds in his final game with the Celtics. He also showed an improved energy level, drawing praise from his teammates for his hustle. He still has a ways to go, however.
Archie Goodwin, Phoenix Suns
(15.9 PPG, 4.7 RPG, 2.1 APG, 26.9 MPG)
Goodwin still has only one speed and it's full throttle, and he can't get away from lowering his head when he drives through the lane. He has improved, though, and had a pretty solid summer in Vegas.
With four games with at least 18 points, Goodwin showed his ability to score the basketball. Problem is, he now has Devin Booker to compete with for minutes, and Booker also played very well.
Goodwin needs a good camp to see a substantial increase in minutes in his third season.
Josh Harrellson, Phoenix Suns
(8.4 PPG, 5.1 RPG, 42.3 3P%, 17.1 MPG)
Will Jorts get another shot in the NBA? If not, it won't be for a lack of effort in Las Vegas. He played about as well as he could in seven games with Phoenix, likely earning an invite to training camp, at the very least. If he keeps it up in camp, he very well may end up in a permanent Suns uniform next season.
Considering Tyson Chandler is old and Alex Len is fragile, Harrellson could be a big help to the Suns' depth inside.
DeAndre Liggins, Sacramento Kings
(7.0 PPG, 3.0 RPG, 2.4 APG, 22.4 MPG)
Liggins led the Kings in scoring with 14 points in his final game in Las Vegas with the team. Whether or not he will get another opportunity remains to be seen, but he played well in his brief stint with Sacramento.
Personally, I believe he earned an invite to training camp, but I'm not the one who makes that call. Maybe DeMarcus Cousins, Rajon Rondo and Willie Cauley-Stein can put in a good word for their fellow Wildcat.
Darius Miller, Dallas Mavericks
(4.3 PPG, 1.7 RPG, 1.0 APG, 16.3 MPG)
Miller played in three games with Dallas in Las Vegas but left the team before the weekend to get married. He went 0-for-4 for 0 points in his third and final game, but was 4-for-7 from the field in his first two for outputs of six and seven points.
Doron Lamb, Golden State Warriors
(4.2 PPG, 1.8 RPG, 36.4 3P%, 13.0 MPG)
Lamb had one good game with Golden State, the finale, when he scored 11 points on 4-of-7 shooting, 3-of-6 on three-balls. Other than that, he didn't do a lot to make his case for another year in the NBA.
Steve Kyler of Basketball Insiders believes a lack of consistency will keep Lamb from making a team.
He's still an First Team All-NBA on Twitter, though.
Marquis Teague, Oklahoma City Thunder
(DNP)
A star in the 2013 NBA Summer League, Marquis Teague did not see the floor in Orlando for Oklahoma City.

Daniel Orton, Portland Trail Blazers
(5.4 PPG, 4.4 RPG, 1.8 BPG, 19.8 MPG)
Portland gave Orton plenty of opportunities to prove himself with almost 20 minutes per game in Las Vegas, including four starts, but the journeymen big man is likely taking another journey overseas. He just didn't do enough to stand out, although he did have one nasty block against the Raptors. That probably won't be enough, unfortunately.
Keith Bogans, Portland Trail Blazers
(0.5 PPG, 2.8 RPG, 1.5 APG, 16.8 MPG)
The 35-year-old vet was the oldest player in Las Vegas, hoping to get another shot after 18 months out of the league. He told CBSSports.com, "I didn't think I was too good to come play Summer League. It was my idea. It ain't like, 'Keith, you gotta play Summer League,' you know? I wanted to play."
It had been 11 years since Bogans last played in Las Vegas. He claims to be in the best shape of his life, but knows he's still a longshot to return to the NBA.
In four summer league games, Bogans played Keith Bogans basketball: a defender and role player. Now he sits by the phone and waits.
We'll revisit once training camp rolls around.