John Wall's MVP potential is becoming a reality
He was only a hair away from bringing a National Player of the Year award to Kentucky over seven years ago. Today, John Wall has another chance at collecting that infamous hardware, this time in the form of an NBA MVP.
Wall begins his eighth season in the NBA when the season tips off on Tuesday – which seems like an eternity since his time at UK – and this one is set up to be his best yet.
Wall and the Washington Wizards are now in a weaker Eastern Conference thanks to one of the most confusing and exhilarating off-seasons in recent NBA history, and they should take full advantage of it. Other than the two juggernauts in Cleveland and Boston, the East is an open field and the Wizards are ready to run straight through it. Wall is surrounded by his partner-in-crime and Florida alum, Bradley Beal, along with Otto Porter Jr., Kelly Oubre Jr., Markieff Morris, and Marcin Gortat to make up the Wizards' core for the season. It's a core they've stabilized for some time now and saw them win more games in a season since the team was known as the Washington Bullets.
But this is Wall's team. It always has been since he was drafted number one overall in 2010. Coming off of four straight NBA All-Star game appearances, Wall is primed to take the league by storm. In an interview with ESPN, Wall said, "I want to be in the MVP conversation. My expectations are very high." MVP is no longer a pipe dream. It's the goal.
When stacking Wall up against the best talent the league has to offer, he has continually been gaining momentum as one of the game's deadliest attackers and shiftiest sprinters. Wall has a great opportunity to chase after the MVP award, and a lot of his potential success actually has to do with other MVP candidates. Wall finished seventh in MVP voting last season, tied with Milwaukee Bucks star Giannis Antetokounmpo. He finished with more votes than Anthony Davis and Kevin Durant.
Of the six players that finished ahead of him, Russell Westbrook (who won MVP), James Harden, and Isaiah Thomas are no longer "the guy" on their respective teams. Westbrook now has Paul George and Carmelo Anthony to take off the pressure, Harden has Chris Paul, and Thomas has LeBron James and Kevin Love. Those three were all considered MVP candidates because of what they had to do to keep their teams alive and the fact that they had to do so while bearing the majority of the workload. Now, Wall is in their situation, which isn't a bad thing but it also isn't necessarily a good thing.
With other top MVP vote-getters likely having to sacrifice their numbers for wins, that leaves the door wide open for players such as John Wall. Now, there will obviously be other contenders in a league riddled with superb talent, but Wall is in great position. After averaging 23.1 points, 10.7 assists (his third straight averaging a double-double), 4.2 rebounds, and 2.0 steals per game last season, he'll look to improve on a statline that saw him break a plethora of individual and team records. If he truly wants to earn that $170 million extension he signed with the Wizards back in July, buffing up those numbers and taking home MVP would be an excellent start.
The Wizards are likely to fight for at least a top-five spot in the East and Wall will take them as far as he goes. Unfortunately, he has to take them far. If he doesn't, no one else will. The Wizards have little bench depth (no disrespect to their offseason signee and former UK great, Jodie Meeks) and will rely heavily on their guard play. Center Marcin Gortat is a bruiser on pick-and-rolls and a brick wall in the post, but he's past his prime and limited outside of the paint. Forward Markieff Morris is a big body and a consistent shooter. The two forwards and 'Juniors', Otto Porter and Kelly Oubre, both have insane potential to help alleviate the necessary scoring output that Wall will have to create, but until they can take that "leap", they'll be seen as highly active role players. Bradley Beal is one of the top shooting guards in the league with lethal range and he'll share scoring duties with Wall, but Beal isn't even close to the same level as that of his point guard.
Wall has been limited in preseason action thus far, logging only 31 total minutes between the Wizards two games against the Cleveland Cavaliers and New York Knicks. However, he continues to impress even in games that don't matter. Kentucky fans know Wall for his blazing speed and dreamlike athleticism. Now imagine that same 19-year old, but with afterburners and entering the prime of his career. Take this blow-by dunk in preseason, for example.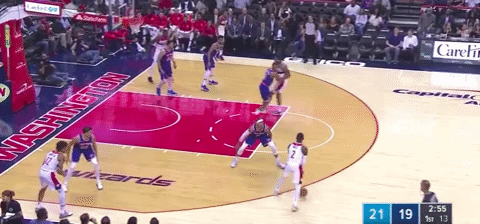 Wall is one of the top two or three fastest players in the league. Only Russell Westbrook and maybe a healthy Zach LaVine from the Chicago Bulls can even attempt to match his speed and agility. Wall led the league in steals last season and also finished third in total assists. He averaged the fourth most points in transition in the league at 6.3 per game. He finished in the top 20 for both total points and free throws made. He made 150 more free throws last season than the season before, utilizing his shiftiness and a sheer will to get to the bucket whenever he wanted to. He did all this while having a top 10 usage rate – higher than both LeBron James and Steph Curry – and totaling the fifth most minutes out of any player in the NBA. Plain and simple, John Wall is a workhorse. He's only missed 12 games over the past four seasons, or, 12 out of 328 (3.6%).
Wall found himself sitting at the number 15 spot on ESPN's annual "NBA rank", two spots higher than the year before, but I'd have him somewhere in the 10-12 range. Wall is officially an elite point guard with plenty of room to grow. He still needs to improve his three-point shooting to a point where he can rely on it (32.7 percent from three last season is not nearly good enough) and his on-ball defense could use some more discipline, but he can make up for that with his speed and uncanny ability to sprint back into plays that he fell out of.
The Wizards as a team aren't anything to get too excited about, considering what else is going on around the league, but Wall will be the best player on a playoff contender with hopes of dethroning the best the Eastern Conference has to offer. He'll surely see plenty of double teams and how he handles the added pressure will determine not only his team's destiny, but also his own.
Wall was robbed of being awarded the best player in college basketball seven years ago, but if he can lead this Wizards team to the promised land, he'll be the one collecting the well-deserved hardware.
Follow me on Twitter: @ZackGeoghegan
[mobile_ad]