John Calipari reacts to Anthony Davis trade on ESPN's Get Up!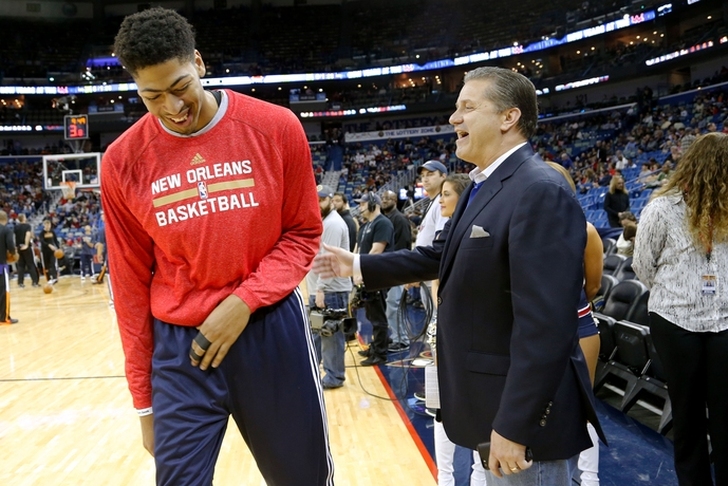 John Calipari made a special guest appearance on this morning's edition of Get Up!, ESPN's morning talk show. Calipari called in to the show to give his honest thoughts on Anthony Davis' move to Los Angeles and what it will do for Davis' career.
Cal began by calling Davis a generational player. "He's a player that can play with anybody, play for anybody. He has one thing: he wants to win," Cal said.
He then dropped a little-known stat from Davis' time at Kentucky: that Davis took the fourth-most shots on that championship team in 2011-12.
"He was our fourth-leading shot taker. Think about that," Cal said. "And that tells you I'm not very smart, but it also tells you he's willing to do whatever. In the championship game, he was 1-for-10 from the floor and won Most Outstanding Player. He's going to the Lakers. Whoever got him, I said give up whatever you have to get up to get him. The Lakers — I think it's a good deal — they kept Kuzma, but I also think David Griffin was a heck of a poker player to get what he got for New Orleans."
Cal also said he didn't have much contact with Davis throughout the process and admitted he didn't love how Davis handled his exit from New Orleans, but he understands why it had to happen for his legacy.
"I've texted him a couple times just to say 'Are you OK?' The way this broke, I didn't like it but I understand that players in the NBA when they become established like he is — he won a gold medal, won a national championship — he wants to win a championship. That's all the great ones in the NBA. When you see guys crying after winning a world championship, that's why. Their career in their mind is validated by that. And he's at that stage."
Hear all of Calipari's comments about Davis below, which ends with him asking why any young big man would pick anywhere but Kentucky.
Always recruiting.