It was a big two days for DeMarcus Cousins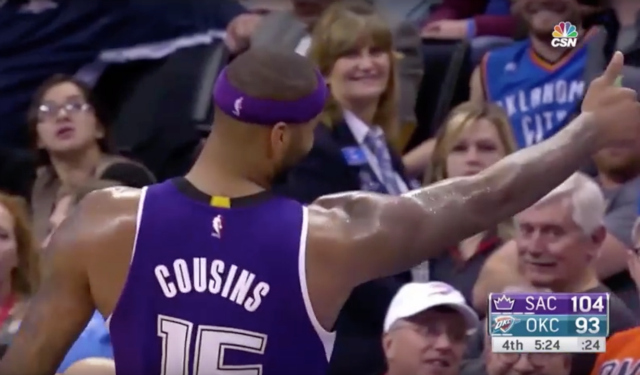 DeMarcus Cousins' week is off to a great start.
On Monday, he scored 38 points with 19 rebounds in a big win on the road in Oklahoma City. But it was his interactions with Thunder fans in that game that stole the show.
Cousins told a heckler he is "too old" to be yelling at players and offered to come back for more taunting from the home team crowd if he had more time. He would later give his headband to that fan's son.
After the game, he said a woman in the crowd told him he acts like her eight-year-old. "You have a great eight-year-old," Boogie fired back at the woman.
Then on Tuesday, Cousins recorded a faux triple-double with 35 points, 17 rebounds and 10 turnovers. His 17 rebounds moved him into first place ahead of Chris Webber on Sacramento's all-time rebounding list.
Two of Cousins' points came at the end of regulation to force overtime in Dallas, when he caught the ball with two seconds and drove to the rack for the game-tying score.
The Kings would later lose on a Deron Williams' three-pointer at the buzzer in the second overtime that turned the Kings' two-point lead into a one-point, heartbreaking loss.
Other DeMarcus Cousins notes from Monday and Tuesday:
— He has 32 30-point double-doubles since 2012, most of any player in the league.
— He became the eighth player since 1973-74 to record 7,000 points, 4,000 rebounds, 900 assists, 500 steals and 400 blocks in his first six seasons.
DeMarcus Cousins… DeMarcus Cousins… DeMarcus Cousins #NBAVote @boogiecousins pic.twitter.com/b7az4wMAoF

— Drew Franklin (@DrewFranklinKSR) January 4, 2016