Former Cats in NBA Playoff action tonight, including the Stache Brothers
Need a basketball fix? The NBA Playoffs began over the weekend, and tonight, a few of your favorite former Cats will be in action. Patrick Patterson and the Raptors will host the Indiana Pacers at 7 p.m. on NBATV, while Enes Kanter, Nazr Mohammed and the Thunder host the Dallas Mavericks at 8 p.m. on TNT.
The Houston Rockets travel to Golden State for the nightcap at 10:30 p.m. on TNT, but don't tune in expecting to see Terrence Jones. After starting for the Rockets at the beginning of the season, the real T. Jones has only played only five minutes in the last ten games. Huh? Since the All-Star break, Jones has been benched in favor of Michael Beasley. Throughout the season, he's had some lingering injuries, but there's no explanation for why he's been inactive for almost every game in the past month.
Regardless, I'm cheering for the Thunder, not only because Nazr Mohammed was my favorite player growing up, but because Enes Kanter's mustache is reaching epic levels: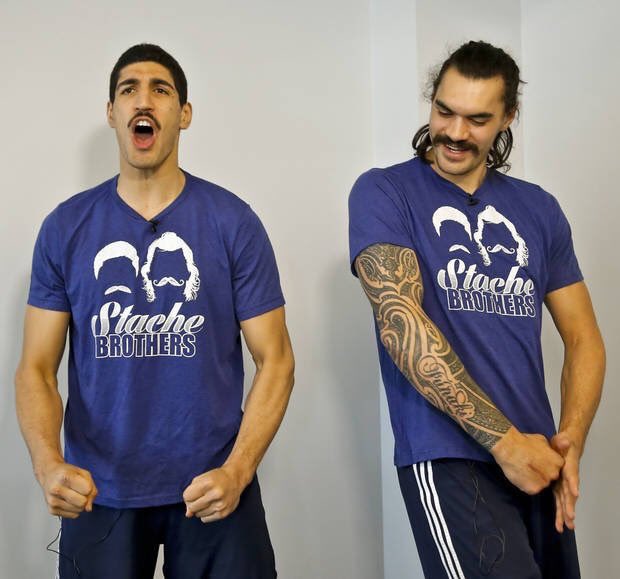 We first told you about the "Stache Brothers" this weekend, but if you need a refresher, Kanter and teammate Steven Adams started growing out their facial hair as part of "Movember" to raise awareness for testicular cancer. Kanter admitted it's taken some getting used to, but he enjoys his new look. Listen to the two talk about their 'staches in this video:
I am now a huge fan. Good luck tonight, boys.