Eight former Wildcats to participate in Las Vegas Summer League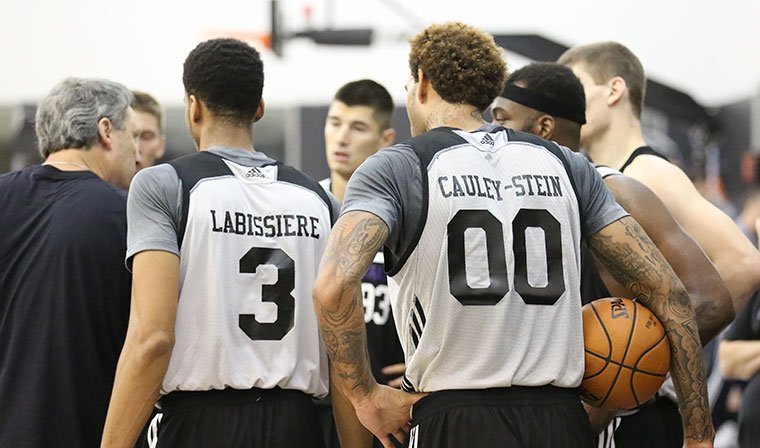 The Las Vegas Summer League begins today out in, well, Las Vegas, and there are eight former Kentucky Wildcats scheduled to participate over the course of the 11-day showcase.
The three rookies — Jamal Murray, Tyler Ulis and Skal Labissiere — will make their debuts with their new teams, as well as second-year players Devin Booker and Willie Cauley-Stein, and James Young in his third season. Andrew Harrison and DeAndre Liggins will be playing for NBA contracts.
Every game will be live-streamed on WatchESPN. NBA TV will televise 30 games for your television set.
Here's when you can find the former Cats in their first three games of the event: Devin Booker and Tyler Ulis | Phoenix Suns
Saturday, July 9, 4:00 pm vs. Portland Trail Blazers
Sunday, July 10, 10:30 pm vs. Boston Celtics
Tuesday, July 12, 6:30 pm vs. Miami Heat
Willie Cauley-Stein and Skal Labissiere | Sacramento Kings
Friday, July 8, 10:00 pm vs. Toronto Raptors
Sunday, July 10, 6:30 pm vs. Houston Rockets
Monday, July 11, 10:30 pm vs. New Orleans Pelicns
Jamal Murray | Denver Nuggets
Friday, July 8, 8:30 pm vs. Minnesota Timberwolves
Saturday, July 9, 8:00 pm vs. Memphis Grizzlies
Monday, July 11, 8:00 pm vs. Miami Heat
DeAndre Liggins | Cleveland Cavaliers
Friday, July 8, 6:00 pm vs. Milwaukee Bucks
Saturday, July 9, 4:30 pm vs. Brooklyn Nets
Monday, July 11, 8:30 pm vs. Minnesota Timberwolves
Andrew Harrison | Memphis Grizzlies
Friday, July 8, 6:30 pm vs. USA NBA D-League Select
Saturday, July 9, 8:00 pm vs. Denver Nuggets
Monday, July 11, 4:00 pm vs. Milwaukee Bucks
James Young | Boston Celtics
Saturday, July 9, 6:00 pm vs. Chicago Bulls
Sunday, July 10, 10:30 pm vs. Phoenix Suns
Tuesday, July 12, 6:00 pm vs. Dallas Mavericks