Cats in the NBA Summer League Update
Another day of the Orlando summer league is in the books and with the finale approaching this Friday it's time to check in on how the former Cats are doing. Aaron Harrison is certainly putting that chip on his shoulder to good use. Here's how the only undrafted Cat played against the Nets:
Orlando Summer League
Aaron Harrison: Charlotte Hornets
Aaron Harrison continues to find his role with the Hornets after another solid day running the point in Orlando. Mr. Big Shot played 29 minutes in a win over the Nets and scored 11 points on 4-11 shooting. He also stuffed the stat sheet with 6 rebounds, 4 assists, 3 steals, and 2 blocks. His +16 differential on the court was a game high and he's proving that even when he's not shooting well he can still make an impact.
He's averaging 12 points, 5 rebounds, 4.6 assists, and 2.3 steals in the three games thus far. If he can find his outside shot (2-13 from beyond the arc) there would be no reason he doesn't make a roster.
Andrew Harrison: Memphis Grizzlies
The inconsistencies that Andrew would often show in Lexington have appeared to follow him into the summer league, at least for today's game. As Drew wrote earlier, Andrew finished with 5 points and four turnovers in a win over the Magic's Blue team but it was Russ Smith who stole the show. Andrew hasn't looked bad so far but he's clearly not as comfortable playing outside the point guard position. Andrew is averaging 7.3 points, 3.3 rebound, and 2.3 assists.
Dakari Johnson & Marquis Teague: Oklahoma City Thunder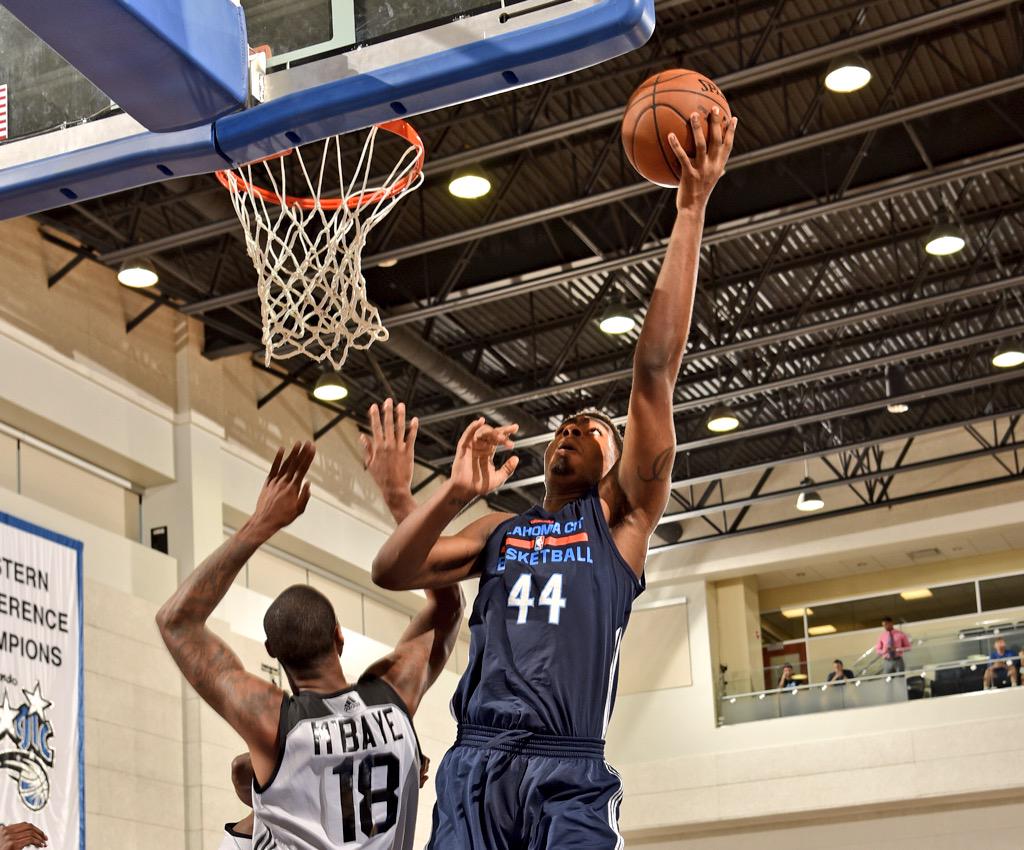 Another strong showing for Dakari Johnson today as OKC's starting center notched a double-double with 10 points and 10 boards. Dakari is averaging 7 points and 9 rebounds. That's about what you'd expect when drafting the 7-footer so Oklahoma City should be pleased with their second round pick.
So far it's not looking like the summer Marquis Teague was hoping for when he signed with the Thunder. Once again Teague recorded a DNP-Coaches Decision as OKC was blown out by the Clippers. Maybe the Thunder are saving him as a secret weapon for the playoffs. Maybe Teague will be on a new team next week.
Utah Summer League
James Young: Boston Celtics
After saying he was prepared for his second year in the NBA, James Young' summer league hasn't gotten off to an ideal start. Tonight against the Sixers he started off 0-6 from beyond the arc. However there was a glimmer of hope for the 19 year old  where he scored 6 straight to end the third quarter. He finished with 9 points on 2-11 shooting. Last night against the Jazz he scored 12 points on 4-11 shooting. Hopefully, he can shake off the rust before the end of the week.
Trey Lyles: Utah Jazz
After signing his rookie deal earlier today Trey is set to meet with the media following tonight's game against the Spurs. Rumor has it that Lyles will make his debut during Utah's finale on Thursday. If it isn't then look for him during Saturday's Vegas opener.