BBN Struggles in the Taco Bell Skills Challenge
When the participants for the 2017 Taco Bell Skills Challenge were announced, the odds were in heavy favor of the Big Blue Nation. Four out of the eight participants were former Wildcats, with John Wall and Devin Booker being two of the three favorites to win. The rules were quite simple, with players having to weave around obstacles, complete a pass through a hoop, run down the court for a layup, and come back to make a 3-pointer.
Unfortunately for the BBN, none of the NBA Cats made it through to the second round. Despite the analysts picking players from Kentucky to advance, things just didn't go according to plan.
The first match-up saw John Wall taking on Gordon Hayward. Even though both players are considered to be top guards in the NBA, neither completed a pass in three attempts. Following the unsuccessful passes, Wall took the lead by completing his layup first, but would miss his first 3-point attempt. This allowed Hayward to drain his only shot. Game over, John Wall.
Next up, we had Devin Booker facing the overall favorite, Isaiah Thomas. Booker missed all three of his passing attempts as well, and Thomas never looked back. Thomas nailed his first pass, completed his layup, and sank his 2nd 3-point attempt before Booker even took a shot. Come on, man!
The third match-up consisted of DeMarcus Cousins and Kristaps Porzingis. Cousins would surprisingly complete his first pass, finish his layup, then proceed to have a shootout with Porzingis. Boogie actually had a 3-pointer going in first, but it was knocked out by an opposing shot. Cousins didn't go out without a fight, as John Wall was seen falling out of his seat laughing.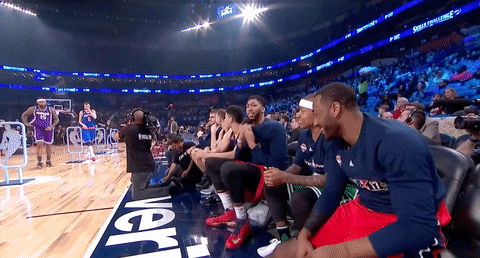 That is .GIF gold.
The final showdown of the opening round was Anthony Davis taking on Nikola Jokic. Jokic was there replacing the injured Joel Embiid. Davis probably had the best showing of all four Wildcats, but his hustle was a little bit absent (it's just All-Star weekend). Davis would get to the 3-point line first, however his first shot was a miss, which allowed Jokic to seal the deal on his initial attempt.
New York's Porzingis would go on to win the skills challenge, defeating Gordon Hayward in the finals.  Around the league, it's really not cool if you try hard on All-Star Weekend. This weekend's events are about having fun, which all of the former Wildcats seemed to have. It's fun just to watch them enjoy their time in the spotlight.
One interesting note, the winner of last night's dunk contest copied the dunk John Wall used to win the 2014 contest.