Anthony Davis finishes 2nd for NBA's Defensive Player of the Year, Bam Adebayo 5th
If Giannis Antetokounmpo didn't exist, this would be a much more pleasant article to type up.
On Tuesday afternoon, the final results regarding the NBA's 2019-20 Defensive Player of the Year award were announced and two former Kentucky Wildcats made the top five. Los Angeles Lakers big man Anthony Davis came in second with 14 first-place votes while Miami Heat center Bam Adebayo came in fifth. Here's a rundown of how the votes were distributed.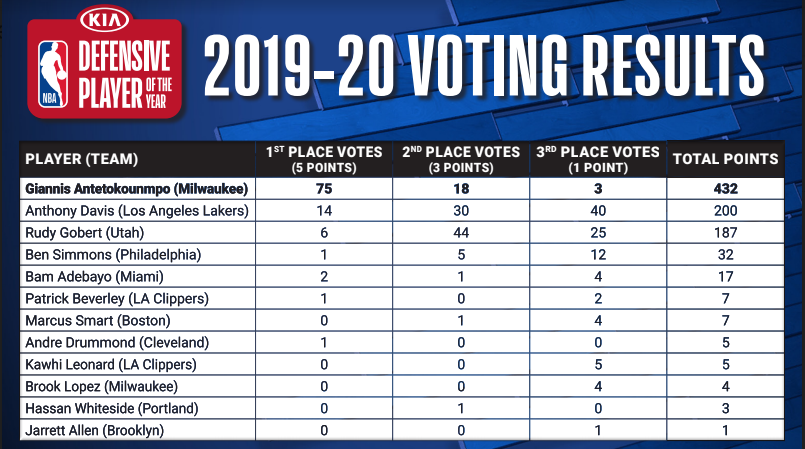 Antetokunmpo was the clear-cut winner, claiming 75 of the first-place points and 431 total points overall. Davis' 200 points were good enough for second with Utah Jazz center Rudy Gobert at third with 187 points. Gobert won the award the previous two seasons. Moving down the list, Philadelphia 76ers point guard Ben Simmons finished fourth with 32 points followed by Adebayo with 17 points.
Davis and Adebayo both put up All-Star seasons this year, with Davis making his seventh appearance and Adebayo claiming his first in just his third NBA season. I won't make an argument for Davis over Antetokounmpo–because the Greek Freak rightfully deserves the title–but I would be remiss if I didn't at least talk about how much of a force the Lakers star has been on that end of the floor.
There were only two players in the league this past season who averaged at least 1.5 steals and 2.0 blocks per game: Orlando Magic forward Jonathan Isaac and Davis. If you bump up the required amount of regular-season games played to 35, Davis is the only player on the list. When defending the rim, Davis is one of the most intimidating forces patrolling the paint, if not the best. His pure presence under the basket can only be rivaled by Gobert. Add in his incredible length into the equation and Davis can extend his defense to the perimeter, essentially closing any hole a smaller and quicker guard might be able to squeeze through.
As for Adebayo, it shouldn't be long before he ends up as the lead vote-getter for this award. To be honest, I'd give it until 2024 at the latest. Adebayo is an athletic and defensive monster who can size-up point guards just as well as he can push back on opposing bigs. Outside of Antetokounmpo, there probably isn't a more versatile defender in the WORLD than Adebayo. Not even Davis can move his feet with the dexterity of Adebayo.
So while this year wasn't the one that finally gave Kentucky an NBA DPOY winner, just give it time; it'll happen. The future is still incredibly bright for Davis, and especially Adebayo.