After a monster day, Anthony Davis takes time to thank Coach Cal
Yesterday was a big day for Anthony Davis. His Sports Illustrated cover was released and he stole the headlines during Kevin Durant's big return, putting up 25 points, 10 rebounds, 6 steals, and 4 blocks in the Pelicans' win over the Thunder; however, during a SportsCenter interview after the game, Anthony made time to thank John Calipari for helping him reach superstardom.
Calipari recently told the SportsCenter folks that Davis texted him the other day to say that he held him back in college. When asked about that, Davis said it was part of a big group joke with DeMarcus Cousins.
"Me and Cal joke around about that all the time. When we get around DeMarcus, DeMarcus always says that Cal held him back, and he wanted him to drive to the basket and shoot layups and Cousins does a lot more. He's scoring the ball, shooting it, and handling the ball. Cal never allowed him to do that, so I try to do the same thing, and I say the same thing, 'he held me back,' and everything like that, but it's just a joke. Without Cal, I wouldn't be where I am today."
How well is Davis playing? Check out these graphs from HoopsHype.com:
Best seasons in terms of PER this century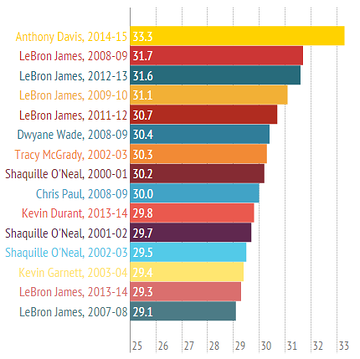 PER of Anthony Davis, Kevin Durant and LeBron James their first three years in the NBA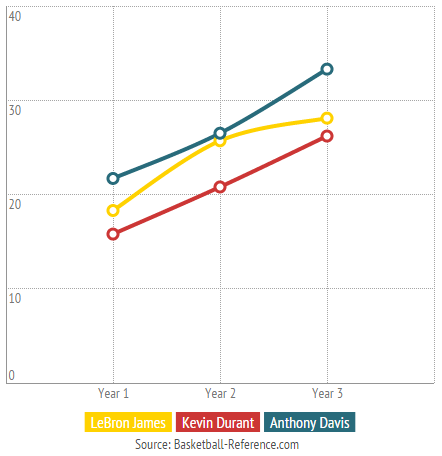 Definitely one of the best ambassadors this program's ever had.