Your 4th of July Sports Guide
Are you stuck inside this Fourth of July weekend? I see rain in the forecast, that's no good. Or maybe you're just not the outdoors type. It could be the case you want plans but can't come up with anything. Or you're grounded. Your boat sank. Allergic to grilled burgers and potato salad. You hate fireworks. You hate America.
Whatever the reason you're stranded on TV island this weekend, worry no longer, my fellow sports fans. There's plenty of action to enjoy in the comfort of your own home while everyone else is out celebrating on the lake or in the backyard. So here's a guide for the couch potatoes, a little schedule to get you ready to enjoy the best of 4th of July sports.
Disclaimer: I did not include any baseball because baseball is the worst.
FRIDAY
10:00 am: KSR Tour Stop in Hopkinsville
Matt and I will be at the Holiday Inn in Hopkinsville for the eighth stop on our summer tour around the state. Stop by before locking yourself indoors to kick off your July 4th weekend with KSR and for a chance to win tickets from GuyOnTheCornerTickets.com.
11:15 am: USA vs. Italy, FIBA U19 World Championship
The U.S. U19 team will take on Italy in the quarterfinals of the FIBA U19 World Championship. Tune in to ESPNU to watch some of the stars of tomorrow and Louisville's Chinanu Onuaku's granny-style free throws.
6:30 pm: USMNT vs. Guatemala in Nashville
I know a large portion of our readership despises all things soccer, but for the rest of us, the U.S. men's team has a friendly with Guatemala in Nashville Friday night. It will be the final tune-up before next week's CONCACAF Gold Cup.
The exhibition will be televised on Fox Sports 1.
SATURDAY
Noon: Nathan's Hot Dog Eating Contest
ESPN will air the 2015 Nathan's Hot Dog Eating Contest, a 4th of July tradition, with coverage beginning at noon and the competition scheduled for around 12:40 pm. There is talk of a KSR live blog, also a 4th of July tradition, but that ball is in Mrs. Tyler's court. I don't know if she's decided to do it again this year or not.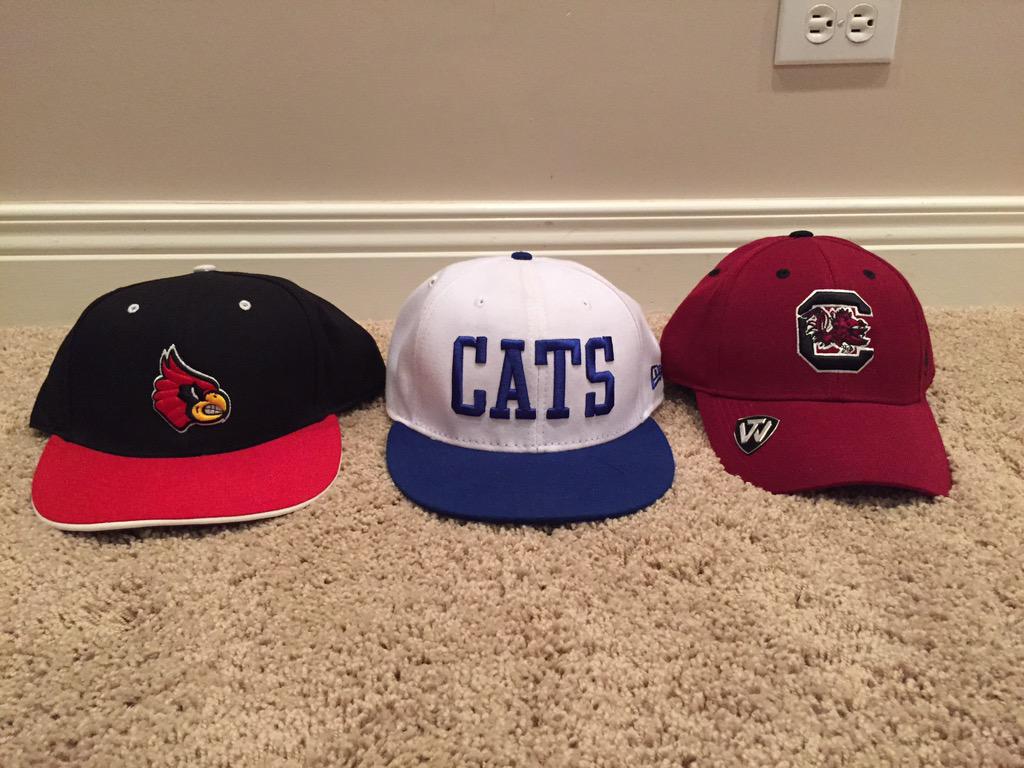 1:00 pm: Kash Daniel's announcement
The biggest news of the weekend will undoubtedly come out of Paintsville, when four-star linebacker Kash Daniel announces his college decision. Daniel is down to Kentucky, Louisville and South Carolina, and he plans to go public with his decision on the Fourth at 1:00 pm.
When asked why July 4th to make the announcement, Daniel told Tom Leach, "What better day to do it than on the day we declared our independence?"
We'll have plenty of coverage (and hopefully a live stream) all afternoon long here on KSR.
3:00 pm: NBA Summer League | Charlotte vs. Oklahoma City
Aaron Harrison will make his NBA Summer League debut with the Charlotte Hornets on Friday. Standing in his way will be former teammate Dakari Johnson and Marquis Teague with the Oklahoma City Thunder.
All NBA Summer League games will stream online through NBA Summer League Live. There is a one-time fee of $14.99, but well worth it to watch the plethora of Wildcats participating this year.
5:00 pm: NBA Summer League | Memphis vs. Brooklyn
Following Aaron Harrison's first game, brother Andrew Harrison will make his NBA debut with the Memphis Grizzlies. He will be competing with Russ Smith for one of the last spots on the Grizzlies actual roster, so this summer is huge for the second-round draft pick's NBA future.
All Day: UK Takeover on the SEC Network
The SEC Network will have 24 hours of UK programming on America's birthday this year. Here's a look at some of the marquee replays scheduled throughout the day:
3:00 pm… College Basketball: Kentucky vs. Kansas, 2014
5:00 pm… College Football: Louisville at Kentucky, 2007
7:00 pm… College Football: South Carolina at Kentucky, 2014
9:00 pm… College Basketball: Kentucky @ Louisville, 2014
It looks like the Cats will be 2-0 against Louisville this Saturday.
SUNDAY
3:00 pm: NBA Summer League | Memphis vs. Charlotte
Sunday afternoon's NBA Summer League game pits the Harrison twins against each other for the first time… ever maybe? Andrew's Grizzlies will meet Aaron's Hornets in the twins' second summer league game. This will be must-see TV for Big Blue Nation.
7:00 pm: FIFA Women's World Cup Final
Whether you're pro-soccer or totally against it, you owe it to America to watch the World Cup final. The U.S. hopes to win its first World Cup since 1999 after two third place finishes and one runner-up trophy in the last three tournaments.
God bless America. Get some sunshine if you can. I'll be in Nashville and then Lake Barkley if anyone needs me.