Why the Mac Jones saga showcases everything that is wrong with college football recruiting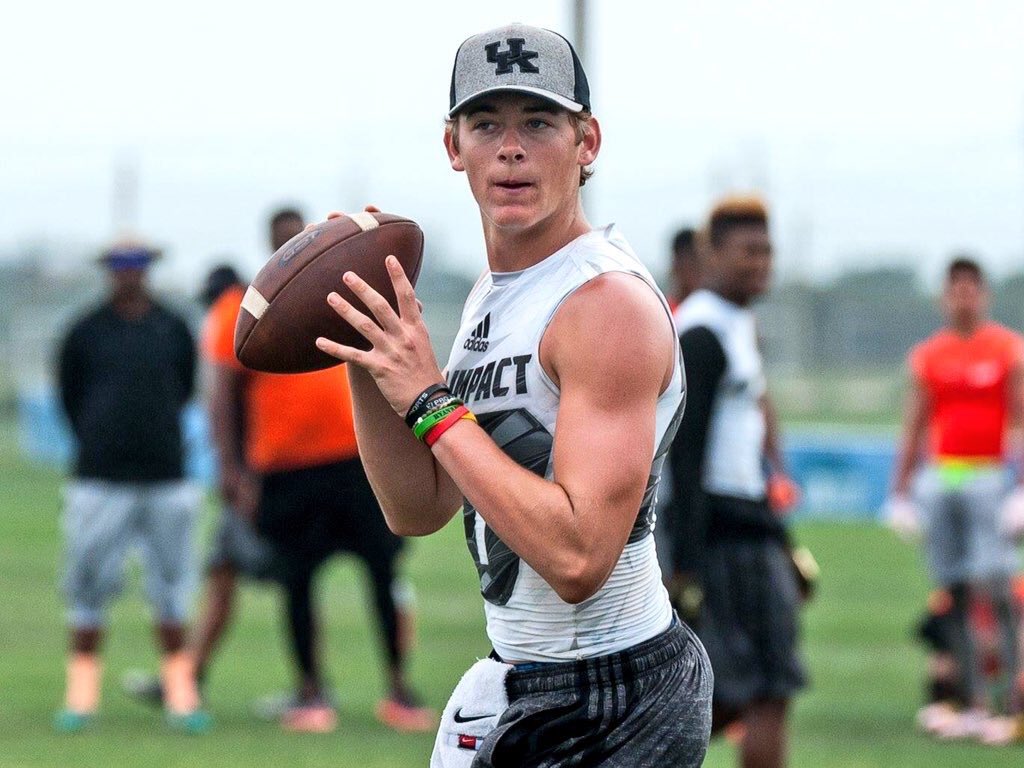 Last night, Mac Jones flipped his commitment from Kentucky to Alabama, an understandable decision for a 17-year-old quarterback, albeit one that stings quite a bit for the UK Football program. Over the past few months, Jones positioned himself as the centerpiece of UK's 2017 class, going as far as to don a hard hat and pose in front of the program's new practice facility. "Mac the Builder" being #AllIn with UK Football then flipping hurts, but more interesting to me is what Jones' decision — and what happened afterwards — says about college football recruiting. Specifically, that it sucks.
Here's why.
Verbal commitments mean nothing
Mac Jones committed to Kentucky back on July 27, 2015. At the time, he was a three-star prospect with offers from Mercer and East Carolina. First off, kudos to the Kentucky staff for having a nose for talent; Jones is yet another example of Mark Stoops' staff getting on a kid early and snagging a commitment. Unfortunately for Kentucky, his stock soared. In the span of about ten months, Jones picked up a fourth star and 19 more offers, including four from other SEC schools, none bigger than defending national champion Alabama.
Last July, I don't doubt that Mac Jones wanted to come to Kentucky. It was his first major offer and from an SEC school to boot; however, my problem here is that kids are allowed to commit to schools so early, before their junior seasons and many of the major recruiting events. With decommitments on the rise, expecting high schoolers to take their time with the recruiting process before committing is obviously asking too much, so the NCAA should prohibit verbal commitments until after National Signing Day for the previous class. So, in this case, 2017 recruits would only be able to verbally commit to a school after February 3, which was Signing Day for the 2016 class.
OR, if players really, really want to commit to a school before then, institute an early signing period in the fall. Otherwise, stop calling it a verbal commitment and call it, "Well, this sounds good for now, but let's see if something better comes along."
---
Grown men trolling each other on Twitter
An hour after Jones' announcement, UK co-offensive coordinator/quarterbacks coach Darin Hinshaw tweeted a quote from renowned religious leader James E. Faust:
#WeAreUK #BBN pic.twitter.com/VUheiz4L1H

— Darin Hinshaw (@CoachHinshaw) June 8, 2016
Now, unless Hinshaw is having some moral crisis none of us know about (if that's the case, why share on Twitter?), that tweet clearly has to be about Jones' decision, right? I'll touch more on the merits of a grown man casting judgment on a kid's decision in a public forum here in a minute, but first, we have to talk about Lane Kiffin's response. Kiffin, a notorious troll, saw Hinshaw's tweet and retweeted it, which some Alabama sportswriters claim is NOT an act of trolling, but most certainly is. I mean, come on, earlier in the day, Kiffin tweeted this bitmoji of himself wiping his hands and saying "Done and Done," which has to be a reference to the Mac Jones flip because Jones retweeted it later that night:
— Lane Kiffin (@Lane_Kiffin) June 7, 2016
(The fact that Kiffin uses bitmojis is mockable in itself, but Kiffin's response to me would probably be a bitmoji of himself in sunglasses saying "Who got the last laugh?", so whatever.)
Still, grown men using bitmojis and getting into Twitter wars over teenagers is what college football recruiting has come to, and that sucks.
---
Grown men "subtweeting" kids
I'll preface this by saying I'm sure Darin Hinshaw is a great guy, and I've been impressed with him in interviews so far; however, commenting (even indirectly) on a 17-year-old's decision on a public forum like Twitter is kind of a bad look. Sure, it may have been a "subtweet" (defined by Google as a post that refers to a particular user without directly mentioning them, typically as a form of furtive mockery or criticism), but it was clearly a reference to Jones in my opinion.
(As a side, the fact that the word "subtweet" even exists is embarrassing.)
I get that Hinshaw and the rest of the coaching staff were hurt by Jones' decision, especially since he seemed so #AllIn with the program (as of Monday, he was scheduled to be a guest on the radio show later this week to promote it), but he's a kid, so let's just step back and let cooler heads prevail. Coach-on-coach Twitter attacks are fine, as are player-on-player (see Matt Elam's subtweet), but when it comes to coach-on-player, that's where you get in trouble. Case in point: the drama at Texas A&M last month when wide receivers coach Aaron Moorehead subtweeted five-star QB Tate Martelli after his decommitment, which led to a string of decommitments and recruits eliminating the Aggies from their lists.
A much more mature response would have been one like Mark Stoops' after losing Damien Harris to Alabama in 2015:
Reassess– Reaffirm– Reattack

— Mark Stoops (@UKCoachStoops) January 9, 2015
So, one more time for those keeping score at home:
FOOTBALL RECRUITING TWITTER WARS
Player-to-Player: ✅
Coach-to-Coach: 🙄 but ✅
Coach-to-Player: 🚫
Fan-to-Player: 🚫 🚫 🚫
---
Until Kentucky starts winning, the big dogs will keep eating
This isn't something that sucks about college football recruiting, this is just the reality for Kentucky football right now. Losing Mac Jones sucks, but until the Cats start going to bowl games, big time recruits will more often than not defer to bigger, better offers. Stoops and company can lean on the home state hero pitch to keep kids like Matt Elam, Landon Young, and Davonte Robinson on board, but expecting out-of-state players to remain loyal to a program that hasn't proven itself over a perennial power is asking a whole, whole lot.
Kentucky Football 2016: Just Win