WHOOPS: Florida State's Twitter account messes up again
It's a slow day in the UK Sports world, so let's make fun of Florida State. Today, the geniuses behind the Florida State Football Twitter account messed up yet again, tweeting this graphic as a countdown to the season opener:
This many days until Noles football! #OneTribe pic.twitter.com/hyCFp9ksnx

— FSU Football (@FSUFootball) July 29, 2019
There are not 154 days until football season. There are 33, a number which is impossible to get to from 1, 5, and 4. Are we supposed to be adding up the number of fingers on the player's hands too? I don't get it.
It'd be one thing if this was the first time Florida State's social media team made a gaffe. As we at KSR prove on a daily basis, everyone makes mistakes. But this is the same account that posted a photoshop of Martin Luther King, Jr. doing the Tomahawk chop in a FSU football glove on MLK Day back in January:
Tweet was already deleted by @FSU_Recruiting. Here was the image they posted. pic.twitter.com/2FrTvALpaK

— Casey Fenton (@cfenton23) January 21, 2019
…and photoshopped players' faces over Ned Stark's face on the Iron Throne when the final season of Game of Thrones premiered in April: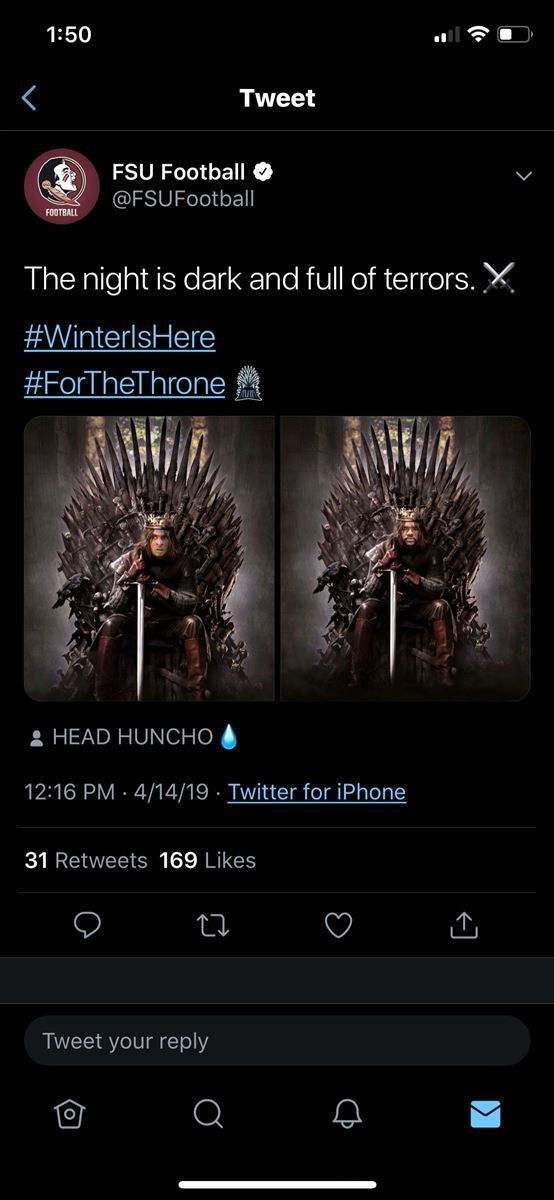 Spoiler alert: Ned gets his head cut off at the end of the first season.
How long before the tweet gets taken down?
[mobile_ad]