White Chocolate's Friday Morning Wakeup
Good morning, everyone. How are you? Good. Good to know.
Remember Jason Williams? Of course you do. He's that guy we loved to hate at Florida, then loved once he got to the NBA. Well, I spent a solid hour watching YouTube clips of his highlights last night and I had forgotten just how incredible he was with the basketball. The man did some things the NBA had never seen, including that unforgettable elbow pass in the All-Star game. Every kid with a basketball tried that move over and over to no avail, myself included.
Take a second to watch that one, and more, in one of the many YouTube videos that stole my attention last night:
Williams resurfaced recently in a rec league game and he's still balling at 38:
Man, he was so fun to watch.
Now let's talk relevant things…
Basketball recruiting continues.
Calipari and his staff have another long day of recruiting ahead of them around the south. The big news from yesterday was a new scholarship offer for Markelle Fultz, the No. 5 shooting guard in the class. Earlier this year, Fultz said Kentucky was his "dream school" as a child.
Then there's Rawle Alkins, the fourth-ranked shooting guard, who told USA Today, "Kentucky's coming hard!" Calipari watched him score 24 points with 10 rebounds, six assists and zero turnovers at the adidas Uprising event yesterday. The Cats lead his Crystal Ball predictions at 50 percent.
Also, Miles Bridges plans to attend Big Blue Madness this year.
We'll have plenty more on those guys and several other UK targets later this morning once the action picks back up.
Josh Harrellson and Devin Booker played Top Golf in Las Vegas.
Chillin with the young fella @DevinBook #BBNbrothers #UK cool kid right here and a great teammate pic.twitter.com/1mQjMQGOGw

— Josh Harrellson (@BigJorts55) July 10, 2015
The Vegas Summer League gets started today, with several former Wildcats participating. Here's a look at today's schedule:
6:00: Milwaukee vs. New Orleans
6:30: Sacramento (Cauley-Stein/Liggins) vs. Toronto
8:00: Atlanta vs. Denver
8:30: Minnesota (Towns) vs. L.A. Lakers (Randle)
10:00: D-League Select vs. Houston
10:30: Golden State (Lamb) vs. Cleveland
Willie is in Sin City for the first time…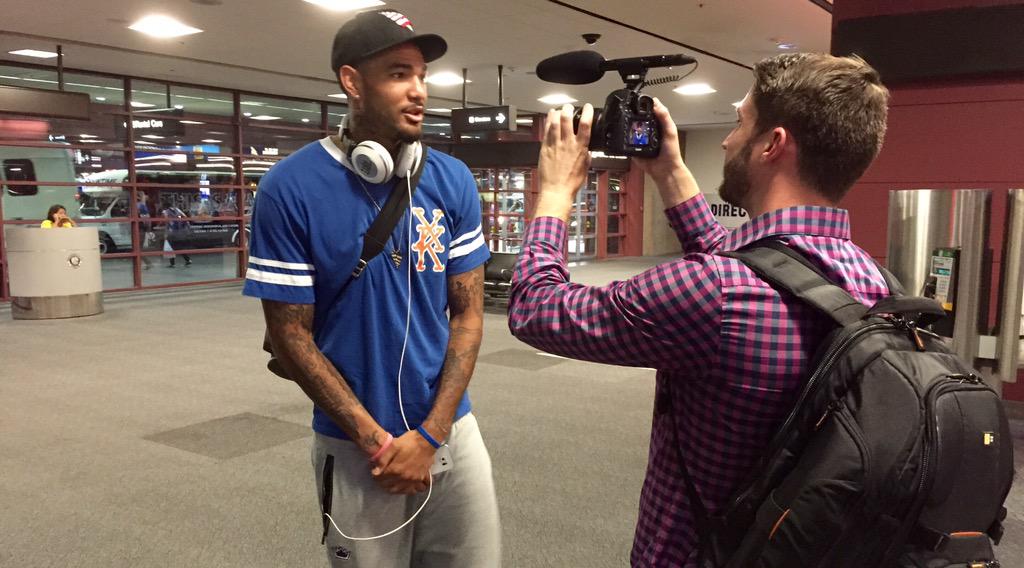 The Dealers denied offering Jamal Murray a seven-figure contract.
Speaking of Las Vegas, that shady semi-pro team shot down yesterday's report that it offered Jamal Murray a million dollar deal to skip college and play one season with the Dealers. A representative of the team said they never had any conversations with Murray.
Drake Jackson is making noise at The Opening.
Jackson reportedly got into it with two different defensive linemen after he owned them in 1-on-1 drills yesterday. Both are Alabama commits, and one of them yelled "three-star" at Jackson as a way to taunt him. (Jackson is a four-star.)
247Sports named Jackson one of its top offensive performers from Thursday's action. The UK commit is really doing well out in Oregon this week.
Watch this local news story on yesterday's show in Pikeville.
FOUR YEARS AGO, EAST KY BROADCASTING ADDED KY SPORTS RADIO TO ITS TALK RADIO LINEUP.  KSR WITH MATT JONES HAS QUICKLY BECOME THE BIG BLUE NATIONS TOP RATED SPORTS TALK SHOW. FOR THE 3RD CONSECUTIVE YEAR, EKB HAS HOSTED BRINGING JONES AND COMPANY TO THE MOUNTAINS. KSR HAS NOW COMPLETED 12 OF 38 STOPS ON THEIR TOUR OF THE COMMONWEALTH. THE TOUR ALLOWS UK FANS AND FANS OF THE SHOW TO GET A FIRSTHAND LOOK AT WHAT IT IS LIKE TO PUT ON A RADIO SHOW, GIVING THEM THE OPPORTUNITY TO PARTICIPATE, AND TO WIN GREAT PRIZES. MAKAYLA COLLEY CAUGHT UP WITH SOME FANS AT THE SOUTH WILLIAMSON STOP THIS MORNING.

Posted by EKB News on Thursday, July 9, 2015
The tour is at the Kentucky Speedway today!
Today's stop is closed to the public (unless you somehow find them at Kentucky Speedway) but the atmosphere at the track should make for great radio. Hopefully Ryan is feeling better today or it's going to be another long one for him. Be sure to tune in.
Cats.