What would a Jedrick Wills flip mean to UK?
Last week, rumors began to spread about revamped mutual interest between 5-star OL Jedrick Wills and Kentucky.
As we all know, the Lafayette High School-product chose Alabama a few months back, opting for the national powerhouse over the home school Wildcats.
Fans understood and respected his decision to compete year in and year out for National Championships. It's the equivalent of players committing to play for John Calipari at Kentucky over the home-state school, a la Malik Monk or Devin Booker.
Fans looked elsewhere. The coaching staff, however, did not.
Pictures of Mark Stoops at Lafayette High School surfaced late last week, where Stoops played badminton with Wills.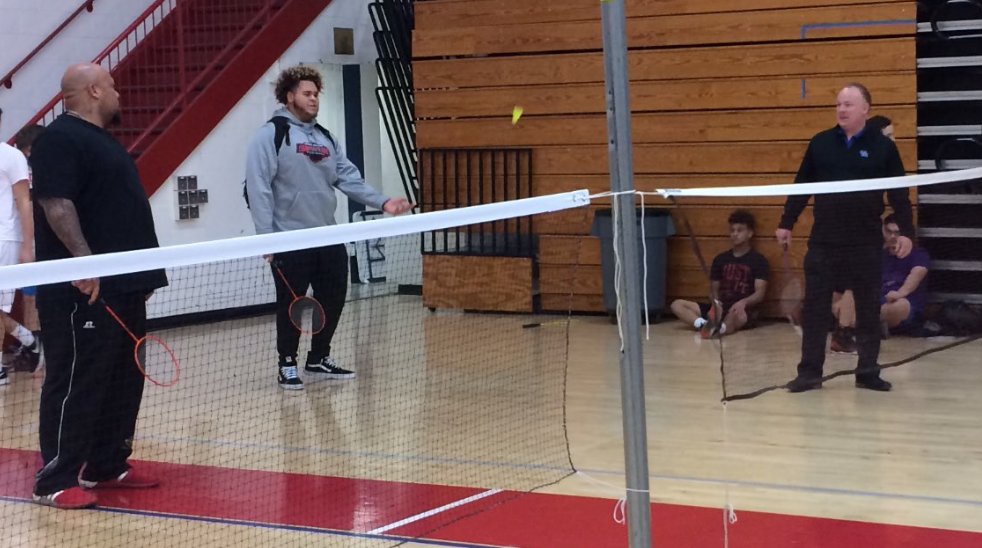 A KSR reader then sent us a picture of Wills having dinner at Malone's with the UK coaching staff that night.
I was told the UK staff pushed to get Wills on campus this weekend for the UK-Kansas game, and the trip was deemed "likely" at the time. The extent of the trip, however, (longevity, what Wills would be doing, etc) was in question.
Later that day, Justin Rowland of Rivals.com broke the news that Wills would be taking an official visit to UK this weekend. By all accounts, the trip was extremely successful.
So here we are, just three days from National Signing Day, and the possibility of Kentucky flipping a five-star Alabama commit is very much on the table.
But what would a Wills flip mean for Kentucky?
The Effort
Mark Stoops and the entire Kentucky football staff is fighting tooth and nail for a five-star recruit committed elsewhere right up until he signs on the dotted line. That alone speaks for itself.
The Kentucky staff already got him on campus for an official visit on the final weekend of the recruiting season, where he was able to join former high school teammate Walker Wood (already enrolled at UK) and countless other recruits on campus.
For those saying Wills is pulling a Damien Harris,  just using the team for tickets to a high-profile basketball game, they are sadly mistaken. Wills took the visit out of genuine interest in the Wildcats, and has let it known to those close to him that who he will sign with on Wednesday is certainly not set in stone right now.
As far as Alabama's side of things, they knew about the visit when it got scheduled, but absolutely were not happy about it. In many instances, Saban will pull a scholarship offer of a recruit taking other visits, but he realizes Wills is far too valuable to do something of the sort. They let him take the visit, but flirted with some other recruits and took in some official visits this weekend as a result.
As far as what I've heard about the visit and Wills' actual interest in a flip, I've been told he's definitely considering it and the staff is extremely confident. Really confident. One thing that sticks out is what Alabama already has on the line and who they have committed. They started a true freshman at tackle this season, the same position he wants to play in college. Alabama also has a commitment from the #1 OT in the class. There are rumors Alabama wants to move him to guard when he gets there, so the idea of playing tackle at UK is definitely a step in the right direction for getting him in blue and white.
I've also been told Wills has kept close tabs on UK's offensive line this season, and sees the progression under John Schlarman. He has seen UK listed as the #1 offensive line in the SEC, even ahead of Alabama, and is impressed. It isn't a world-beating statistic to him, as he feels he'll be able to make a massive impact wherever he goes, but he is impressed with UK's development on the line.
Long story short, the effort of UK fighting after "their guy" when everyone else counted them out has paid off in the long run, and recruits (including Wills) are taking notice.
The Statement
Whether Wills flips or not, the headlines are going to read "Five-star OL Jedrick Wills decides between Alabama, Tennessee, Notre Dame, Michigan, and UK." It's like one of those "one of these is not like the others" pictures you see on the internet. An Alabama message board last week said something along the lines of "Of all schools, why are we battling Kentucky for elite recruits." Other schools have taken notice, and the recruits have as well.
If he does flip… Can you imagine the statement it'd make to the recruiting world?
"Kentucky flips five-star OL Jedrick Wills from Alabama."
Kentucky has already proven they aren't afraid to go head-to-head against the big boys, even signing Matt Elam away from Alabama a couple years ago. But taking a guy the Crimson Tide want desperately (they've visited him in Lexington multiple times in the last few weeks) would be absolutely massive.
Going into the future, Kentucky is LOADED with high school talent in the next couple years, and a guy of Wills level pulling the trigger would certainly make an impact on those guys. We saw it with Drew Barker, Matt Elam, Landon Young, and Kash Daniel (among others), but a recruit seeing Wills say no to Saban and yes to Stoops would definitely make them think twice before automatically looking elsewhere for college.
The Impact
The recruitment is one thing, but Wills as a player is on a whole new level. He's a five-star prospect for a reason.
I saw him play several times in person, and every time I walked away saying "This kid is an NFL lineman." Every camp, event, and game he's been a part of, those in attendance see the potential of an All-SEC guy. They see high-level draft selection with this kid.
He already has the size, technique is there, and has a mean streak like no other. He's cutting some of the unnecessary fat, working on building strength, and perfecting his technique, and he hasn't even set foot on a college campus yet. Can you imagine what's going to happen when some strength and conditioning coaches get ahold of him?
Kid is going to be a freak of nature on the line, and Kentucky would benefit tremendously with him on it.
---
The staff is confident right now, so I have no reason not to be right now either.
We'll keep you updated, but as of now it's looking like we'll be letting you know where a fax is received on Wednesday morning.