WHAT WE KNOW: Louisville's involvement in the college basketball bribery scandal
It's been about six hours since the college basketball bribery scandal broke and in between Twitter jokes and an ominous press conference from the U.S. attorney's office and FBI, one thing has become very clear: the University of Louisville is in hot water. While UofL was not mentioned by name in the affidavit, interim president Greg Postel confirmed that they are under FBI investigation for their part in the scandal.
There are a lot of moving parts to this story, so here's what we know right now.
UofL is "University-6"
If any Louisville fans were clinging to the hope that there was another university in the state with an enrollment of 22,000 that could have been the "University-6" mentioned in the affidavit, Postel put those to bed with his statement after lunch.
"Today, the University of Louisville received notice that it is included in a federal investigation involving criminal activity related to men's basketball recruiting," the statement read. "While we are just learning about this information, this is a serious concern that goes to the heart of our athletic department and the university. UofL is committed to ethical behavior and adherence to NCAA rules; any violations will not be tolerated."
Once you stop laughing at the line "UofL is committed to ethical behavior and adherence to NCAA rules," let's go over those alleged violations.
An unnamed player was promised $100,000 to come to Louisville
Jim Gatto, the head of global sports marketing for adidas, has been accused of conspiring with others (Merl Code, Christian Dawkins, and Munish Sood) to funnel $100,000 to the family of "Player-10," a top 2017 recruit, to help two coaches at "University-6" (Louisville) secure his commitment and make sure the player used their services as managers and financial advisors in the NBA.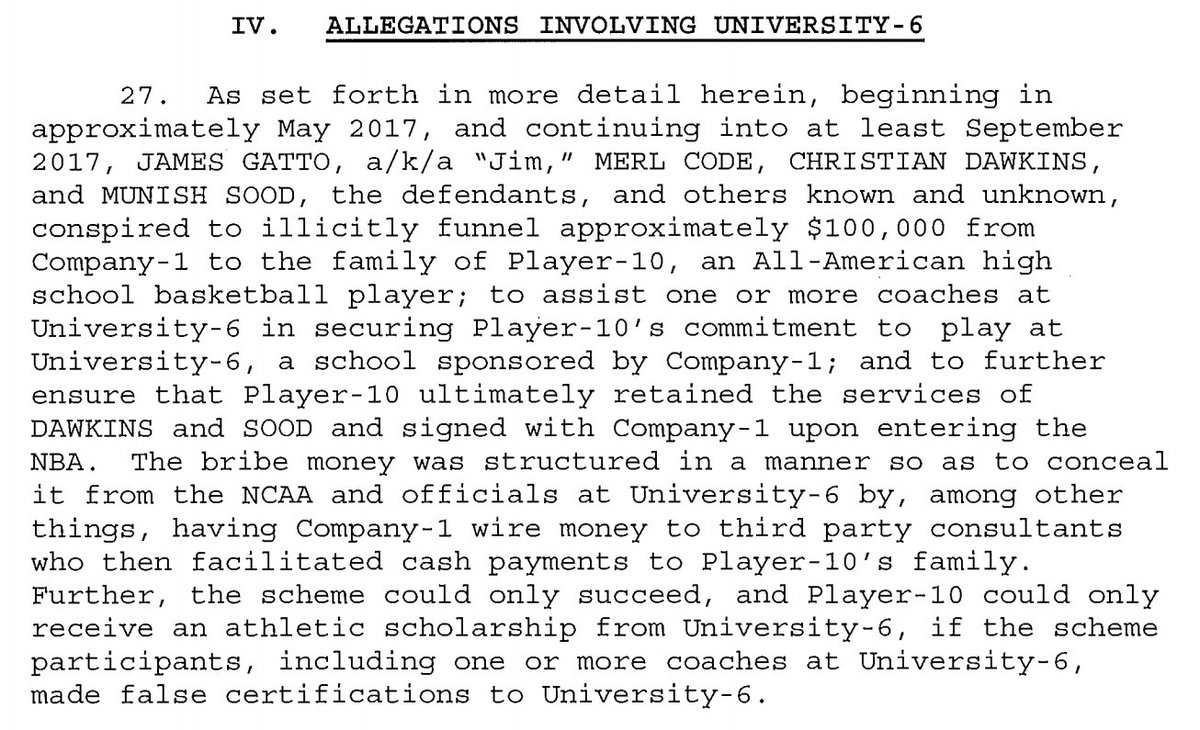 That player is Brian Bowen
Bowen is not named in the affidavit, but it's easy to connect the dots. Out of nowhere, he committed to Louisville in early June, one month after his family allegedly made the agreement with Gatto, the Louisville coaches, and the others:
Happy To Announce My Commitment To The Ville ‼️Let's get ittttt🔴⚫️#L1C4 pic.twitter.com/ybLxFQTgZ2

— Brian Bowen II 🏀 (@20tugs) June 3, 2017
Bowen apparently did not want to go to Louisville until the arrangement was made
Bowen was also considering Arizona, Michigan State, Oregon, and Texas, but shocked everyone when he announced he was enrolling at Louisville. Per the affidavit, it was a "surprise commitment."
Rick Pitino had the nerve to bring up money (!) when talking about it
When talking to Terry Meiners about Bowen's commitment, Rick Pitino acknowledged that it was a surprise and actually said, "we spent zero dollars recruiting" him. Wow.
"We got lucky on this one," Pitino told Terry Meiners of News Radio 840. "I had an AAU director call me and ask me if I'd be interested in a player (Bowen). I saw him against another great player from Indiana. I said 'Yeah, I'd be really interested.' They had to come in unofficially, pay for their hotel, pay for their meals. We spent zero dollars recruiting a five-star athlete who I loved when I say him play. In my 40 years of coaching this is the luckiest I've been." [Source]
I have a feeling Rick will regret those words.
It's all on tape
The best part about all of this? The FBI has tapes of all the calls and meetings between Gatto, Dawkins, adidas travel team director Brad Augustine, Code, Sood, the two coaches, and the family. There's no arguing with the tape!
There's another recruit involved
Player-11 is mentioned as a 2019 recruit Gatto and coaches were working on making an arrangement with to come to Louisville in exchange for money. He was discussed in a July 27 meeting between all of the involved parties in Vegas (the adidas Summer Championships were taking place):
The only 2019 pledge Louisville has right now is 4-star shooting guard David Johnson, who committed to the Cards on September 15. Johnson is only considered a top 35 player, whereas "Player-11" is described as a top ten prospect, so it's not him.
UPDATE: Player-11 is likely five-star center Balsa Koprivica, ranked #7 in the 2019 class. He plays for Brad Augustine's AAU team, 1 Family, which is sponsored by — you guessed it — adidas.
Louisville currently leads Koprivica's 247 Sports Crystal Ball with 91% of the predictions.
They were brazen enough to do this while under NCAA investigation
The main takeaway I have from this? Louisville was stupid enough to try all this while they were already under NCAA investigation! So, to check that timeline once again, Louisville received its punishment from the NCAA on June 11; a month and a half later, an assistant was in Vegas meeting with Gatto, Augustine, and others to discuss paying Bowen and the 2019 recruit. In that meeting, Dawkins and the assistant acknowledged that because Louisville was on probation, they "gotta be very low-key":
I'd be shocked, but it's Louisville, after all.
Apparently Coach-2 has a big you-know-what
It's not over yet:
A very good source at UofL says that we are not done with the announcements today…

— Joe Sonka 😐 (@joesonka) September 26, 2017
Stay tuned…