Wendy's KSR Top Ten Tweets of the Day Wendy's Fresh-Made Salads offer healthy fast food choices, fresh toppings, and the choice to select from nutritious options for healthy living. ___________________________________________________________________ You can be a part of Wendy's KSR Top Ten Tweets by using hashtags like #KSR #BBN or #KSRtopten. If we like what we see, it could be posted the next day. Now. On to the tweets:

#10 Michael Vinson
@KySportsRadio don't feel bad Lisa. I think Arby's fish sandwich is better. Just ruined my chance of making #KSRTop10

— Michael Vinson (@mlv4cats) March 26, 2015

I am officially publicly shaming this guy on KSR.
#9 Oscar Combs
Sitting here on 16th floor of Clev'lnd hotel, watching snow fall & all I'm thinking about is @JaredLorenzen22 ordering up a chocolate shake.

— Oscar Combs (@wildcatnews) March 26, 2015
@wildcatnews I know u meant shakeS!!! Not gonna be just one.

— jared lorenzen (@JaredLorenzen22) March 26, 2015

I love this duo together.
#8 Brad Paisley
Dear Kentucky, I love you, your bluegrass & your people, & tonight we toast @4RosesBourbon to your 36-1 season. pic.twitter.com/AjgmbBrWpm

— Brad Paisley (@BradPaisley) March 26, 2015

I hate country even more now.
#7 Andrew 36-0 Payne
So Gottliebs upset pick last week? Buffalo over WVU. But somehow this week WVU is gonna beat UK? Which is it? Can't have both bud. #KSRTop10

— Andrew 36-0 Payne (@majorpayne12321) March 26, 2015

It's because Gottlieb is all powerful and can do what he wants.
#6 Barry Carty
GO BIG BLUE!!!!!! #KSRTop10 pic.twitter.com/qNUH3jJmfQ

— Barry Carty (@barrycarty13) March 26, 2015

Too late, guys.
#5 brandon lutsch
Who got lucky and has their picture on the KSR APP? The guy above the K looks like my dad. #KSRTop10 @Sealey_KSR pic.twitter.com/7sdHtDnwJg

— brandon lutsch (@blutsch813) March 26, 2015

Alright. That's one face down and about twenty to go.
#4 Kyle Gibson
Huntington would be a key strategic outpost if a war breaks out between Kentucky and West Virginia.

— Kyle Gibson (@KyleisGibson) March 26, 2015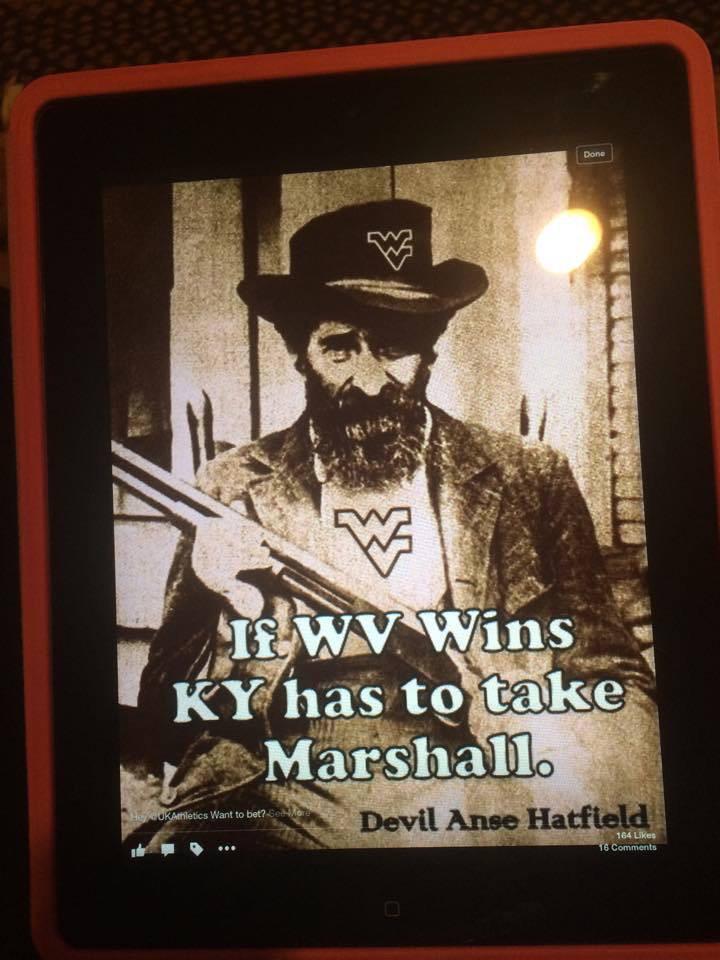 #3 Phillip Stickler
#KSRTop10 #BBN pic.twitter.com/u0lme0WxYk

— Phillip Stickler (@SSG_Stickman83) March 26, 2015

Accurate.
#2 Amelia B. McCormick
That time you calculated average ER wait time vs time until until tipoff & decided, "I can prob just butterfly bandage it.." #bbn #KSRTop10

— Amelia B. McCormick (@AmeliaMcCormick) March 26, 2015

The sad thing is you probably aren't the first Kentucky fan to do this.
#1 Matthew Mahone
@KySportsRadio Thanks WV Mawmaw. #KSRTop10 #BBN #KSR #PursuitOfPerfection pic.twitter.com/UFlWwRblFn

— Matthew Mahone (@mmahone75) March 26, 2015

You are wrong, Matthew. WVU has 17 NCAA titles.
(from the rifle team)
@Sealey_KSR