Wendy's KSR Top 10 Tweets of the Day This summer enjoy Wendy's® new Baconator Fries. Applewood-smoked bacon cooked fresh in our kitchens every day, and melty cheddar cheese, on top of our signature natural-cut fries. Now at a Wendy's near you.
For a limited time only. Price and participation may vary.
---
You can be a part of Wendy's KSR Top 10 Tweets by using hashtags like #KSR #BBN or #KSRtop10. You can also nominate tweets by mentioning them with the hashtag. If we like what we see, it could be posted the next day. Now. On to the tweets:
#10 AARON Wood
Pretty much sums it up! @DrewFranklinKSR @KySportsRadio #shook pic.twitter.com/KI6SrD3QMt

— AARON Wood (@abwoodone) July 25, 2015
It almost makes me feel sorry for them….almost
#9 Celia
Someone is pumped for @KySportsRadio at Dickmans this morning @AndreYoungUSB pic.twitter.com/L3fbCymW0c

— Celia (@ccfuller13) July 24, 2015

I can't tell if that's his "I'm so happy to be around KSR" face or his "this is my seventh one of these and a can't feel a thing" face. Either way, it's great to see fans happy.
#8 Kindsey Bernhard
Wall still celebrating shark week https://t.co/1fhrwnp6zz

— Kindsey Bernhard (@kbernhardKSR) July 24, 2015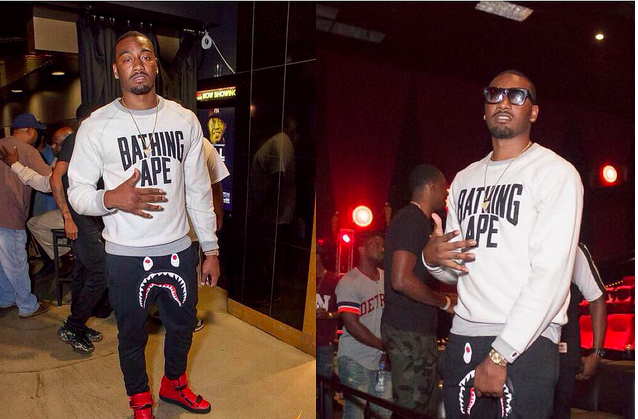 WHAT? No. No. no. This is too easy.
#7 Billy D
Canada (who is NOT known for basketball) has produced more top NBA picks in the last 5 years than IU….this is too easy #KSRTop10 #BBN

— Billy D (@Bi11y_D) July 24, 2015

That's the only stat you need to know.
#6 Rodney Lipps
@KySportsRadio I'm ready to start a Kickstarter campaign to send John Short & @ryanlemond to Tokyo. That's a reality show waiting to happen

— Rodney Lipps (@rodneylipps) July 24, 2015

I am in. Especially if Matt and Ryan go. Let's do this.
#5 Walter McCarty
I can't believe @taylorswift13 didn't invite me to her #boston show at @GilletteStadium I'm so hurt 😉

— Walter McCarty (@waltermccarty) July 24, 2015

Don't worry. It's not personal. Drew got left out when she came here.
#4 Rock Blesnar
@mrBobbyBones do you like Kentucky Basketball? If not, you better start. #BBN

— Rock Blesnar (@Rock_Blesnar) July 24, 2015

If he would just say yes to this question we could really get the Bobby Bones-KSR friendship going.
#3 UK Equipment Staff
Nike Roshe Ones travel shoes have arrived for @UKFootball ! 43 days until Kickoff!! #WeAreUK #summerrecieving pic.twitter.com/38VfEF4Kt4

— UK Equipment Staff (@UKequipment) July 24, 2015

IDK what is more interesting; the size of the shoe or the design.
#2 Whitney Butler
@KySportsRadio my husband was in line at 730 this morning so he could get a good seat to see if Matt really does have a nose whistle!

— Whitney Butler (@Alexsbabymama) July 24, 2015

Matt does have a nose whistle sometimes and I will not stop until he recognizes it.
#1 John Short
I'm excited to start training for the 2020 Paralympics!!!! Stay tuned. pic.twitter.com/p0cMtl9Yiw

— John Short (@johnpshort05) July 24, 2015

I am so excited for this. Does anyone want to carpool?
@Hessler_KSR