Wednesday's Top 10: Diallo's Decision Day
Congrats, Big Blue Nation. You made it. It's Hamidou Diallo's decision date. Tonight at 11:59 p.m. is the deadline for early NBA Draft entries to withdraw their name and return to school. The No. 1 ranked shooting guard in the 2017 recruiting class could be a fringe first/second round selection, or complete UK's backcourt as the eighth five-star recruit on next year's roster.
The decision could happen at any moment, adding an extraordinary amount of anxiety across the Commonwealth. Or maybe that's just a blogger who's worried he'll miss the Tweet when he decides to make a sandwich. Either way, there's a lot at stake today. Here's what we know:
Conflicting Reports
We do not know much. When reporters interviewed NBA scouts a few weeks ago, they were split on where Diallo could potentially land. Yesterday, reporters were split when sharing information from sources.
6:15 pm — Bryan Fonseca: Source tells me that Hamidou Diallo is staying in Kentucky for a year.

#

NBADraft

6:25 pm — Adam Zagoria: Source on Hamidou Diallo: "Nothing has been solidified at this point." Again, deadline is 11:59 PM ET Wednesday.
7:26 pm — Zach Braziller: Source close to Hamidou Diallo: Nothing has been decided. No decision yet. Plans to meet with inner circle tomorrow.

#

bbn
On top of those Tweets, hundreds of smart asses shared something along the lines of, "BREAKING: Diallo will either return to Kentucky or go to the NBA." Thanks for raising my blood pressure, folks.
Diallo is Not Alone
There were a handful of important decisions made in the last two days that will make college basketball better next season. Rawle Alkins will return to Arizona, Trevon Blueitt will return to Xavier, Aaron Holiday and Thomas "Feathers" Welsh will return to UCLA and Andrew Jones will return to Texas. Here are a few important names who must decide today:
Mo Wagner, Michigan
D.J. Wilson, Michigan
Tony Bradley, North Carolina
Tacko Fall, UCF
Omer Yurtseven, N.C. State
Johnathan Williams, Gonzaga
Sri from Kansas (I'm not going to try to spell his name)
Caleb Swanigan, Purdue
If you thought UK fans had it bad waiting for Diallo, Purdue fans are sweating out Swanigan's decision, who will spend his final day working out for the Knicks.
The SEC Baseball Tournament Begins at a Later Time
Originally scheduled to play today at 10:30, rain delays and extra innings pushed UK's SEC Tournament opener back until 2:00-2:30. The game will begin on the SEC Network 30 minutes after the conclusion of the Georgia/Mississippi State game.
The third-seeded Cats will take on South Carolina, who upset Vanderbilt 7-4 in 11 innings. Fatigue might have played a roll, but the delay will mitigate any advantage the Cats had over the Cocks.
To prepare for the tournament, a bit of advice: listen to the latest KSR Baseball Podcast. Although I must admit, my favorite part wasn't the SEC Tournament preview, it was hearing Coach Madison tell old recruiting stories, featuring appearances from Don Mattingly, Scott Rolen, Shane Boyd, Billy Donavan and Rick Pitino.
Pompey, Mingione Preview the Tourney on the SEC Network
That was great and all, but it wasn't as great as Coach Nick Mingione's appearance on Kentucky Sports Radio.
Matt is Back on Finebaum
Yesterday was an eventful start to his two-day soiree as the fill-in host for the Paul Finebaum Show. Jay Bilas and Kaylee Hartung joined the program, along with an interesting cast of characters. Hear the Best of Finebaum here.
Nice Dunk, LeBron
😳 pic.twitter.com/ts2AmX8mal

– Busted Coverage (@bustedcoverage) May 24, 2017
LeBron may have missed the dunk, got in foul trouble and played poor by his standards, but the Cavs still beat the Celtics to take a 3-1 lead thanks to Kyrie Irving's 42 points.
The Return of the Depth Chart Podcast
After taking a week off, Freddie is putting the headphones back on with two special guests. I can't reveal their names, but I can say you will not be disappointed, especially if you're fans of guys who fill the Kentucky football record books. Look for it to drop a little earlier than normal this afternoon.
R.I.P Roger Moore
I didn't grow up watching Roger Moore's Bond films, but he was the first Bond I remember liking (My older cousins made sure I grew up hating Pierce Brosnan). He gets trashed as the "worst Bond ever," but that's just because people forget Timothy Dalton. If you need to be convinced that Roger Moore was awesome, read this.
The Truth
I don't know who Mookie Wilson is but I do know this a fantastic quote that the entire world needs to know.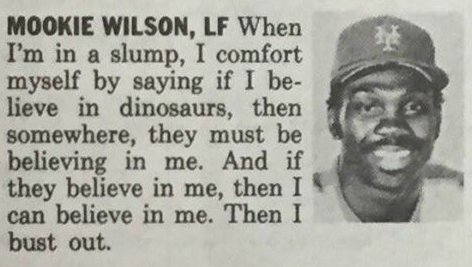 KSR is Back
Matt and Ryan weren't planning on spending the day on Kentucky Sports Radio, but the postponement of the baseball game has opened up the airwaves for them to prepare you for Hamidou Diallo's decision, starting in one hour.