Wednesday Wake Up: Notes After Cats' Late Win In Athens A chartered plane carrying your favorite men's college basketball team touched down in Lexington early this morning as the Cats returned from Athens after a split contest against Georgia: the Dawgs won the halftime jersey-popping competition at mid-court; Kentucky won the basketball game. Georgia can have the former. Congratulations.
As Anthony Edwards and his teammates sprayed champagne and waded through the confetti at the end of the first half, John Calipari's team regrouped and came back to outscore the Dawgs by fifteen in the second. The end result? A 78-69 victory, UK's second in the SEC and first on the road.
"Good team win," Ashton Hagans called it.
Good team win?? https://t.co/FagxzbY9jk

— ashton hagans (@H23Ash) January 8, 2020
Rather than repeating everything that is written just below this post, please scroll down for our detailed postgame coverage that you probably haven't seen yet. There is plenty more to come once the KSR team gets a little more coffee in us.
In the meantime, here are some non-UK/Georgia ramblings for your Wednesday morning:
The visor on Jeff Badet's helmet is talking about practice. Not a game, not a game. Practice. It's talking about practice.
As if you needed another reason to love the Dallas Renegades, check out the visor on the practice helmet for Dallas wide receiver Jeff Badet, a former Wildcat: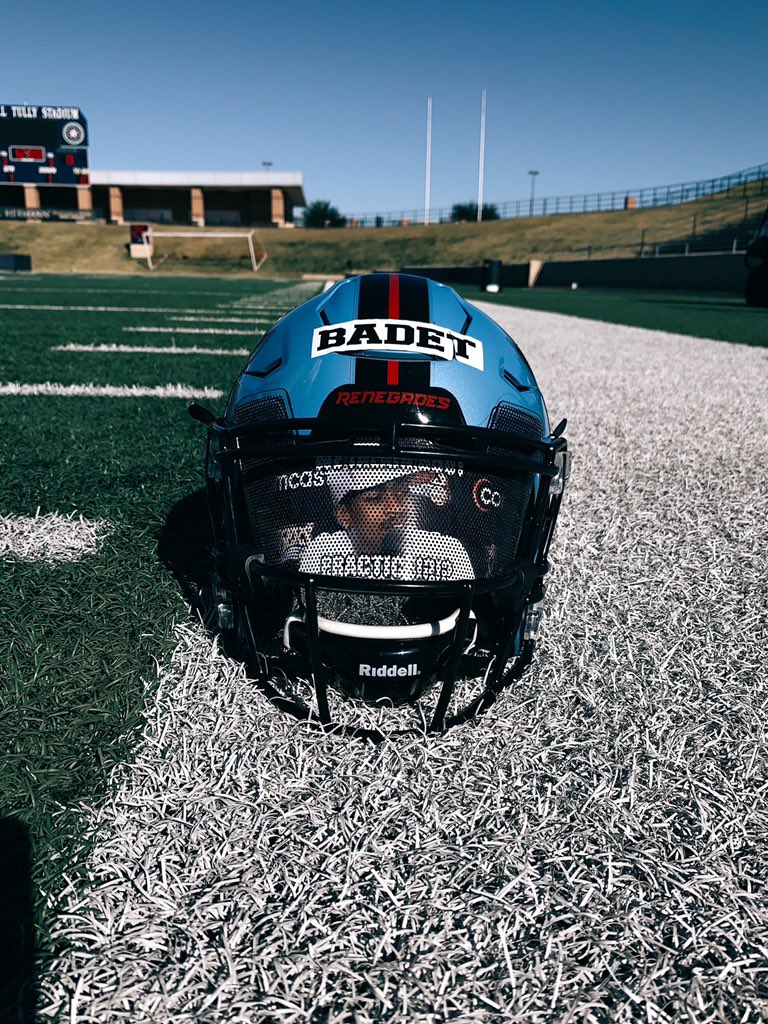 The XFL is going to be so awesome. Check out some of the new rules, revealed yesterday:
Three options after scoring a touchdown: a 1-point play from the 2-yard line, a 2-point play from the 3-yard line or a 3-point play from the 10-yard line. There is no option to kick an extra point.
A shootout-style overtime: Each team will get five single-play possessions from the 5-yard line. If the game is still tied at that point, the rotating possessions will continue until there is a winner. The XFL hopes that overtimes will be rare, in part because of the multiple options for points after touchdowns.
A rule that allows two forward passes on one play, providing the first doesn't go past the line of scrimmage. The purpose is to encourage creative trick plays without the risk of losing possession of a lateral or backward pass, which is a live ball if it hits the ground. [ESPN.com]
The season begins Saturday, February 8.
Anthony Davis survived a scare last night.
Hours after turning down a four-year, $146 million max extension, Davis took a hard fall onto his tailbone while trying to block Julius Randle.
Anthony Davis takes a hard fall after trying to block Randle ?#LakeShow pic.twitter.com/YRoqdy1lau

— Def Pen Hoops (@DefPenHoops) January 8, 2020
Davis needed some time and was eventually helped to the locker room, where X-rays came back negative. He escaped this one with only a little bit of soreness, although he is expected to miss a few games.
Back to that contract extension, Davis intends to test the open market in free agency this summer.
A new KSR Football Podcast will drop tonight.
The KSR Football Podcast's season review will be out tonight around dinnertime. We will have Freddie Maggard back on to give his thoughts on the season as a whole and what's ahead, plus the usual silly stuff. It has been way too long.
Did you notice Trae Young and Quavo sitting courtside last night?
The two Atlanta stars made the trip to Athens to see Anthony Edwards against the Wildcats.
Trae and Quavo sitting courtside for No. 14 Kentucky vs. Georgia ? pic.twitter.com/yv2GliJtuH

— NBA on ESPN (@ESPNNBA) January 8, 2020
Now be honest, how many of you know who Quavo is?
Happy anniversary to the Music City Miracle!
KSR will be in Glasgow this Friday.
If you'd like to meet the cast and crew of the KSR radio show, join us for our live remote in Glasgow this coming Friday at Don Franklin Chevy Cadillac Nissan.