Wednesday evening recruiting thoughts
As you likely have seen, Kentucky missed the cut for five-star center Vernon Carey Jr. It's been a pretty crappy recruiting week for the Cats. Here are a few notes on today's news.
Carey cuts the Cats:
No one should be shocked UK missed Carey's final three. A month ago it would have been surprising news and two months ago UK was in a great spot (so folks close to Kentucky though), but the Cats lost all momentum after Carey visited Duke. There's good news and bad news with Kentucky not making Carey's final three.
Good news:
Given the recent trend of this recruitment it was unlikely that UK was going to land Carey. A year ago nearly every analyst was predicting Carey was going to end up at Duke but over the summer the Duke buzz staled. Some started predicting MSU. UK had momentum and the hometown Miami Hurricanes were also supposedly in the hunt.
But things changed after the Duke visit. Duke and Michigan State were the leaders with many going back to the original Duke pick.
The good news about UK missing Carey's final three is the Cats know it's over in November. They won't waste anymore time on a player that was likely going elsewhere and now Calipari can start to construct a new frontcourt plan. The Cats are still recruiting Matthew Hurt and Isaiah Stewart is a possibility although a longshot.
Bad news:
Two of the best players in high school basketball eliminated UK this week. A good chunk of the Big Blue Nation panicked after Wiseman picked Memphis yesterday, but Carey cutting UK is more concerning in my opinion.
Kentucky did everything they could to land Wiseman, but ultimately the kid decided to play for his former AAU/HS coach that he had known for year. He didn't even wait to see how Penny would do as a college coach. There was a blind trust and that tells us all we need to know.
The Carey news is more concerning because UK couldn't make the top three for a player they really, really needed. They didn't finish second, they didn't finish third and they maybe didn't even finish fourth. That's not OK for such an important recruit. Obviously some recruits just don't love what UK is selling, but this elimination is concerning.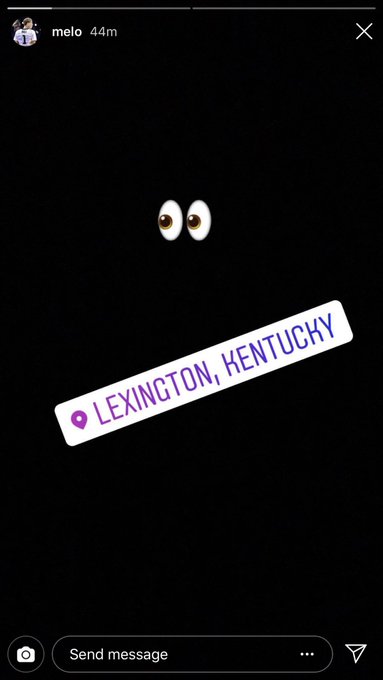 LaMelo Ball:
Unless UK is trying to play this incredibly close to the vest (and that's a possibility) I'm told that folks close to Kentucky are unsure what the youngest Ball is doing in Lexington.
I hope to learn more, but everyone in the college basketball world doesn't believe that Ball will be eligible. Even if there's a case for his eligibility it could be such a long and lengthy process that best case scenario would have him sitting out dozens of games.
So, I don't think that Ball is a serious UK target. But could you imagine if he ends up being recruited by the Cats? The takes. The fan comments. The madness.
Part of me hopes it happens, but I doubt it does.
Hope y'all can put recruiting frustration aside for the weekend and enjoy Thanksgiving and a Cats beatdown of Louisville.
[mobile_ad]