UK Fans of the Day Want Afternoon Notes
Today's Fans of the Day are checking in from Jaipur, which, according to Wikipedia, is the capital and largest city of the Indian state of Rajasthan in Northern India. Me, I'm coming to you live from the Franklin home in lovely Madisonville, Kentucky; "The Best Town on Earth," they say.
Christmas came early for me today as Mama Franklin booked me an afternoon massage to get my back worked out, so I'm about to go get naked in front of a complete stranger. But before I do, some notes from the afternoon…
— Jarred Vanderbilt is a Kentucky Wildcat. Vanderbilt's surprise Christmas Eve Eve announcement came out of nowhere earlier today, but we'll certainly take the unexpected news. The five-star forward picked the Cats over North Carolina, Oregon, and TCU, making him John Calipari's fifth commitment in the class, along the likes of Quade Green, P.J. Washington, Nick Richards and Shai Alexander. Cal now has an enormous foundation to build on for the spring as he chases after Mohamed Bamba, Hamidou Diallo and Trae Young, as well as some shooters. Definitely going to need some shooters.
Never switched up. This is who I do for!! #BBN🔵⚪️ pic.twitter.com/lQRh4O46GF

— Jarred Vanderbilt (@JVando_) December 23, 2016
— Vanderbilt's commitment likely means no Kevin Knox. Kentucky will likely keep up its pursuit of Knox, the No. 2 small forward in the class, but it's hard to imagine a scenario where he teams up with Vanderbilt as they play the same position. I'd say Duke welcomed the news of Vanderbilt's commitment as it only increased Duke's chances of landing Knox, who was already leaning toward Durham anyway. Then again, crazier things have happened in recruiting, so maybe Cal can pull off some magic. Don't count on it, though.
— I finally listened to Coach Cal's podcast with Coach K. The second Cal Cast got me from Beaver Dam to Madisonville earlier today and it was awesome. If you haven't already listened to it, I highly encourage you to do so because it's so bizarre hearing the two rivals chat it up, although not quite as bizarre as hearing Cal read ads for ZipRecruiter. Definitely check it out.
— Shout-out to everyone who came out to Brooklyn Pizza last night for the taping of our TaxSlayer Bowl podcast. We had a great turnout, a lot of pizza, and a lot of fun as Jared Lorenzen, Freddie Maggard, Nick Roush and I recorded our last show before the bowl game, which will be up on the site tomorrow.
One family drove two hours just to be there:
And check out this four-topping, 40-inch pizza we took on:
LESSSGGOOOOOOO pic.twitter.com/tQ50xIrK1b

— Drew Franklin (@DrewFranklinKSR) December 23, 2016
The restaurant calls it the New York Giant and it is free if two people can devour it in 90 minutes. The four of us tried and couldn't get it down.
— Be sure to check out our TaxSlayer Bowl preview on Christmas day. We are flooding the website with TaxSlayer Bowl content on Christmas day as we close our laptops for 24 hours to be with our families. So if you get bored of opening gifts and watching the NBA, check out Kentucky-Sports-Radio-dot-com to get all the TaxSlayer Bowl coverage your little heart desires.
— Check out Freddie's ride to Jacksonville (And you can win a TV!):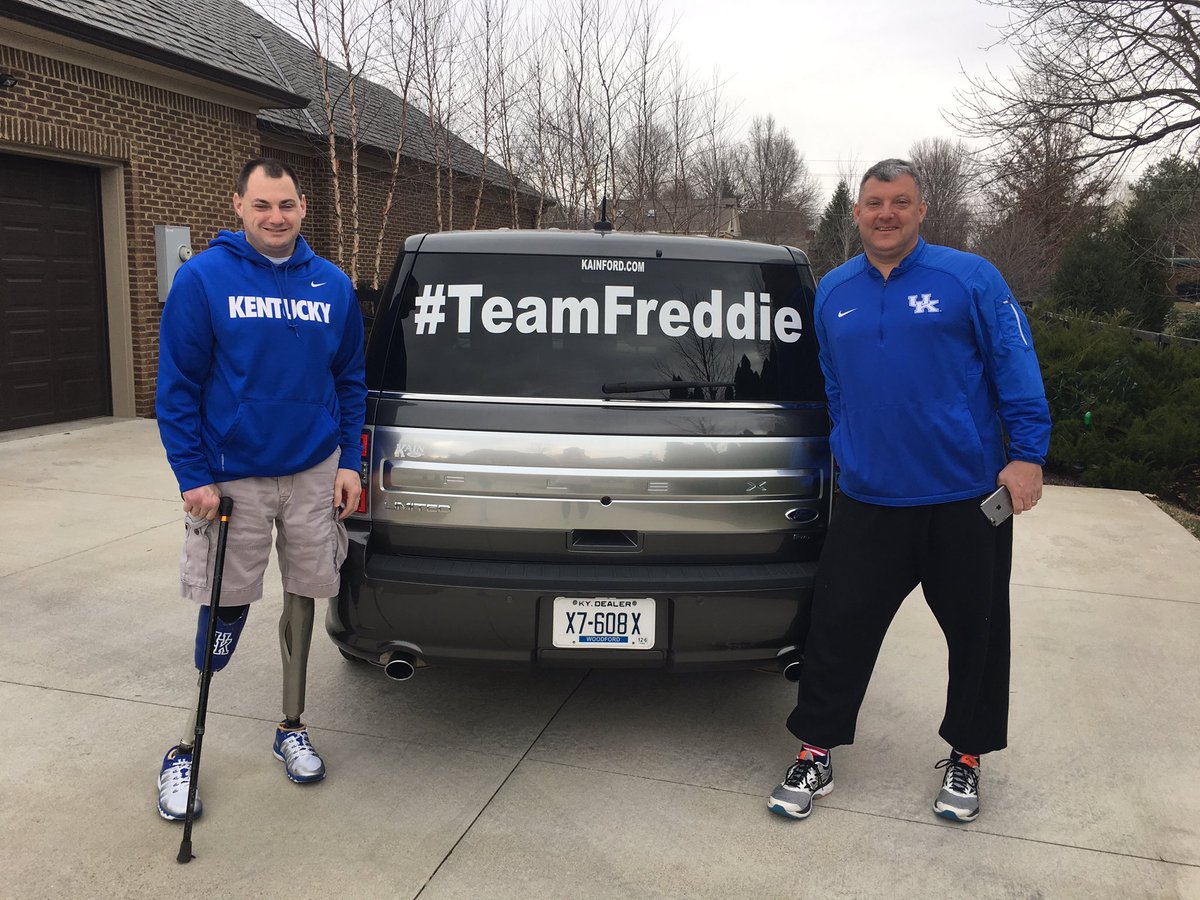 The fine folks at Jack Kain Ford are partnering with KSR's Depth Chart Podcast and will be giving away a 65-inch television to one lucky Kentucky fan. Freddie will be driving a new Ford Flex to Jacksonville decorated with the hashtag #TeamFreddie, as you see above.
To be eligible to win the 65 inch television you must:
1. Follow Jack Kain Ford on twitter (@KainFordInc) or Facebook.
2. Take a picture with the Flex or with the Depth Chart Podcast Crew wearing a special Jack Kain Ford t-shirt with same hashtag.
3. Tweet or Facebook pic to Jack Kain Ford using #TeamFreddie
Drawing for the television will be at Jack Kain Ford in Versailles on January 6th.
— Alright, I'm off to get this massage. I'll be back soon to get us through the night and on into Christmas Eve. We might have to get into the holiday spirit a little later tonight. We'll see.