Tuesday's Top 10 brought to you by Klay Thompson's 60
Well hello there, bud. I see you're up and browsing the internet early today. Don't worry, I won't tell your boss you're here and not working. We'll keep it between us.
Anyhoo, this morning I have a little bit of basketball news, some Mark Stoops commentary, a couple of clips of NBA Cats and more. You won't find any of this anywhere else today because the entire web will be talking about Klay Thompson. You see that? He scored 60 points in three quarters last night. Even crazier, he only had the ball for a TOTAL OF 90 SECONDS in the game. Wow.
Oh, this happened, too.
we have reached peak Warriors pic.twitter.com/NA63SW6wzk

— Kenny Ducey (@KennyDucey) December 6, 2016
The Warriors aren't fair.
Let's go.
1. There were about 3,500 students at last night's ticket lottery.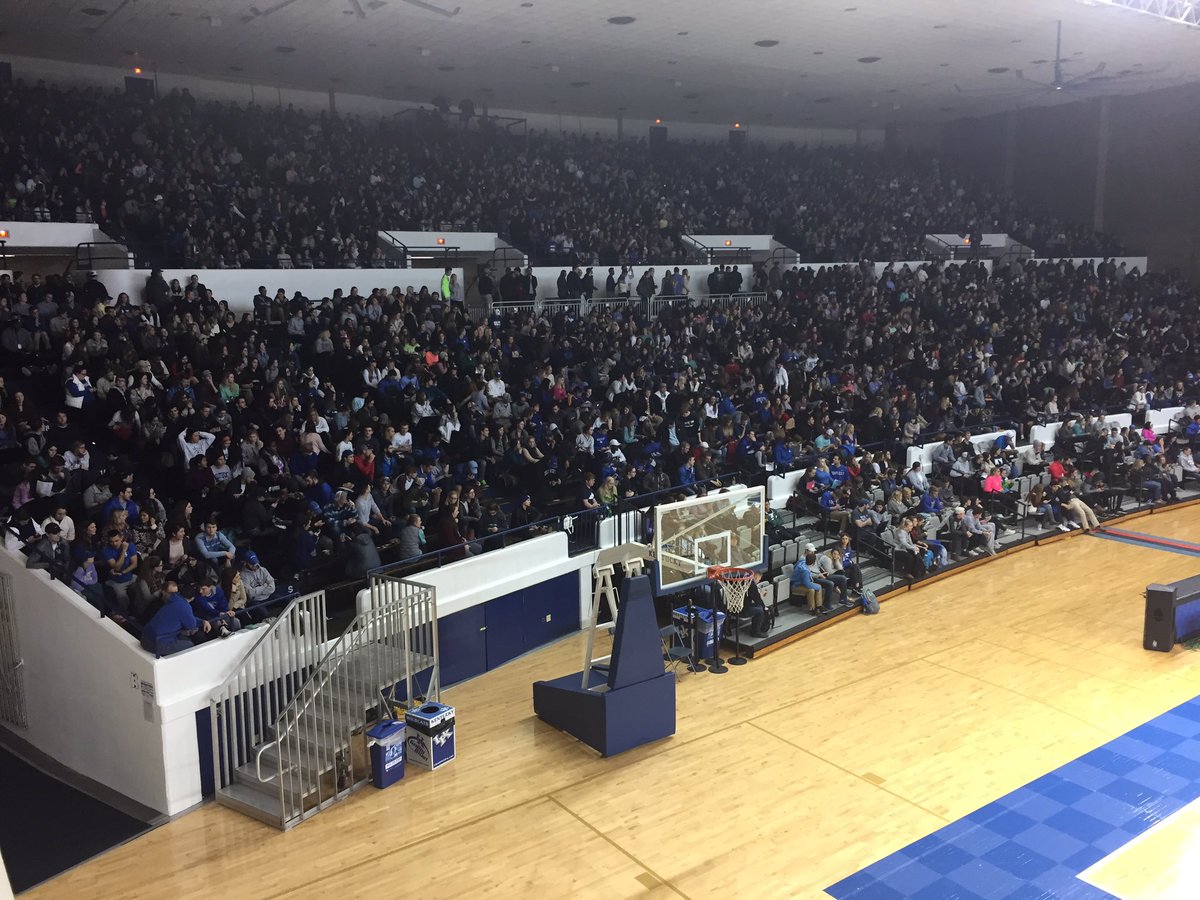 I spent my Monday evening in Memorial Coliseum where 3,500 students turned out for the student ticket lottery in hopes of landing a good seat for the Kansas game. For all the flak students get for not filling their seats in Rupp Arena, they sure did show up last night for the lottery. Hopefully that will translate to a packed student section in Rupp Arena for the January games.
Also, shout-out to the good people from The Wyatt apartment complex for letting me hang out with them in the lobby. Students, you should live at The Wyatt.
2. Mark Stoops and his staff are busy recruiting.
Stoops and some of his assistants spent the last week and will spend the remainder of this week on the recruiting trail before bowl game prep begins this weekend. He did however take a break yesterday to address the media in a pre-TaxSlayer press conference in Lexington, where recruiting was a hot topic.
"It's all recruiting right now," Stoops said of his current agenda. "So our team is here preparing for finals, finishing up the school year, lifting and running, and all the coaching staff is primarily recruiting at this time, except the guys that are not allowed to recruit and they're here breaking down Georgia Tech. So that part of it is easy. It gives us a few weeks to really concentrate on recruiting. We have to."
He opened the press conference by saying, ""As you could imagine, it's an exciting time for myself and our team as we accept the bid to play in the TaxSlayer Bowl. We're looking forward to that. We're still on a high after the big victory. Our feet have really not hit the ground."
3. John Calipari's Cats dropped to No. 6 and 7 in the polls.
 Meanwhile, UCLA moved up to No. 2 in both polls, and deservedly so.
4. Cal very disappointed in his team's defense Saturday.
On last night's John Calipari call-in show, Cal said the UCLA game taught him that they need to get back to the basics defensively. He noted that offense wasn't an issue against the Bruins; it was the defense that cost the Cats the game, as you saw. He was also disappointed by how his team passed the ball in the loss.
5. Wynyard out for tomorrow's game, Killeya-Jones is TBD.
The frontcourt depth will be a little thin against Valpo tomorrow night as Tai Wynyard will be out following the passing of his grandmother. Sacha Killeya-Jones' status is underdetermined after he suffered an injury in yesterday's practice.
6. How about this shot from Jamal Murray?
Jamal Murray with the scoop around Joel Embiid!pic.twitter.com/Jk7mx57Be0

— The Crossover (@TheCrossover) December 6, 2016
7. Andrew Harrison challenged Terrence Jones…
… Andrew Harrison lost.
Cat-on-Cat crime.
8. Calipari's 30 for 30 set to air in April.
We now know when Cal's 30 for 30, "One and Not Done, will air on ESPN: April 13, 2017. That's not even two full weeks after he, hopefully, wins his second national title at Kentucky.
9. Coach Cal to hold a press conference today.
Calipari and a couple of his players will be available prior to today's practice to talk about the upcoming game. I hope to be there if I can find a ride (stupid car wreck), but if not, we'll still have the live stream and plenty of coverage here on Kentucky-Sports-Radio-dot-com.
10. This guy knew Kentucky could lose to UCLA and he was ready.