Tuesday Top 10: Kelly Olynyk? Really? I watched the second half of Monday night's Game 7 under the influence of NyQuil, so when I woke up this morning I thought I had dreamed Kelly Olynyk ended John Wall's 2017 Playoff run. Then a quick, drowsy Twitter check from bed once I finally woke up told me it was not a dream and that Kelly Olynyk scored 26 points to advance the Boston Celtics to the Eastern Conference Finals. Kelly Olynyk, really?
Also, I now remember why I never take NyQuil. I don't understand how anyone can get out of bed and be productive after one recommended dose the night before.
Also, also, John Wall and Bradley Beal need more help in Washington.
1. Jarren Williams back on board. Williams was all of the talk on Monday after his recommitment to Kentucky via an official announcement on KSR. The three-star quarterback is back in Big Blue Nation after a brief decommitment, and this time, he is in for good. Let's share that quote one more time: "Oh yeah, this is it. I'm shutting it down. This is it now. I know where my heart belongs. I'm committed 100%. I'm shutting it all down."
For lots more on Williams, simply scroll through the pages of Kentucky-Sports-Radio-dot-com because there is a lot of it.
2. Listen to Williams' KSR interview.
3. The NBA draft lottery is tonight. Here are the odds for the No. 1 overall pick:
– Boston Celtics*, 25%
– Phoenix Suns, 19.9%
– Los Angeles Lakers*, 15.6%
– Philadelphia 76ers, 14.7%
– Orlando Magic, 8.8%
– Minnesota Timberwolves, 5.3%
– New York Knicks, 5.3%
– Sacramento Kings*, 0%
– Dallas Mavericks, 1.7%
– New Orleans Pelicans*, 1.1%
– Charlotte Hornets, 0.8%
– Detroit Pistons, 0.7%
– Denver Nuggets, 0.6%
– Miami Heat, 0.5%
It could be a very good two-day span for the Boston Celtics.
4. Leon Smith pleaded not guilty. The former UK wide receiver/Director of Basketball Ops is facing 14 counts, ranging from fraud to aggravated identity theft and money laundering, and he'll go to trial in Lexington in July. He pleaded not guilty on Monday and could see over 30 years in prison if a jury decides otherwise.
Moral of the story: Don't defraud people.
5. John Calipari has the No. 1 basketball class, per Rivals.com. The good people over at Rivals updated their rankings for the Class of 2017 and the University of Kentucky holds the No. 1 overall haul with five five-star players.
The Cats' individual rankings:
9. Kevin Knox
13. Jarred Vanderbilt
14. P.J. Washington
16. Nick Richards
21. Quade Green
31. Shai Gilgeous-Alexander
78. Jemarl Baker
Mohamed Bamba is the No. 2 overall player in the class.
6. Bamba social media overreactions. A shout-out to Jarred Vanderbilt on his Instagram story? WHAT DOES IT MEAN? Probably nothing, but this is where we are in our wait for Bamba's decision.
7. De'Aaron Fox discusses how he'll fit with NBA teams. Fox made an appearance on SiriusXM NBA Radio to go over how he could help the Philadelphia 76ers, Phoenix Suns and New York Knicks
But we hope he goes to the Lakers over Lonzo Ball.
8. Lexington Catholic QB picked up UK offer. Beau Allen, a quarterback in the 2020 class, received a scholarship offer from Kentucky on Monday.
So Blessed and thankful to receive an offer from the University of Kentucky! Thank you to my LC family! @UKFootball pic.twitter.com/lF1MgCn5bd

— Beau Allen (@BeauAllen11) May 15, 2017
9. KSR is taking over Whitaker Bank Ballpark.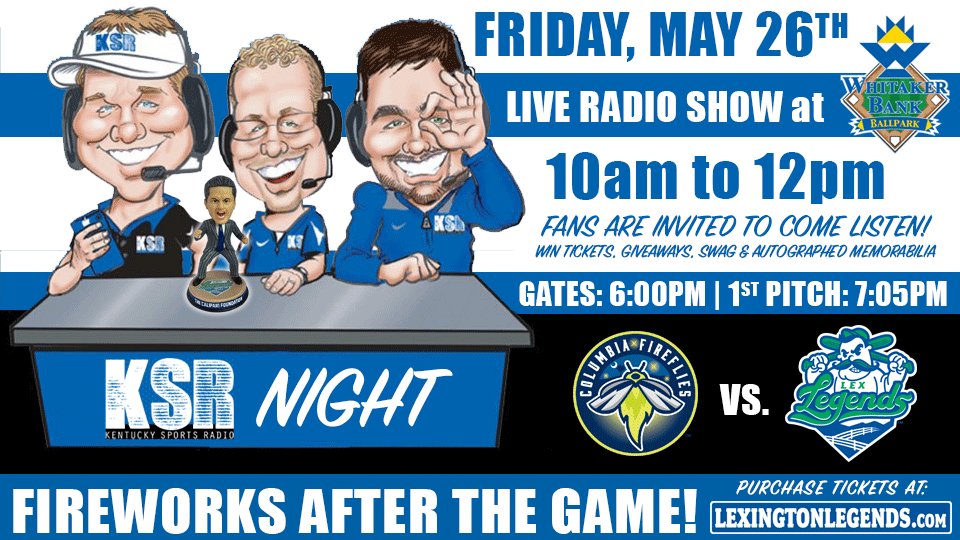 Get in there.
10. More topless woman talk on KSR? We'll know in an hour. Yesterday's show had a little bit of everything.