Tuesday Night News and Views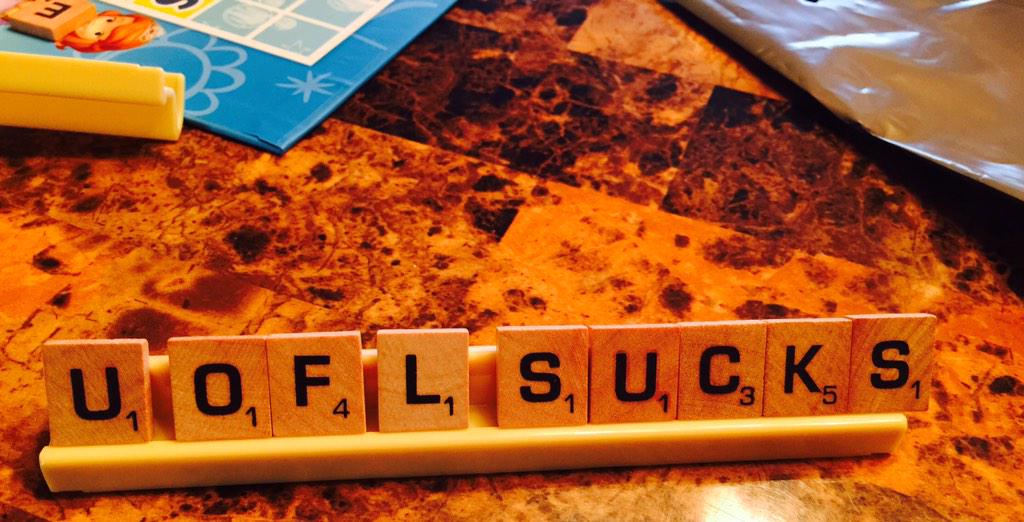 Hello, friends. I'm writing from the den of my parents' house in Danville. After a foggy ride up from Nashville via I-65, the Cumberland Parkway, and 127, I am settled in to my old Kentucky home for the holiday.
While Christmas may be on the forefront of my nephews' minds, pardon me if I'm more preoccupied with the Louisville game. Shoutout to KSR fan Ash Mason, who repped the BBN during a Scrabble match with his four-year-old nephew tonight. First of all, what four-year-old plays Scrabble? Secondly, I think you're only allowed seven tiles per tray, but hey, for Louisville hate, I'll let anything slide.
Let's go over the news of the day so I can wrap some more presents.
John Calipari spent Christmas Eve Eve with Isaiah Briscoe
The Calipari family has spent the past few days in the New York City area, watching Brad play in the Bronx, making appearances on Bloomberg TV (more on that in a minute), and tonight, watching future Cat Isaiah Briscoe play in Elizabeth, New Jersey. Briscoe had 18 points in his team's 66-35 win.
A few days ago, Briscoe told Adam Zagoria that he's in constant contact with future teammates Devin Booker and Tyler Ulis. "All the time I'm texting them, talking to them and they're just saying they can't wait till I get up there," Briscoe said, adding that he's totally comfortable playing alongside Ulis. "If I got the ball, Tyler's running the wing. If Tyler got the ball I'm running the wing. He's a pure point guard so I know if I get my jump shot right and get more athletic, he can throw me alleys and all that."
Sounds good to me. Here's a picture of the whole Calipari clan in NYC:
The team returns to Lexington tomorrow
After a few days with their families, the players will return to Lexington tomorrow. They'll go through a practice tomorrow evening, eat Christmas dinner at the Calipari's on Thursday, and practice again on Friday. Hopefully a few days of R&R will have them rested and recharged for Saturday night.
Meanwhile, Louisville took care of CSUN
CSUN stands for Cal State Northridge. They actually hung with Louisville for a good part of the game. Or, at least Wayne Blackshear did. Blackshear (who, yes, is still at Louisville!) had 23 points in the first half and 31 overall. A 25-point win over CSUN without Montrezl Harrell?? If you predicted that was enough to make the Yum Center crowd chant "BEAT UK" in the final seconds, you are correct. Adorable.
The basketball team posted a 3.13 GPA for the fall semester
Calipari tweeted that it puts the program on track to have five-straight years with a B-average. For you UNC players, that's the one after A and before C.
Alex Poythress WILL attend the Louisville game
Cal said so on his radio show on Monday night. That makes me extremely happy, because if anyone loves beating the Cards, it's Alex Poythress. I wouldn't put it past Alex to try to block a three with his crutch from the sidelines.
John Calipari was on Bloomberg's "With All Due Respect" yesterday
Because of course he was. Cal went through his usual stump speech about the evils of the NCAA and how UK wouldn't have a chance to beat the 76ers (in fact, Cal claims Philly would beat UK by 30…hmm.). In case you missed it, or just miss hearing Cal's swaggy voice, enjoy it in its entirety above.
Betting on UK to win the title is probably a bad idea at this point
In Vegas, the odds for UK to win the National Championship have dipped below even money to 10-11. Can you imagine what they will be once the Cats beat Louisville? The 4-1 odds I got at the Atlantis in the Bahamas don't look too bad now.
Get ready for the Best of KSR tomorrow!
There's no live show tomorrow, but Shannon has an episode of the Best of KSR queued up, which I believe may be the Kansas postgame show, so get ready to relive the good times. If you need an excuse to procrastinate from some serious last-minute shopping or household chores, Drew and I will be here all day to keep you updated on the latest news as we move towards Saturday's game against the Dirty Birds. Don't forget, on Friday, Matt and Ryan will be live from Bearno's Pizza in Jeffersonville for the annual UK/Louisville show in front of a packed house.
Until then, enjoy a KSR holiday classic…