Torrance Davis wants to be the next Benny Snell at Kentucky
After losing the school's all-time leading rusher to the NFL, the Kentucky football coaches went to a familiar place to find the school's next great running back.
Friday night during an official visit, three-star Ohio running back Torrance Davis announced his commitment to the University of Kentucky. Tennessee, Penn State and Pitt also heavily pursued the No. 25 running back in America, but their efforts paled in comparison to Kentucky.
"They were recruiting me the hardest," Davis told KSR Monday morning. "I decided to pick UK because it's a school with a great atmosphere and chemistry. They had a lot of things. They showed me love and cared about me."
At other schools, Davis only spoke to one or two coaches. Those conversations were almost exclusively about football. That was not the case at Kentucky.
"It was crazy how many coaches know you that you don't know. It's like the whole building knows you," he said.
"It's not all about football. It's about meeting new people and building relationships…It's more than football. It's about becoming a man in four years. That's really why I came. It's like a brotherhood there. It has a really good feel."
Davis does not plan on taking any other visits following his commitment. "My recruitment is done."
Kentucky first began recruiting Davis in the middle of a breakout junior season for Cleveland's Glennville High School. Davis averaged around 150 yards per contest, but finished just shy of the 1,000-yard milestone after a high ankle sprain sidelined him for three games. An imposing figure at 6'2″ 210 pounds, he's a powerful runner in the trenches.
"I'm a power back, but I have a lot of speed as well. That's what a lot of people said." Some coaches used a complimentary comparison. "You're Benny Snell but you're more explosive."
It's a lofty expectation to live up to for a rising high school senior. There's a reason why they aren't completely over-reaching. When asked if he prefers to run someone over or make a man miss for a score, he did not hesitate.
"I'd rather run somebody over, but I've got both in me. I just like contact."
Every Benny Snell needs an A.J. Rose. Less than 24 hours after Davis' announcement, Cincinnati all-purpose back JuTahn McClain committed to UK. McClain initially planned on announcing his decision at a July 4th ceremony, but Davis and John Young convinced him to pull the trigger over the weekend.
"We talked the day before and I was telling him I was about to commit. This feels like home," Davis said. "He was telling me he was this close to committing too. I knew he was going to commit after the photoshoot."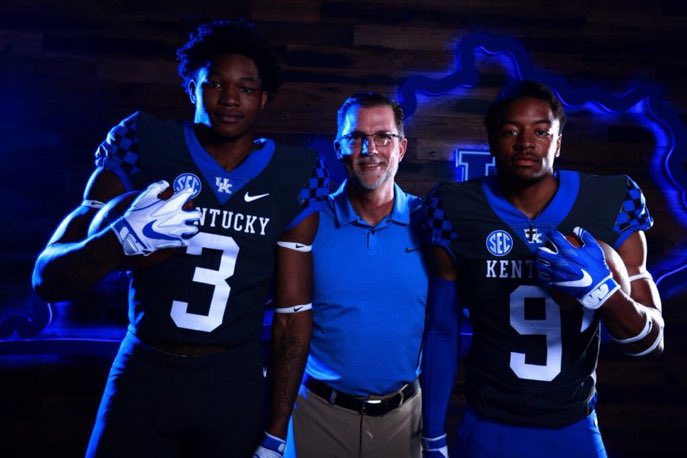 Davis and McClain have developed a close relationship throughout the recruiting process.
"The crazy thing about it, we've known each other well ever since we first visited. I don't know how, but every visit I took, me and him took the same day. I guess we clicked or something. That's my bro. We talk almost everyday."
Some players might be hesitant to commit to a school with a crowded backfield. Neither has a problem splitting carries with one another.
"They said just like Benny Snell and A.J. Rose, we can do the two-back formation. And even if we do rotate, we ain't tripping about carries, just like AJ Rose. We're going to get our touches."
A versatile combo, each player has proved they can be exceptional pass-catchers out of the backfield. Davis is willing to do whatever it takes to be one of the best to ever wear the blue and white. The ultimate goal is to eventually play on Sundays. Before that, he's ready to put on a show for fans at Kroger Field.
"They're going to see another Benny Snell, or better," he said.
Until then, keep your eyes peeled. A few more players are prepared to join Davis and McClain.
"These dice are still hot. We got some more coming."
[mobile_ad]