Today on KSR: Why are Florida fans so salty?
When I sat down to write a feature on Kerry Blackshear Tuesday afternoon, I had no idea it would end with Florida fans attacking me on Twitter, but here we are.
Despite the banner at the top of the site bearing our "most ridiculous manner possible" motto, my tongue-in-cheek list of pros and cons for each school on Blackshear's list flew over the heads of Gator fans in Gainesville, who were very upset to be reminded that their city is dangerous, muggy, and, although within an hour and a half drive from the beach, not on the actual coast. All day yesterday, my mentions were bombarded by salty Gator fans calling me "unprofessional" for citing proven facts about the place they call home. Alligator Army, the Florida SB Nation site, and the Rowdy Reptiles, the student section, even chimed in:
Your point was also that Gainesville is a place you can be murdered, but oh, why bother with fairness and/or intellectually rigorous comparisons when cheap clicks are available?

I'm sure @KySportsRadio wouldn't bristle at spinning Kentucky fans' treatment of refs for clicks. https://t.co/JYuGnsZJdH

— Alligator Army (@AlligatorArmy) June 12, 2019
Oh, no he didn't!
"Oppressive and miserable" also describe the conditions for opposing teams coming into the O'Dome pic.twitter.com/XTNEX0bxcq

— Rowdy Reptiles (@MBKRowdies) June 12, 2019
That one would have landed a lot better if UK didn't have a winning record at the O-Dome, but good job, good effort.
If any Florida fans are still lurking, good morning. Thanks for the clicks. Sorry we snapped the streak. Not really. I'll never be sorry about that. But, if it makes you feel better, you should read what we write about Starkville.
While I rev up for round two with @SwampMamaLuvsTebow, here's what's happening today.
The NBPA Top 100 Camp is underway
Many of Kentucky's top prospects in the 2020 and 2021 classes are in Charlottesville, Virginia this week for the NBPA Top 100 Camp, including Brandon Boston, Jaemyn Brakefield, Terrence Clark, Jalen Johnson, Jonathan Kuminga, Makur Maker, Daishen Nix, and Cliff Omoruyi. Our own Jack Pilgrim is there to bring you all the latest, so check out his primer from last night:
Jack will be sharing a lot of content from the camp on our KSR Digital YouTube page, so if you haven't subscribed yet, get on it.
Game 6 of the NBA Finals
The NBA Finals are back in Oakland for Game 6, which tips off at 9 p.m. ET on ABC. Yesterday, it was confirmed that Kevin Durant ruptured his Achilles during the second quarter of Game 5 Monday night. He had surgery in New York and posted this message to fans on Instagram:
I know a lot of people hate Golden State, but did Durant's injury and Raptors fans booing him while he was down on the court make the Warriors a bit of a lovable underdog?
The U.S. Open begins
If NBA's not your thing, flip over to Fox tonight for some primetime golf as the U.S. Open gets underway in Pebble Beach. Coverage runs from 12:30 – 7:30 p.m. on Fox Sports 1 and from 7:30 – 10:30 p.m. on Fox and all day on USOpen.com. Here's a complete list of tee times, but if you're like me, all you need to know is that Tiger tees off at 5:09 p.m. alongside Jordan Spieth and Justin Rose. If you need more than that, Adam Luckett has you covered.
Kerry Blackshear Watch
There are no updates on Kerry Blackshear this morning. He starts his official visit to Tennessee tomorrow, after which he will supposedly visit Kentucky. Stay tuned.
This thread about Ashton Hagans is great
Our old pal TJ Beisner now works for CoachCal.com, where he gets to know the players better than anyone. This thread he shared about Ashton Hagans last night will make you proud of your point guard:
One of the camp stations is a dribbling drill. I walked over to shoot video just as I saw Ashton pull a kid over the side. As I got closer, I noticed the boy was crying. I guess he was having trouble dribbling and got upset about not being able to keep up with the other kids.

— TJ Beisner (@tjbeisner) June 12, 2019
Ashton might forget about that by tomorrow or next week, but I bet that little boy will remember for a long time. Those are the little things that can make a big difference and it's just one example of what Cal is talking about when he says, "We've got a group of great kids."

— TJ Beisner (@tjbeisner) June 12, 2019
Meanwhile, everyone thinks Nate Sestina is old:
At camp yesterday I got asked if I was a coach or player ????? cmon I'm the old guy but not THAT old @KentuckyMBB

— Nate Sestina (@NateSestina23) June 13, 2019
Reid Travis said get used to it:
Hahaha ?? I was like man I just got introduced with the guys! https://t.co/OzrPa1Fc2V

— Nate Sestina (@NateSestina23) June 13, 2019
Willie Cauley-Stein is hosting a basketball camp in Erlanger next weekend
Do you have a child age seven and up that loves basketball and Willie Cauley-Stein? This two-day basketball camp at Griffin Elite in Erlanger is for you:
For more information and to register, click here.
KSR Dog of the Day
That honor goes to Bailey from Nashville, who is a very good cheerleader: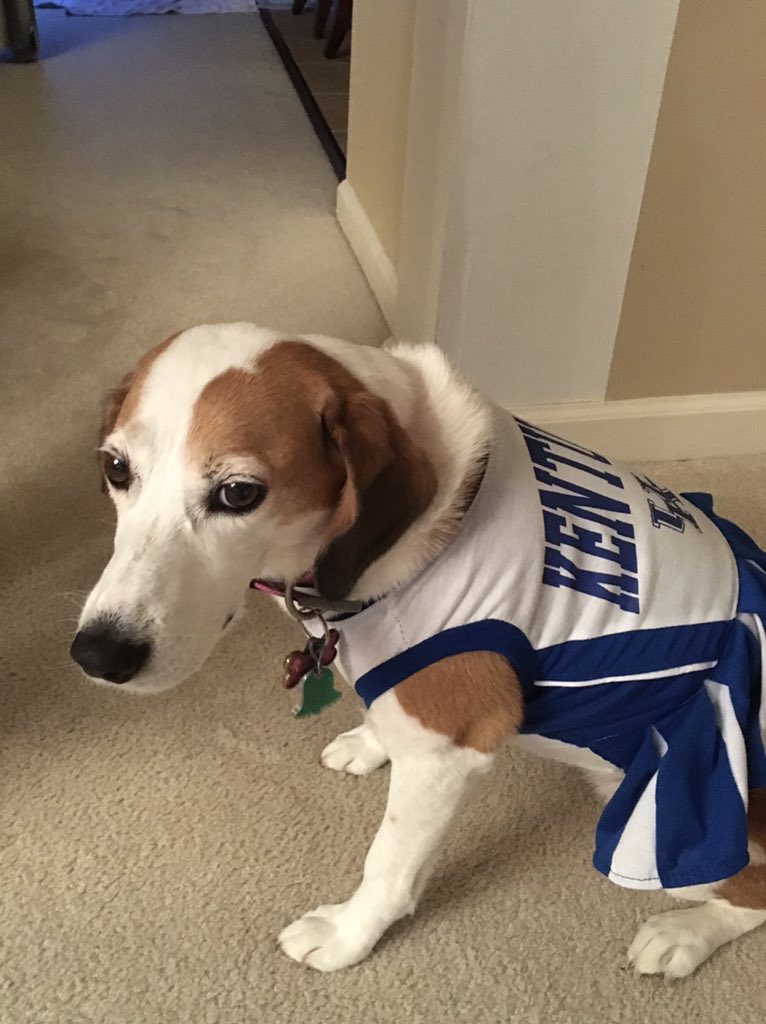 Does your dog rock Kentucky blue? Send us a pic on Twitter or Facebook.
It's Ryan Lemond, Jared Lorenzen, Shelvin Mack, and Chris Lofton Day on KSR
Today was scheduled to be Slice Rohrssen's day on KSR, but due to a death in the family, he had to cancel. So, Ryan went to the bullpen and called up Jared Lorenzen, Shelvin Mack, and Chris Lofton for what should be a very entertaining two hours of radio. It starts in one hour, so get some work done now.
[mobile_ad]