Today On KSR: The UK Football program had a nice weekend
The dice were hot for Mark Stoops and his coaching staff over the weekend as Kentucky hauled in not one, not two, not three, but four brand new commitments in the span of three days. UK's 2020 recruiting class picked up the additions of Joshua Jones, a three-star offensive lineman out of Alabama; Jordan Watkins, an athlete out of Butler in Louisville; Earnest Sander, a wide receiver and yet another highly-ranked prospect out of Michigan; and Louisville Male star Izayah Cummings, the seventh-ranked player in Kentucky. The class now has 11 commitments on board and is ranked No. 28 in the country by 247Sports.
Kerry Blackshear Watch continues.
The weekend passed and we still don't know where Kerry Blackshear Jr. will play his last season of college basketball. Reports on Saturday said Blackshear Jr. was very close to announcing his decision — Evan Daniels predicted even as soon as yesterday — so it could happen at any moment now. I do not have any inside information as to which way Blackshear Jr. is leaning or when he will do it, so like you, I will be refreshing his social media accounts throughout the day until we learn something. Nothing will surprise me at this point. I'm just ready for him to pick a direction so we all know.
Reid Travis to play for Atlanta in Las Vegas.
While we're on the subject of grad transfers, did you hear about Reid Travis? He will suit up for the Atlanta Hawks in the NBA Summer League in Las Vegas. Travis will be the third Wildcat to play for the Hawks organization recently, joining the likes of Isaac Humphries and Alex Poythress, who each wore the Hawks uniform last season.
The Vegas league will be held July 5-15.
The U.S. is back in action in the World Cup.
The USWNT will begin play in the Round of 16 today with a noon kickoff against Spain. It's all single elimination the rest of the way so the U.S. women will need to win four straight to repeat as World Cup champions.
Watch at KSBar and Grille during your lunch break for great deals.
Did anyone watch "Highwire Live" last night on ABC?
A brother and sister walked a tightrope 25 stories above Times Square on live television last night and I tuned in for all of it. But I want to ask you, friends: Am I the only person who was very disappointed they wore harnesses? I wasn't hoping to see them fall to their deaths or anything like that, but I did feel like the safety harnesses took away all of the risk and suspense. If you're going to take up two hours of TV time and drag Erin Andrews and Michael Strahan to Times Square to broadcast it, I think the daredevils need to be a little more daring for the audience. Anyway, that's my two centers. Still a good show, I guess.
Lynn Bowden casually talking smack on Twitter to a Louisville player:
In his defense, the Louisville player started it: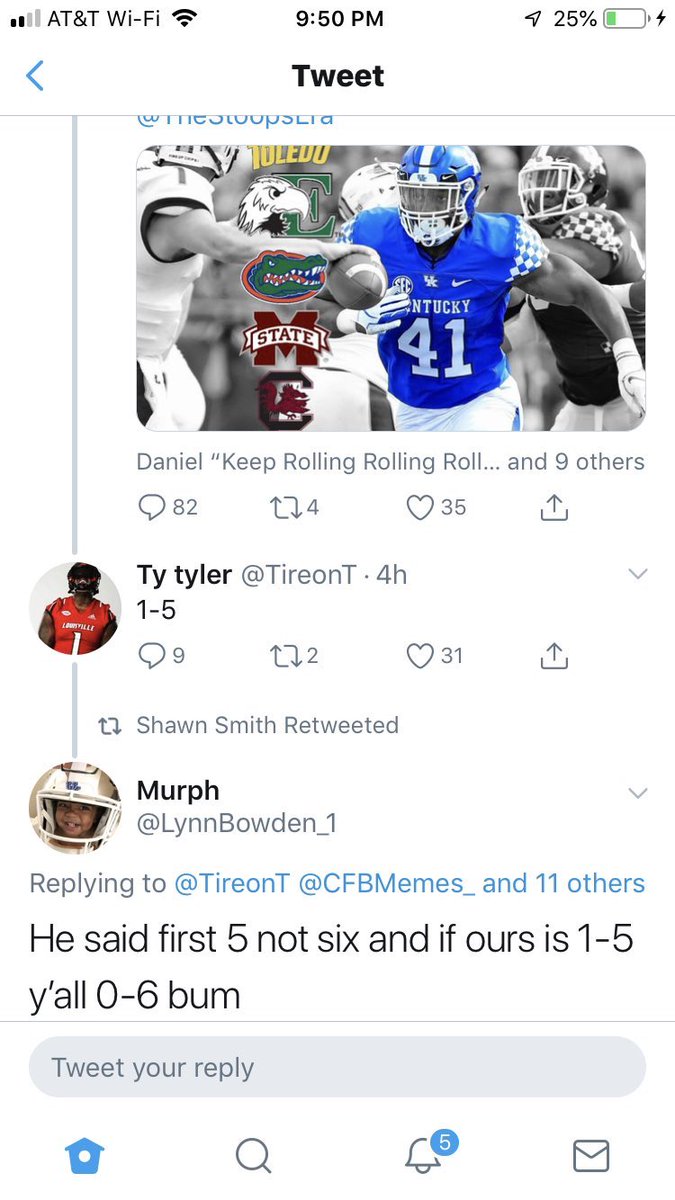 Matt Jones is back from vacation.
The Kentucky Sports Radio radio show and the Hey Kentucky! television show will return to their regularly scheduled programming this weekend with Matt Jones' long-awaited return from his three-week vacation. The radio show had a great three weeks of special guest hosts in his absence, but listeners will be thrilled to hear Matt back on the mic today and beyond as we count down the days to our summer tour around the state.
Tune in today to hear a rundown of all he experienced and missed back in Kentucky on his first show back.