Today on KSR: The Start of a Big Sports Week
Good morning friends and Happy Sunday! I thought we'd start off with Happy Stoops because 1) Yesterday was a good day and a good win. 2) It's the start of a short but BIG UK sports week and 3) Happy Stoops is the best Stoops. Ok, here's what's going on today:
Sights and Sounds from Senior Day:
ICYMI and I don't know how you would, but still, if you did, Kentucky beat Middle Tennesee State on Senior day yesterday 34-23. It's Kentucky's first eight-win season since 1984. It's my first time seeing a Kentucky football time win eight games. I think I like it.
We have a ton of Senior Day coverage from yesterday here, here, and here.
What a Senior day moment. Josh Allen and his family, along with his baby boy #BBN pic.twitter.com/4mtAyNu0k0

— Willie Hope (@WillieWYMT) November 17, 2018
It's been a heck of a season and a heck of a ride with these seniors. I'm gonna miss them.
It's a BIG Week for UK Fans Who Love Sports
I woke up this morning feeling like I just hit the lottery (I also woke up in a carb coma from friendsgiving yesterday but that's beside the point). Not only is it a short work week, but THERE'S SO MANY SPORTS ON!
We've got Sunday football today along with both Kentucky Basketball teams playing, Monday night Football tomorrow, a smallish break Tuesday, the Men's team playing Wednesday, Thanksgiving Basketball tournaments plus football on Thursday, and then College Football rivalry games start Friday. I'm PUMPED. Looking for a place to camp out all week and escape the family? Look no further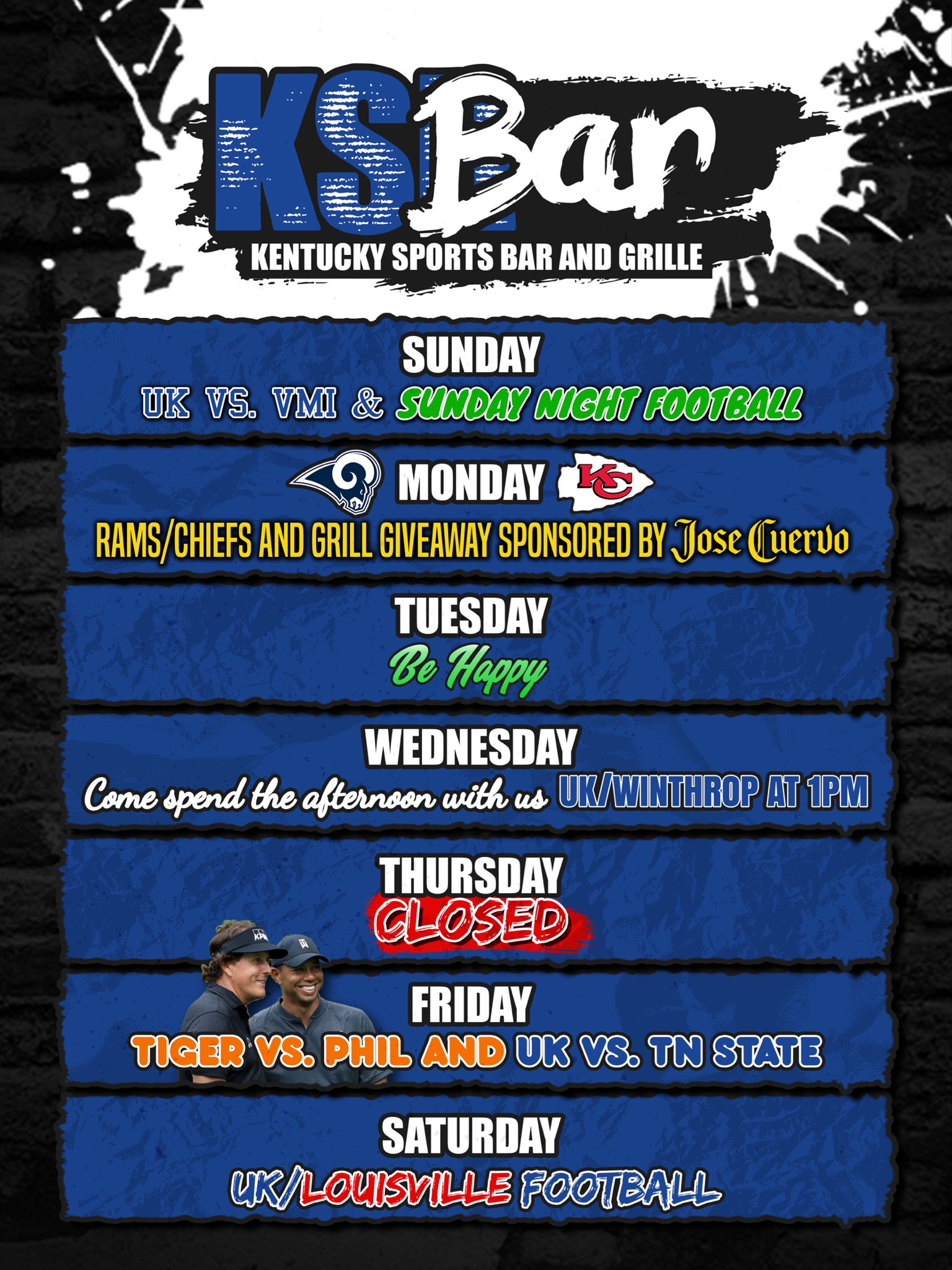 UK Hoops plays today!
UK Hoops looks to extend their 3-0 start to 4-0 today. The Cats take on High Point at 2 PM in Memorial. Fans can receive free admission to the game if they bring a canned food item to donate! So, get out there and pregame you basketball with some basketball today! Need more reason to go? This highlight video from the UVA game in Rupp last week might convince you:
Bright lights, big stage, we handled our business last night. On to the next …
? #poWEr pic.twitter.com/8XNWHzvAi8

— Kentucky WBB (@KentuckyWBB) November 16, 2018
UK Men Play Today Too!
As I said, we are truly living a dream week! Kentucky plays VMI tonight at 6 PM in Rupp Arena. According to the BBN Media Twitterverse this week of practice has been HARD for these young cats! Let's hope it works. Stay tuned on this great website for lots and lots of coverage later tonight!
College Basketball is Officially Back
I know it's been a couple of weeks, but last night we had our first big upset of the season! it's officially basketball season now! Furman beat potential title-winning Villanova 76-68 in overtime. It was a crazy game, one that caused a couple of friends and to leave the table at our Friendsgiving dinner party to watch. I'm not sorry about it, it was a great game. The celebration after was even better though.
.@FurmanHoops' locker room was WILD after upsetting Nova ?pic.twitter.com/GRjt8Gcqb9

— NCAA March Madness (@marchmadness) November 18, 2018
Ahh, it truly is the most wonderful time of the year!
That's all for me today friends! Happy Sunday and Happy Thanksgiving week! Go Cats!