Today On KSR: The Morning After The Big Win Good morning. I feel like we just spoke after Kentucky beat LSU in basketball only a short nap ago. Did you get a good sleep? Good, here's what's ahead for the day, plus a team picture with a man who played Jesus. Let's get to it:
The team met Jim Caviezel after the game.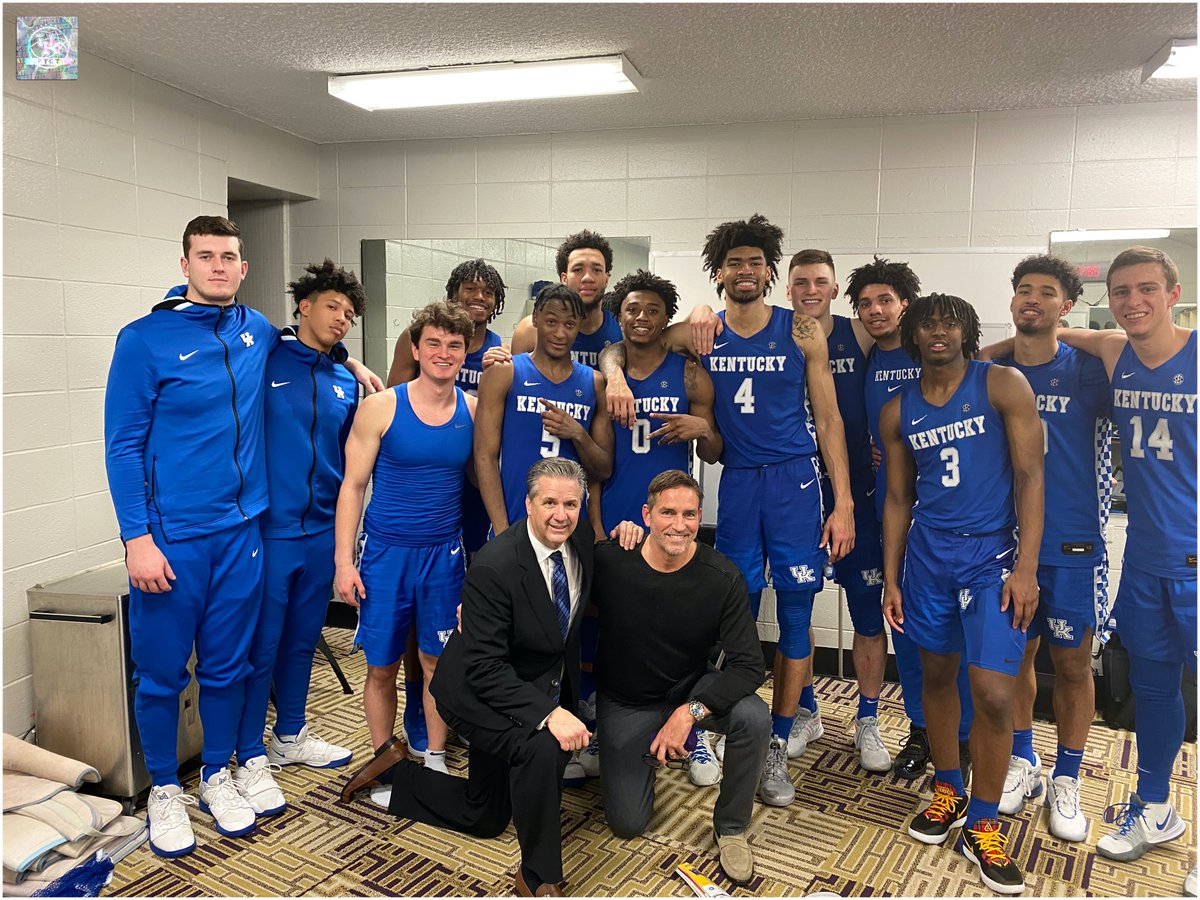 There is plenty of coverage about the game so it seems unnecessary to rewrite my thoughts about it all over again here. You can read my 10 Takeaways right here.
I do not have an update on Ashton Hagans.
I know you are worried, but I cannot tell you anything new regarding Ashton Hagans and his bruised thigh. John Calipari didn't have anything to say about it last night and nothing's changed since.
However, Coach Cal's call-in show is tonight, so we are likely to get an update then.
Penn State lost. That's cool.
It's hard to imagine a world where we care about Penn State basketball, but here we are and Penn State's loss last night may help Kentucky come tournament time. The ninth-ranked Nittany Lions lost at home to Illinois last night, freeing up a place for Kentucky to move up in the polls and the tournament seeding. Lunardi's latest Bracketology had Penn State as a 3-seed and Kentucky a 4, but last night's outcomes will likely flip those in his next projection.
UK Baseball won its home opener last night.
Kentucky sophomore Austin Schultz drove in four runs as the Cats beat Southeast Missouri, 9-4, in the first game at Kentucky Proud Park this season. The win came after UK lost three straight at TCU to open the year.
They're back at Kentucky Proud Park this weekend for three games against Appalachian State, beginning Friday at 4 pm.
Tuesday's Play of the Night (maybe the Year): Ashland from the other side of the court at the buzzer.
In case you missed it, unbeaten Ashland needed a 3/4-court heave at the buzzer to keep its perfect record alive at West Carter.
What a wild ending!

Ashland comes from behind to beat West Carter in dramatic fashion on this Cole Villers shot and preserve their undefeated season. Tomcats are now 27-0!#SCtop10 @ESPNAssignDesk @TomcatHoops @16thRegion @zklemmeADI @CollierSZLive @BSpicerTV @mmaynardkt pic.twitter.com/7Z3A11chtq

— My Town TV (@Mytowntvhd) February 19, 2020
It was the No. 1 play on SportsCenter last night, which is almost as cool as being on KentuckySportsRadio.com.
While we're watching videos…
Did you see Michael Drennen's commitment video?
His commitment came a couple of weeks ago, but his commitment video didn't hit the internet until yesterday. Follow "Donut" Drennen up through his commitment to the University of Kentucky:
Kid's gonna be fun to watch.
You should be a Georgia fan tonight.
Part your hair down the middle and make your best dumbfounded face because we're all Tom Crean tonight. Crean and Georgia host second-place Auburn and a win by the Bulldogs would give UK a two-game cushion on the rest of the league with five games to go. We like that scenario.
Tip-off is 7 pm on ESPN2 if you feel like watching. Either way, Go Dawgs.
Lots more from UK's big win still to come here on KSR. Go Cats.