Today On KSR: Thanksgiving + Basketball + Florida Week

Believe it or not, the calendar says this is the last week of November (time flies when everything sucks) which means the UK Football season is winding down and it is time to get your turkey thawing for Thursday. There is the start of UK Basketball too, while navigating one of the best holidays of the year in the middle of strict pandemic restrictions.
Start your busy week with the Monday morning notes here on KSR.
UK Basketball begins this week with the three-game Bluegrass Showdown.
The wait is almost over! Basketball will be played in Rupp Arena with three games in five days in Rupp Arena beginning this Wednesday.
vs. Morehead State, Wednesday, 6 p.m.
vs. Detroit Mercy, Friday, 6 p.m.
vs. Richmond, Sunday, 1 p.m.
The night games on Wednesday and Friday will air on the SEC Network, the Sunday game will get the afternoon slot on ESPN.
John Calipari is tempering expectations, as always. He recently said, "The thing I'm trying to explain to this team, first of all, every team we're going to play is going to be more experienced and they're going to know each other better, which means they're going to be an execution team compared to us. That means we gotta play harder, talk more, cover for each other and we have to value possessions… We need to get easy baskets. We gotta fly. And we gotta get offensive rebounds, those are effort plays. That's what this team's going to have to be about."
"They're getting better. We're just not ready. It will be January or February before we're what we need to be, but we're going to have games and practices, and I like this team, but we're a ways away from being what we need to be."
We'll see in two days.
John Calipari to speak at 11 a.m.
Before Coach Cal's Wildcats tip off their season in a couple of days, he will hold a press conference to preview what's ahead and give his thoughts on what's happened so far, including last week's NBA Draft for some of his former guys. Coach Cal is set to talk to the media today at 11 a.m. and you can follow along here on Kentucky-Sports-Radio-dot-com.
Select players will also be available for questions but we have not been told who those players are just yet.
Mark Stoops will hold his weekly press conference at noon.
It's a busy day around here because right after Calipari finishes speaking, we'll close that Zoom meeting for another as Mark Stoops' Monday press conference tradition continues following the football Wildcats' loss at Alabama. Stoops will discuss that game and preview what's ahead in the trip to Florida, as well as the latest concerns with COVID trying to sneak into the UK locker room.
Lots of Stoops at noon.
The Cats opened as a 23-point underdog at Florida.
30-point favorite Alabama doubled the spread in its 60-point win over Kentucky, and now Las Vegas has Florida laying 23 points to the Wildcats when the Gators get a turn this coming Saturday.
The total on the game is 57.5.
Incoming: New KSR Football Podcast.
At some point today you will see a new KSR Football Podcast episode pop up on your KSR Football Podcast episode feed. It is a very busy day around these parts so we haven't locked down a record time yet but it should be in your hands or on your podcast listening device in time for your drive home from work. We'll let you know when we know.
Austin MacGinnis to make NFL debut on Monday Night Football?
If not, we are driving to L.A. to get answers.
MacGinnis should be the Rams' starting kicker in Tompa Bay tonight, but L.A. recently signed yet another kicker (the fourth this season) to compete with MacGinnis for the new job opening. Still, MacGinnis was in preseason camp and has been on the practice squad this season, so he better get the nod over the new Matt Gay on MNF tonight. Gay was signed off the Colts practice squad when Kai Forbath, the Rams' second kicker, suffered an injury last week. MacGinnis was better than both Forbath and rookie Sam Sloman in Rams camp, by multiple firsthand accounts.
LET HIM KICK
Bruce Pearl's Auburn self-imposes postseason ban.
The school released this statement on Sunday regarding the scandal surrounding former Pearl assistant (and Auburn legend) Chuck Person:
"The athletics department and university administration, in conjunction with Coach Bruce Pearl, made the decision after careful deliberation and in light of the ongoing matter that surfaced in fall 2017 regarding former assistant Chuck Person. Auburn has cooperated with the NCAA and will continue to do so.

"We regret the impact this decision has on our student-athletes, yet it was made in the best long-term interest of the program. Because of the ongoing matter, we will not comment further but hope for swift consideration and resolution of the matter."
Auburn is expected to be down in a chaotic COVID season, so this isn't the worst decision to voluntarily sit out to lighten future punishments. Good luck with that.
[Check out Midnite Rooster's CBD line.]
Use my link right here to check out the new products from our friends and partners at Midnite Rooster. Midnite Rooster is a new company started by a bunch of Kentuckians with Kentucky Proud/USDA certified organic products, ranging from beard oils to tattoo salves and relief sticks and more. You've probably heard us mention Midnite Rooster on our podcasts and the live blogs, now go browse the website and use promo code DREWKSR for 15% off at checkout if you decide to try it out. Go Cats.
Turkeys SOLD OUT at KSBar and Grille.
However, you can still win Thanksgiving by showing up with something from KSBar and Grille's regular catering menu.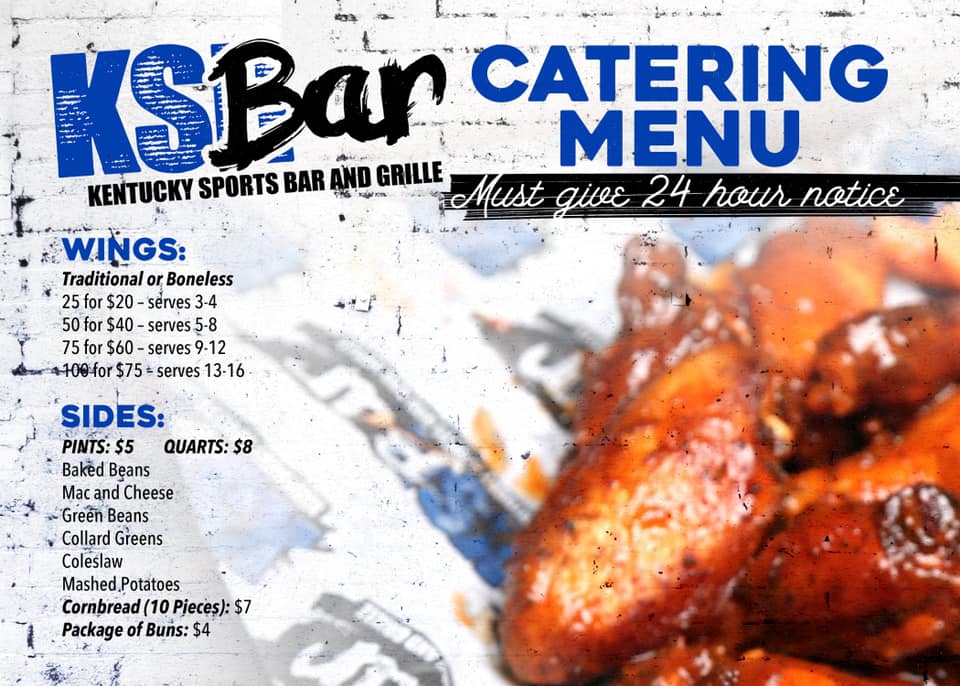 It is a full house on Kentucky Sports Radio radio today.
With only three shows this week—we are taking Thursday and Friday off for the holiday—the KSR team is cramming five days of fun into Monday, Tuesday and Wednesday. Today there is no shortage of topics with Alabama game reactions leading the way. Tune in at 10 am!