TODAY ON KSR: Team of Destiny?
Kentucky football won in the most improbable fashion.
Down two scores with 5:13 left in the game, with an offense that had yet to score a touchdown in the game. An offense that only put together three touchdowns in the last 13 quarters. On the road, as a touchdown underdog, there's no way any team could win that, right? Somehow, the Cats found a way. Now, they are four quarters of excellent football away to a trip to the SEC championship game. It has me thinking, does Mark Stoops have the team of destiny? Here are the best moments from last night's improbable win:
CJ Conrad
The BBN has been salivating for CJ Conrad to get more involved in this Kentucky offense. He's a special talent and will no doubt make an NFL roster come training camp next year. With that said, there's no denying Conrad has been underutilized at Kentucky. But, out of nowhere, CJ Conrad had his moment last night.
I don't need to go into specifics, we all know what happened. Just watch, relive, and enjoy.
Terry Wilson ?? CJ Conrad FOR THE WIN! pic.twitter.com/hyJZ2TtFow

— SEC Network (@SECNetwork) October 27, 2018
Then the bar's reaction (shoutout to the piss pads, Drew.)
Here's how it looked @KSBarAndGrille pic.twitter.com/Mp2PctE3W7

— Matt Jones (@KySportsRadio) October 27, 2018
Lynn Bowden
We've seen Lynn Bowden do some fantastic things in the blue and white, in just his two short seasons, but yesterday was undoubtedly his best game as a Wildcat. Bowden easily had the biggest play of the game, before CJ Conrad's game-winning touchdown, when he reportedly checked himself in as the punt returner and took it to the house to put Kentucky right back in the game.
On top of that, Bowden had 13 receptions for 166 yards, including a 45-yard busted scamper on the first drive that would put him on pace for a career game.
Lynn Bowden hasn't been disappointed by any stretch of the imagination, but since he scored his first touchdown in Gainsville, his play has elevated to a whole new level. With the big plays he's made against Florida, Texas A&M, and Missouri, this is the Lynn Bowden we've been waiting on.
The game ball was well deserved.
Terry Wilson is MY Quarterback
I'm done hearing the Terry Wilson slander. That is our quarterback. Yes, Terry Wilson hasn't had the best ten quarters before marching into Columbia, but last night he proved to the BBN that he deserves the right to be the starting quarterback for the University of Kentucky. In fact, I'm going on record that in 2018, Terry Wilson is a better quarterback than Drew Lock. Don't believe me? Yesterday Wilson threw for 102 yards more than Lock, and Wilson had a QBR of 71.1 compared to Drew Lock's 38.2, not to mention the win.
Against SEC opponents before yesterday's game, Terry Wilson had 60.8% completion percentage, 480 yards, Four touchdowns, three interceptions, 120.92 passer rating 277 rush yards, two touchdowns.
Drew Lock in SEC games 48.2% completion percentage, 567 yards, one touchdown, five interceptions, 85.39 passer rating, three rush yards, one touchdown.
Look, he's not perfect, but Terry Wilson has the Cats sitting at 7-1 with a chance to go to Atlanta next week. He snapped the 31-year drought against Florida, and he makes the critical plays when they matter. As far as I'm concerned, he's the guy.
I ride with Terry.
Kentucky's Defense is amazing
As fun as the punt return and the heroic final drive were to watch, none of it would have been possible without Kentucky's defense. In the second half, Kentucky allowed ZERO first downs. If Josh Allen could've finally been the victim of a holding call on third down, and if the offense doesn't give Missouri the ball around midfield, there's a solid chance Missouri puts up fewer points than they did.
After all the talk about Drew Lock and how great this Missouri offense was, Kentucky made it a point to show that their defense is for real. Kentucky has not allowed a team to score more than 20 points this season, and even Texas A&M's 20th point had to come in overtime.
Even though the offense has sputtered the last few weeks, defense wins championships, and I don't care if our offense only scores three points in a game, I'll take the Cats.
Enjoy this historic defense while you can.
Hey Haters, Sup?
Kash Daniel is no stranger to exposing cold takes (a la the amazing locker room Mississippi State interview) So when TJ Moe tweeted this gem:
When #Mizzou beats #Kentucky Saturday, under no circumstances should anyone rush the field. Whether they're ranked #12 or not you don't rush the field when you beat Kentucky. I wouldn't mind Coach Odom getting a little Gatorade bath though for a big win, his 1st vs a ranked team.

— T.J. Moe (@TJMoe28) October 23, 2018

I felt compelled to ask Kash about it at this week's defensive presser. He said he didn't care before I could even quote the first word in Moe's tweet, but this string of tweets confirms what I thought once I left the training facility Thursday evening. The Cats can't wait to prove the haters wrong once again.
@TJMoe28 Sup?

— Kash Daniel (@KashDaniel15) October 27, 2018
@notthefakeSVP Sup?

— Kash Daniel (@KashDaniel15) October 27, 2018
@CollegeGameDay everyone but Kirk, sup?

— Kash Daniel (@KashDaniel15) October 27, 2018
? @TJMoe28 pic.twitter.com/KtvPJYdfUH

— Joshua Allen (@JoshAllen41_) October 28, 2018
Correction you meant UNLOCK https://t.co/J0PYWqRhhs

— Mr SNELL YA LATER?? (@benny_snell) October 27, 2018
Mark Stoops is Ballin' like a MFing Pro
Watch Mark Stoops crowd surf to Mo Bamba, in the locker room, after Kentucky's victory courtesy of Kash Daniel's Instagram story:
MARK STOOPS IS A LEGEND pic.twitter.com/8IXA4vvJLR

— KY Clips (@KY_Clips) October 28, 2018

Mitch, can we please build a statue of this man?
Thank you, Oklahoma State
Eight Top 25 teams lost to unranked opponents on Saturday, one of them being sixth-ranked Texas. We knew Florida and Georgia were going to knock each other out of the top ten, so with Texas's loss to Oklahoma State, it's almost all, but sure Kentucky will be in the top-10 when the playoff rankings come out Tuesday night.
I don't expect Kentucky to move too far up the rankings because a 15-14 win over 4-4 Missouri isn't glamorous, but I can't imagine that the Cats will be left out of the top ten. Shoutout to the fighting Mike Gundy Mullets.
Georgia, We Comin'
We finally have it. BBN, after all the years of suffering, heartbreak, bad breaks, and bad luck, we finally have the game we've waited on for decades. Georgia and Kentucky both won on Saturday, and now it just down to the Cats and the Dawgs for a trip to Atlanta. Kentucky has only beaten Georgia twice in the last two years, the last one being nearly a decade ago when Randall Cobb helped Kentucky take down Georgia between the Hedges.
Next week, Kroger field will be electric, and Kentucky will play in it's biggest game in generations. A sell-out crowd is already on hand, the CBS crew will be in town, and so will SEC nation. Saturday has the potential to be one of the best days in the history of Lexington and UK Athletics. I'm ready to run through a wall right now just thinking about it.
We comin' for that neck.
NFL Slate for Today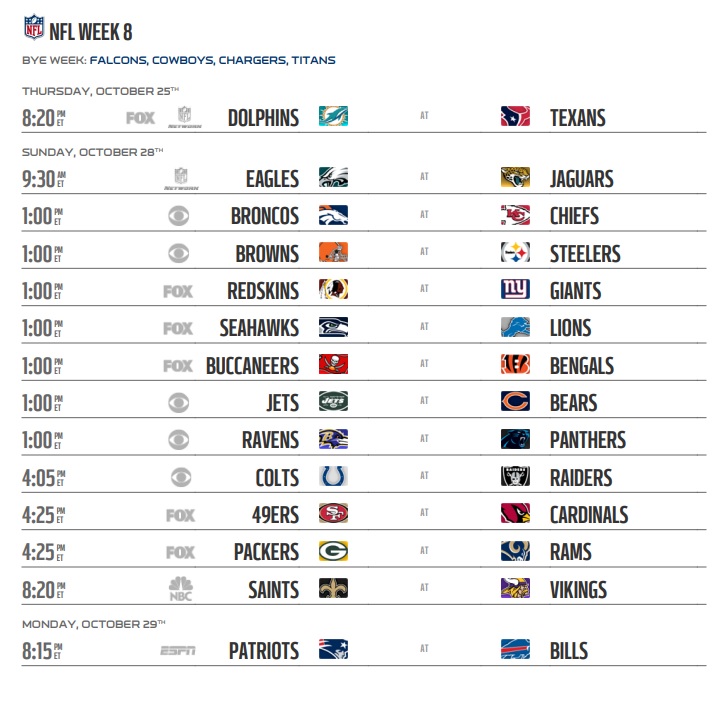 7-1, Go Cats.