Sports. SPORTS! Sports.
Folks, they're all the way back. A day after Major League Baseball's opening night, all 30 teams were in action across the country. KSR has hitched our wagon to the Cincinnati Reds. They looked like a team ready to steamroll through the entire league during the shortened 60-game season, taking down the Detroit Tigers 7-1.
Sonny Gray struck out nine batters and only allowed three hits and one earned run in six innings. Joey Votta went yard with a solo shot and Mike Moustakis drove in four runs in his Reds' debut. All in all, a Reds fan couldn't have asked for a better start to the season.
Game two of the season-opening series is this evening at approximately 5:10 p.m. ET. You can watch all of the action at KSBar and Grille. If you aren't in the mood for $3 pints and hot dogs, we've got something else that may tickle your fancy: Whole Damn Vending Machine Dessert Nachos.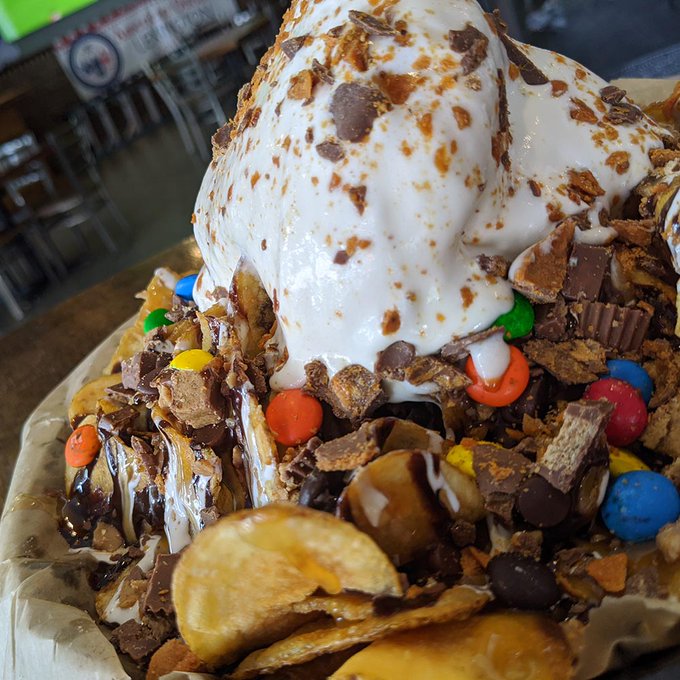 NBA Preseason Scrimmages Continue
Sports were sparse until this week. Now they're on all day. Even though they're technically just preseason scrimmages, NBATV is letting you watch Anthony Davis do work on the hardwood, a beautiful sight to behold.
Lakers vs. Magic (12 pm on NBATV)
Bucks vs. Kings (12:30 pm)
Heat vs. Jazz (4 pm on NBATV)
Nets vs. Spurs (4:30 pm)
Clippers vs. Wizards (8 pm)
Nuggets vs. Pelicans (8:30 pm)
Hello, Wubble
The WNBA is tipping off its official season a week before the boys in Bradenton, FL. Fans will get a heavy dose on day one with a triple-header on national television, starting with the Seattle Storm vs. the New York Liberty at Noon on ESPN. The L.A. Sparks take on the Phoenix Mercury at 3 p.m. ET on ABC, followed by the Indiana Fever vs. the Washington Mystics at 5 p.m. ET on CBS Sports Network.
Woj is Back
The czar of NBA news was absent from the news-breaking biz for two weeks. Since apologizing for cursing at a U.S. Senator via e-mail, Adrian Wojnarowski was nowhere to be found on Twitter. Finally, Friday evening we got a Woj Bomb that brought things back to normal.
Indiana's Domantas Sabonis has a signficant foot injury and will leave the Orlando bubble to seek treatment from a specialist, sources tell ESPN.

— Adrian Wojnarowski (@wojespn) July 24, 2020
Kunkel won't likely be a Cat
Many Wildcat fans hoped that one of Northern Kentucky's finest would eventually end up in Lexington. Friday afternoon Drew Franklin shared some scoop: the Belmont transfer's decision was imminent despite never speaking with John Calipari. Kentucky assistants spoke to Kunkel early in the process, but it seems that nothing else came from those talks.
Lou City is Back in Action
The state's pro soccer franchise has been on a skid since the USL season resumed, falling in their first two outings. Louisville City has a chance to bounce back tonight at 8 p.m. ET on Sporting KC II comes to town. The teams will meet at Lynn Family Stadium twice over the next four days. I'll be attending my first game tonight at the brand new stadium, my first sporting event since Lynn Bowden threw Josh Ali a touchdown in the Belk Bowl. Hopefully this football game produces just as many fireworks.
Survivor Strong
Two of the most beloved Survivor players in recent history are two of Eastern Kentucky's finest, Nick Wilson and Elaine Stott. When Kentucky Nick isn't searching for idols, he's prosecuting people as the Whitley County Assistant Commonwealth's Attorney. This week he helped put someone behind bars that stole a dirt bike from Elaine. Justice served.
KSR's Dog of the Day
Typically the dog of the day is dedicated to one that enjoy's repping the Big Blue. Today we're making an exception for a dog that thinks it's a person, Bluenjy the Frenchie. Every time I see this little dog eat, I can't help but smile. Who said you need opposable thumbs to hold your food?
View this post on Instagram