Today on KSR, sponsored by Braidy Industries
A Message from Today's Sponsor:
Kentucky is home to driven families seeking community transformation. Braidy Industries is restoring hope, one family at a time, by bringing hundreds of jobs to the Ashland, Kentucky community. Craig Bouchard, CEO of Braidy Industries, sees talent and innovation in the young minds of Kentucky, and is determined to utilize their strengths to build business within the greater Boyd County region. 
For representing the future of Kentucky, graduates from Russell, Fairview, Boyd County, Greenup County, Holy Family, Rose Hill Christian, Paul Blazer, and Raceland High School have received scholarships on behalf of Braidy Industries. You can keep up with Braidy Industries at www.braidyindustries.com. Thanks to Braidy Industries, the future is looking bright in Eastern Kentucky!
---
Day Two of SEC Media Days
Kentucky's time at SEC Media Days may be over, but the fun is just getting started down in Atlanta. Today, Georgia, Ole Miss, Arkansas, and Florida take the stage, and Nick Roush is on hand to make sure you don't miss a second of it.
Here's the schedule for the main room:
SEC Coordinator of Football Officials Steve Shaw (8:30 a.m.)
Georgia coach Kirby Smart (9 a.m. – 1:15 p.m.)
Players: WR Terry Godwin, DE Jonathan Ledbetter, DB J.R. Reed
Ole Miss coach Matt Luke (9 a.m. – 1:15 p.m.)
Players: DT Josiah Coatney, C Sean Rawlings, QB Jordan Ta'amu
Arkansas coach Chad Morris (1:30 p.m. – 5:45 p.m.)
Players: OL Hjalte Froholdt, LB Dre Greenlaw, S Santos Ramirez
Florida coach Dan Mullen (1:30 p.m. – 5:45 p.m.)
Players: LB David Reese II, OL Martez Ivy, DL Cece Jefferson
Miss any of Kentucky's turn?
Mark Stoops, Benny Snell, CJ Conrad, and Josh Allen gave us tons of quotes to get you ready for football season. You can find all of our coverage here:
KSR's Coverage from UK's Appearance at SEC Media Days
I'm still smiling at this face Benny made after declaring himself the best running back in the league:
Benny Snell's confidence is so high he's talking in third person. @benny_snell pic.twitter.com/fZc4HlwRbY

— Tyler Thompson (@MrsTylerKSR) July 16, 2018
It's almost as good as this classic:
Watching the SkyCam replay of the game. Guess who found the camera after his first half TD review? @benny_snell #BBN pic.twitter.com/V9iJlhucLF

— Josh Edwards (@JEdwar247) September 18, 2017
Bryce Harper won the Home Run Derby
I was too wrapped up in Floribama Shore (Not Sorry), but apparently the Home Run Derby was pretty awesome last night. The National's Bryce Harper came back to beat the Cubs' Kyle Schwarber for the title:
Bryce Harper won the Home Run Derby in the most dramatic way possible. pic.twitter.com/qpnvbcx0xe

— ESPN (@espn) July 17, 2018
And posed with John Wall afterwards: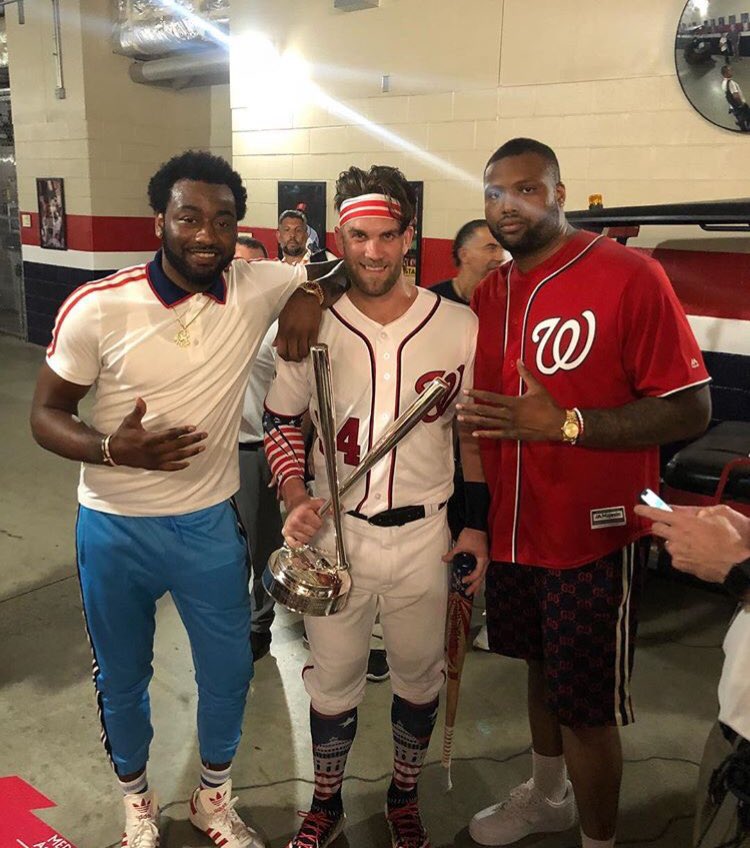 Archie Goodwin plays in the Summer League finals
The Vegas Summer League ends today and Archie Goodwin, now the top scorer in the history of the event, will try to lead the Portland Trail Blazers to the championship over the Los Angeles Lakers. You can see that on ESPN at 10 p.m. ET.
Shoutout to Swings For Soldiers
Jacob Tamme's annual charity golf tournament took place yesterday and was another big success despite a few pesky downpours. Since starting the event in 2010, Tamme and his wife Allison have raised $1 million for "Homes For Our Troops," which specializes in building accessible homes for disabled veterans. Way to go, guys.
Let the nostalgia wash over you in this Stranger Things Season Three promo
Ahoy! Something is coming… to Hawkins, Indiana! pic.twitter.com/BI4wFRVzvB

— Stranger Things (@Stranger_Things) July 16, 2018
I'll admit that I had totally forgotten about Waldenbooks.
KSR is in Ashland
If you're in the area, come on out to Blazer's Restaurant and Bakery (1624 Carter Ave) to enjoy the show.
[mobile_ad]