Today on KSR: Shaun T is the Devil
For those who have never had the pleasure to spend time with Shaun T, consider yourself lucky. To everyone else who has interacted with Satan's spawn, God bless you.
This week Shaun T has transformed into public enemy No. 1 at the Roush house, thanks to his new exercise program Transform: 20. You probably recognize his work in Hip-Hop Abs, Insanity and the temptation of Christ in the desert for 40 days and 40 nights.
As he tries to motivate my wife and I through grueling 20-minute workouts, we respond appropriately — with curses. It's not just that Shaun T kicks your ass physically. He completes every workout with ease while constantly spouting out punch-in-the-face worthy motivational talk.
"Transform your life!" Push Through!" "I know you can do this!" What a monster.
Is Shaun T keeping me alive longer with the power of aerobic exercise? Yes, but at what cost? This is one deal with the devil I'd prefer not to make. Although after one week of work, I might as well see it through.
Even if you don't hate Shaun T, I'm sure you love the long holiday weekend. Here's what's on the docket.
UK Softball Trails in Super Regional
The first night of UK's west coast Super Regional did not go according to plan. Plagued by untimely offensive droughts, when the Cats could not put it together, Washington made plays. Kentucky left nine runners on base before ultimately falling to the Huskies 3-0.
To keep their Women's College World Series hopes alive, UK must respond with a win tonight to force a decisive game three. First pitch is at 10:00 p.m. ET on ESPN2.
The EYBL is in Dallas
The top basketball prospects in the country are playing in the Lone Star state. There will not be the same buzz in Texas as there typically is on the recruiting trail. It's currently a quiet recruiting period, which means coaches cannot evaluate prospects in person. Even though we won't see who UK's coaches are recruiting, Jack Pilgrim can provide you a few stats and highlights from UK's top targets at the event.
Whoa, Tiger
Since he walked into the 2018 PGA Championship with his hat on backwards, Tiger Woods has his swagger back. That fully came to form when he won this year's Masters. This isn't the same old Tiger. He's physically lost a little bit, but he's become more open with fans. Once an untouchable star, now he feels like one of us. Nothing illustrates it better than this video that surfaced yesterday (WARNING: it features a few bad words).
This is the greatest video I've ever seen. (Tiger says a naughty word too so heads up.) ?? (credit to Adam Weinraub on Insta.) pic.twitter.com/tNcVIwEHpP

— Tiger Tracker (@GCTigerTracker) May 24, 2019
Can Raptors Clinch in Game 6?
It's Toronto's opportunity to drive the nail into the Milwaukee Bucks' coffin. Leading 3-2 in the seven-game series, a win tonight would put the Raptors in the NBA Finals for the first time. Can Drake carry them to a W at home? We'll find out at 8:30 on TNT.
Billy Ray has a Maserati sports car
Since acquiring 'Old Town Road' fame, Lil Nas X has remained generous. Yesterday he rewarded the man who helped propel his song to the top of the Billboard charts, Kentucky native Billy Ray Cyrus.
AYEEEE! pic.twitter.com/MwEOQp8eQi

— nope (@LilNasX) May 21, 2019
Stay Away from Mt. Everest
I hope you spend your Memorial Day weekend somewhere warm near a body of water. I do not advise you spend it near the summit of the world's highest peak. So many people are trying to climb Mt. Everest at once, people are dying. There have been three deaths in the last week. This picture by climber Nirmal Purja is astounding. Ecology, man.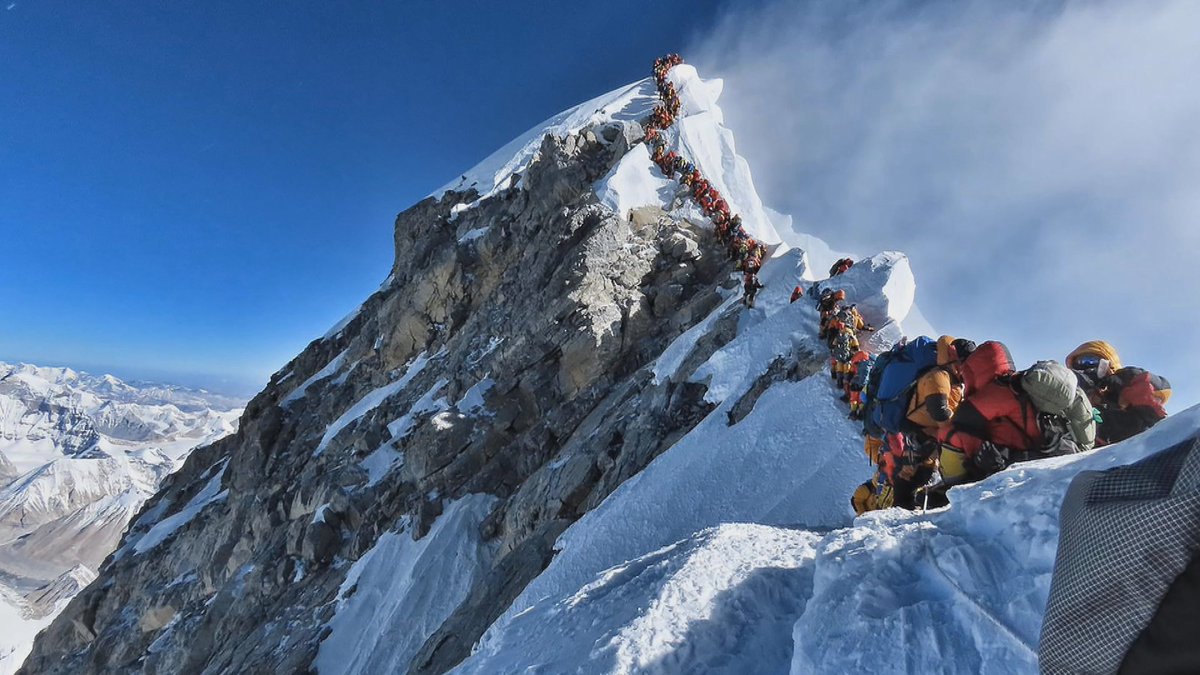 If you do decide to spend time next to a warm body of water, I do have one sound recommendation. Everybody do the Weekend Dance! Everybody do the Weekend Dance! If you won't do your Weekend Dance, I will. And I'll keep this song stuck in my head for another week.
Have a safe and spectacular Memorial Day weekend.
[mobile_ad]