Today On KSR: RIP to an American Hero
Starting today's Sunday post on a somber note and straying away from the "stick to sports" avenue, we here at KSR would be remiss if we didn't recognize the passing of an American hero. Arizona senator, John McCain passed away from brain cancer last night at the age of 81, just one day after announcing he would discontinue his treatment. John McCain was a POW survivor and the runner-up in the 2008 presidential election, just to highlight a few of his many accomplishments. Rest in Peace to a true hero.
Now, Sports.
It's Game Week
Finally, after all the waiting it is football time in the bluegrass…well, not exactly, but the football team is making their final preparations before taking Kroger Field this week, so you should do the same. Get your tailgate supplies, your friends, and family, and get up for the home opener against Central Michigan. You can purchase tickets here.
This week expect Kentucky to announce their starting quarterback as early as tomorrow finally. I also expect some fire hype videos from kywildcatsTV this week.
Just six more days, until Benny Snell starts his Heisman campaign.
UK Suffers Another Untimely Injury
We were so close, just one week away from the first game we thought our Cats had made it through the preseason with no injuries. Unfortunately, Kentucky would not make it through unscathed as Landon Young blew his knee out in yesterday's scrimmage and will miss the entire 2018 season. This is coming just one year after Mark Stoops lost Landon Young's predecessor at Left tackle, Cole Moirer, and Dorian Baker to season-ending injuries.
The good news is Kentucky has some quality backups who can step in for Young, such as Nassir Watkins, EJ Price, and Darrian Kinnard.
We wish a speedy recovery for Landon Young.
KSBar and Grille Grand Opening Last night KSBar opened it's doors for the first time to close friends and family to Matt Jones, it seemed to be quite the success. I, for one, can't wait for the public opening on Thursday night.
Here's a preview:
LIVE from the KSBar Grand Opening https://t.co/94naZcOhw4

— Matt Jones (@KySportsRadio) August 26, 2018
Check Out Kentucky Baseball's New Stadium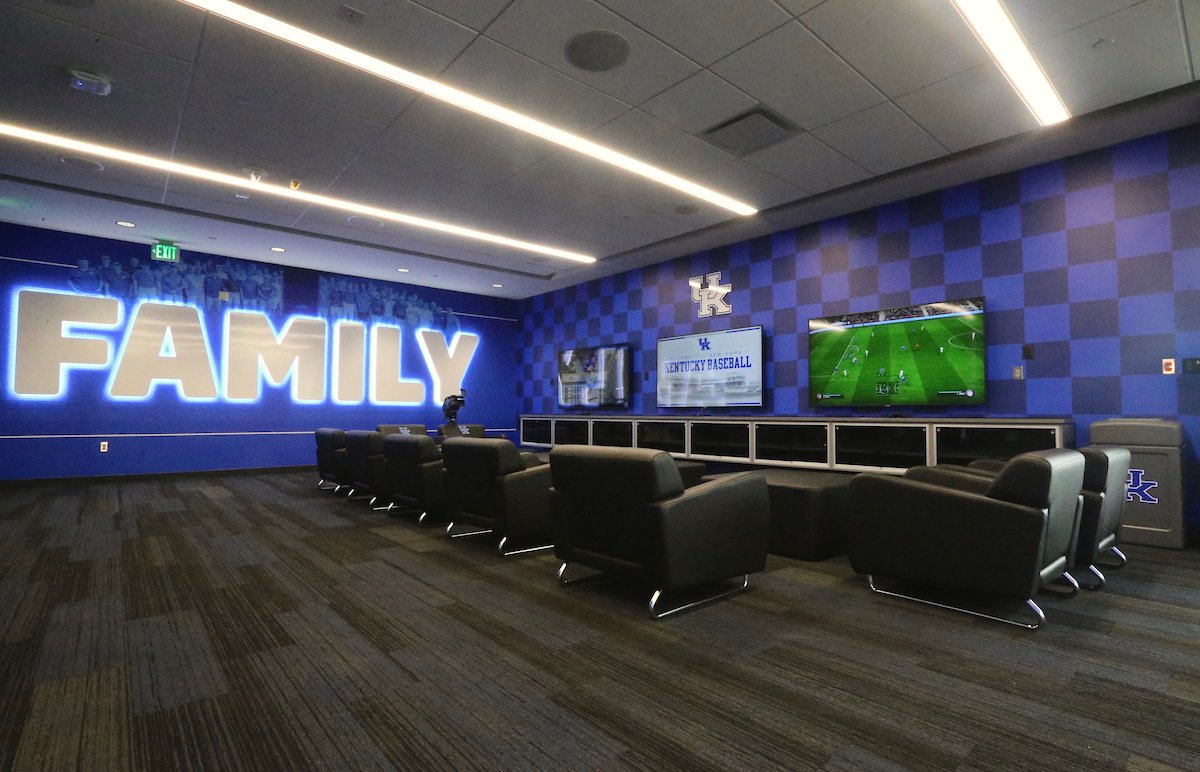 It's time…. #WeAreUK pic.twitter.com/EjjvaVZY53

— Kentucky Baseball (@UKBaseball) August 25, 2018
It gets no better than this. ?? #WeAreUK pic.twitter.com/lfpPlYqfnb

— Kentucky Baseball (@UKBaseball) August 25, 2018

To see more photos head on over to UKathletics.com and check out the photo gallery.
Bark In the Park
For the first time since 2012, UK's Women's soccer team is 3-0-0 to start the season as they will take on the Wisconsin Badgers today at the Bell, at 1:00 pm today. If Kentucky's hot start isn't enough reason for you to attend, maybe this will. Today is bark in the park at the UK Soccer complex, You can bring your dog, free of charge, with a donation to the Lexington Humane Society.
If you can't make it to the Bell today, you can watch live on the SEC Network. But, cmon…seriously, who doesn't like dogs?
Follow me on twitter: @BrentW_KSR