Today on KSR: Rest in Peace, King Kelly Coleman
Yesterday, the state of Kentucky lost a high school hoops legend. "King" Kelly Coleman, Kentucky's first Mr. Basketball and the all-time leading scorer in state high school boys' basketball history, passed away at the age of 80 in his hometown of Wayland, Kentucky.
Coleman played at Wayland High in Floyd County from 1953-56, scoring 4,337 points, a mark that has yet to be topped; in fact, he is the only player in state history to score over 4,000 points, an even more impressive stat when you consider the three-point line didn't exist yet. He also owns the state records for most points in a single season (1,734), field goals made in a game (31), and field goals attempted (52). As a senior, he averaged 46.8 points per game and set another record with 185 points in a single Sweet Sixteen, which included 68 points vs. Bell County, the most ever in a state tournament game.
For more on Coleman's incredible life, I suggest you read Mike Fields' column on the KHSAA website. It's well worth your time this morning.
Now, for the rest of the news…
Kerry Blackshear starts his official visit to Kentucky tomorrow
Over the weekend, Blackshear checked out Tennessee, and last night, word broke that he will take an official visit to Kentucky starting Tuesday night. In addition to his official visit to Knoxville, the Virginia Tech grad transfer has also visited Florida (unofficial) and Arkansas (official). Last week, it was reported that Memphis is also in the mix, but yesterday, Chris Dortch, editor of the Blue Ribbon College Basketball Yearbook and contributor to NBA.com, tweeted that he believes Blackshear is down to Kentucky, Tennessee, and Texas A&M. Evan Daniels tweeted that he wouldn't be surprised if Buzz Williams and the Aggies got a visit before all is said and done as well.
Nothing left to do but get the kid to campus and see what happens. Stats like this certainly help:
Since entering the league, @AntDavis23 is one of only 3 players to average 20 PPG & 10 RPG.

All 3 came from @KentuckyMBB. pic.twitter.com/96YQO3uLxL

— NBA on ESPN (@ESPNNBA) June 16, 2019
Johnny Juzang arrived on campus
Whether or not Blackshear joins this Kentucky team is still up in the air, but another Cat joined his teammates in Lexington this weekend. Sharp-shooting wing Johnny Juzang is now on campus after finishing up classes in California:
Dropping @JohnnyJuzang off at @KentuckyMBB this weekend. Excited for his next chapter #BBN @Compton_Magic @HWHoops pic.twitter.com/xafFaWMAtj

— Maxie Juzang (@MAXIE_JUZANG) June 16, 2019
Welcome to Lexington, Johnny.
The NBA Draft is Thursday
Other than Kerry Blackshear, the big news this week is the NBA Draft. On Thursday night, PJ Washington, Tyler Herro, and Keldon Johnson will all be in the Green Room at the Barclays Center to find out their futures, along with John Calipari, who you know will do his best to maximize air time. The mock draft updates will be fast and furious this week, but right now, it looks like PJ and Tyler have the best shot of going in the lottery, while Keldon is expected to go in the 15-25 range.
Justin Rogers' official visit to Alabama is over
In football recruiting news, five-star offensive lineman Justin Rogers finished his official visit to Alabama yesterday and didn't flip his commitment, which honestly feels like a bit of a win. It's not over until Signing Day, but I'll admit that social media posts like this had me worried:
Everything is about business ?

— Justin Rogers (@AllAmerican52JR) June 16, 2019
In an interview after his visit, Rogers told The Detroit News that "nothing's changed" in his recruitment and he's still planning to come to Kentucky. Phew?
John Calipari and the team signed this fan's semi truck
Last week, Chuck Goff and his son Chuckie went to the John Calipari Satellite Camp in Somerset, where they got to meet Cal and the team and get their autographs. The interesting part? Instead of signing a ball or a picture, the team signed Chuck's semi truck:
Life-long trucker & UK fan, Chuck Goff, & son, Chuckie, got to meet the UK men's basketball team & Cal this week at the camp in Somerset. They signed his truck! How cool would it be to drive this truck into Rupp Arena for Big Blue Madness with the giant K flag flying from it?!?! pic.twitter.com/dBrzRM0MsE

— Amy Tomlinson (@AmyTom2012) June 16, 2019
Blue got in to the Today Show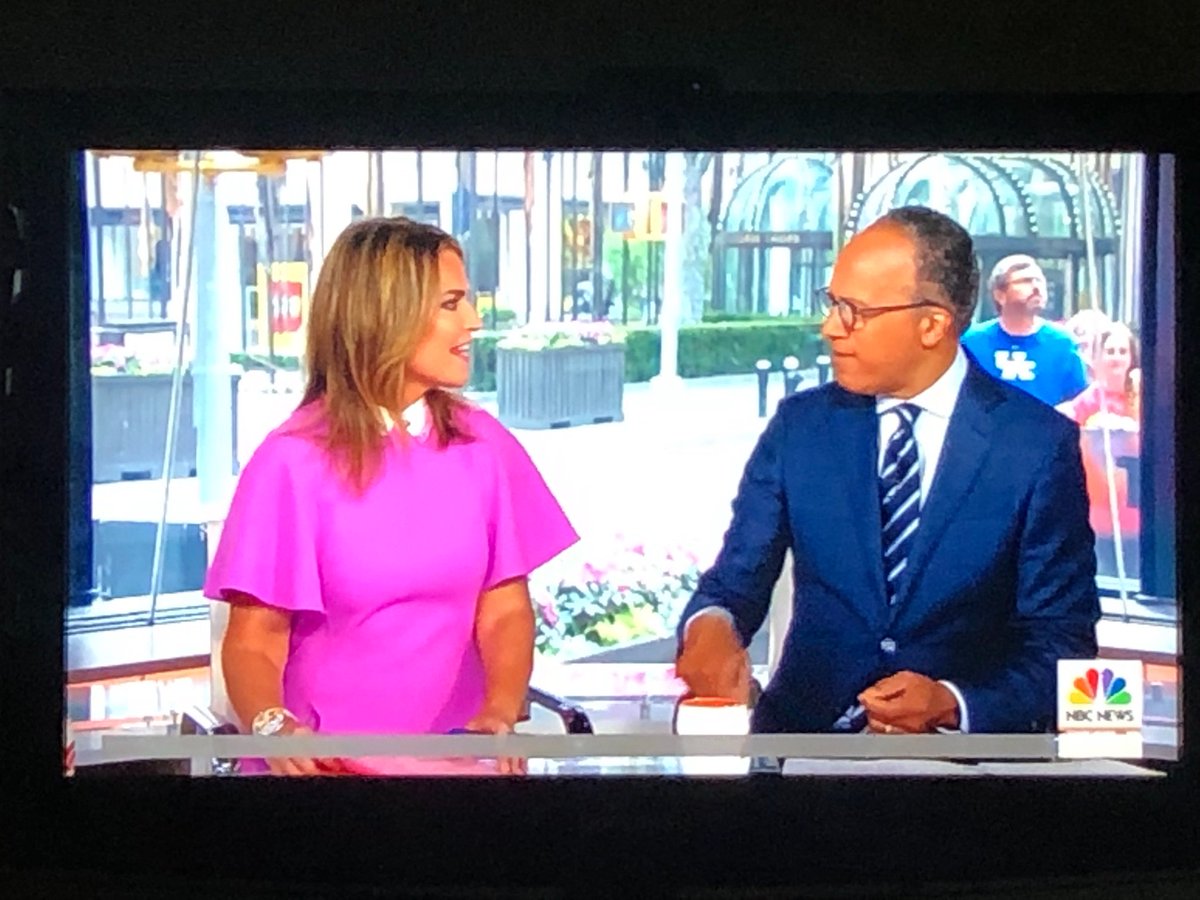 Shoutout to Jortney for sending that one in.
KSR Dogs of the Day
Say hello to Milo and Tuck, who wear their Kentucky blue on game day:
Don't forget to send us pics of your pups repping the Cats to Twitter or Facebook.
Michael Eaves makes his KSR rookie debut
The UK and WKYT alum is now a big shot at ESPN, but is kind enough to fill in for Matt today. Tune in an hour from now to hear which special guests he's bringing with him.
Not quite sure why @KySportsRadio entrusted me with his radio show tomorrow, but it will definitely be fun to talk @universityofky sports. Who knows, I might have some special guests drop by too. Talk to you Monday starting at 10amET/9amCT. #kentucky #KSR @UKJAMschool #BBN

— Michael Eaves (@michaeleaves) June 16, 2019
[mobile_ad]