Today on KSR, powered by DRAFT: Happy Friday!
A message from our friends at DRAFT…
DRAFT is the only place where you can play in daily fantasy football snake drafts for real money!
The average draft takes under five minutes, so you're in and out in no time. Just pick 5 players and cheer for them in real-time as you watch the winnings rack up.
For a limited time, our readers will receive a FREE $3 Entry with first deposit. But you have to use the promo code 'KSR'. That's right — play a real money game for free just by using the promo code 'KSR'!
Just search DRAFT in your app store or go to playdraft.com/ksr. Come play free right now with promo code 'KSR.
There's a reason DRAFT is the highest rated fantasy football app on Android and iOS. Join now and claim your free entry!
---
The Patriots lost at home to the Chiefs last night in the NFL season opener. But HOW????
Alex Smith and Kareem Hunt, that's how. Kansas City's two unlikely heroes led the Chiefs offense to 42 points on the Patriots home turf. They were great, and the Pats defense didn't do a whole lot to stop them.
Let the "end of the Brady era" talk begin!
Mark Stoops didn't have much to say after yesterday's practice, but he did say this:
"It was a good week of practice. We're excited and ready to go. I hope everybody's excited for the home opener. I know our players will be. It's good to be back home in our stadium and we're looking to improve on last week and all the areas that we felt like were not up to our standards. We play at a higher level. I think our guys really prepared very well, and we're concerned about us and how we play. Hopefully we'll go put that together this week."
He also said starting center Bunchy Stallings is "a little gimpy" and he hopes to get Lynn Bowden involved.
Two UK basketball targets taking visits this weekend.
Zion Williamson will take an unofficial visit to Clemson tomorrow, which I assume will include a stop at the Clemson-Auburn football game tomorrow night.
Also in the Carolinas: Keldon Johnson will check out NC State.
Immanuel Quickley was all set to visit Miami this weekend, but he wisely canceled that trip due to Hurricane Irma.
Country Boy is raffling off a bar made from pieces of the 2012 floor.
For only 10 American dollars, you can purchase a raffle ticket for a shot at a very cool bar to throw in your home. The bartop was made with pieces from the 2012 championship floor in New Orleans and it can be yours when I draw the winner next Friday at 6:00 pm.
Check this out: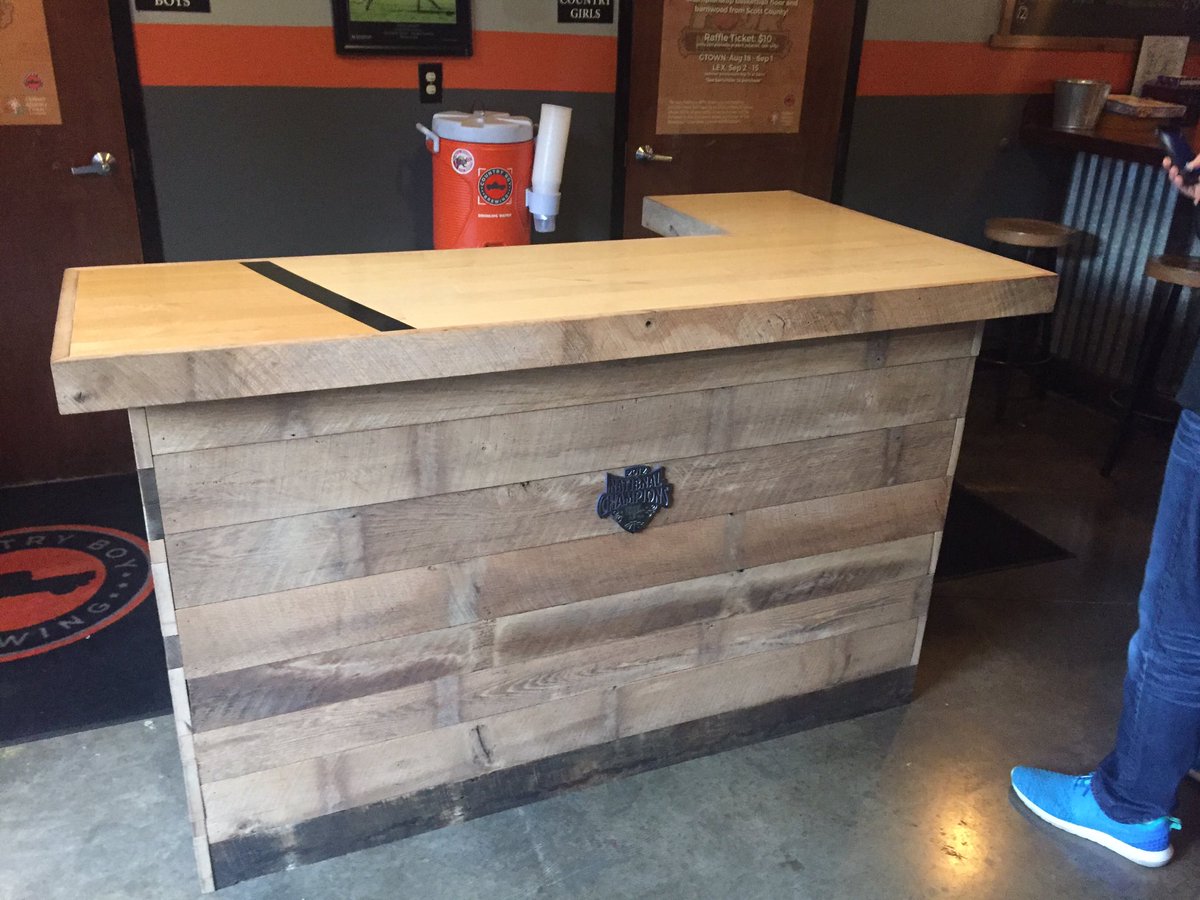 Stop by the Country Boy taproom on Chair Avenue to purchase your ticket(s). All proceeds go to the Children's Advocacy Center of the Bluegrass.
KSR is live in Harrodsburg this morning.
Get on out to Lemon's Mill Brewery to catch a two-hour live remote broadcast of today's show.
Go Cats.