Today on KSR: Misbehavin'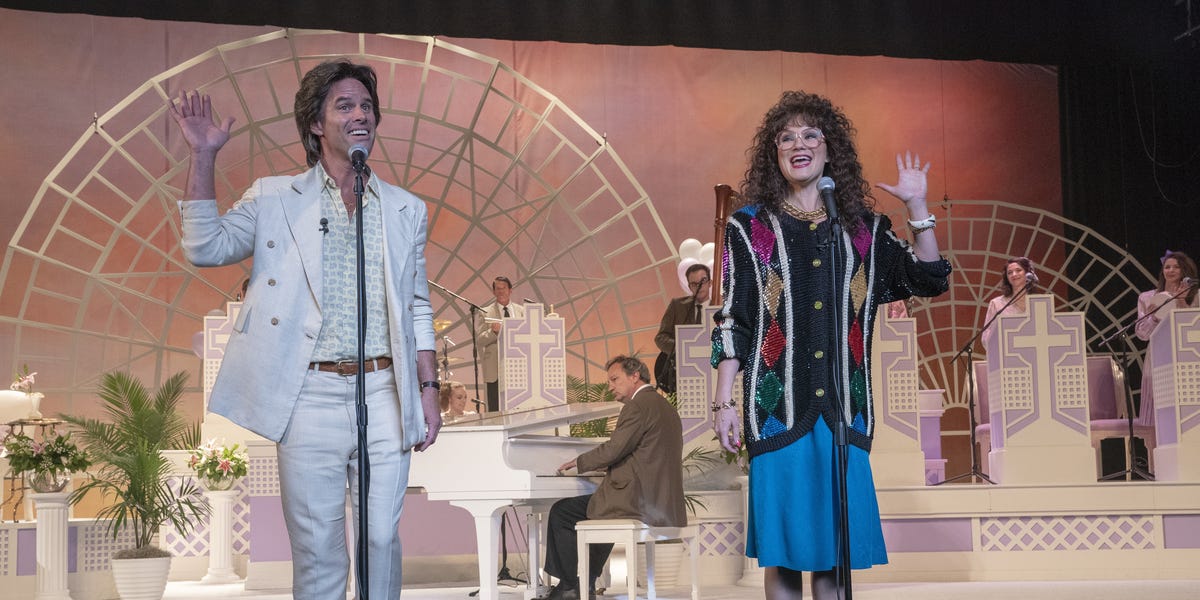 Not everyone in America has watched Danny McBride's excellent new HBO show The Righteous Gemstones. Those who have not kept up have missed out on the catchiest song ever recorded.
The HBO drama details the lives of a wealthy televangelist family, led by patriarch John Goodman, who can't keep his children (McBridge and Adam Devine) in line after the passing of his wife. One flashback episode showed how the Gemstones operated when Aimee-Leigh (Jennifer Nettles) was still alive. A former christian country music star with her brother, Baby Billy (Walton Goggins), the two were prepared to embark on a reunion tour. To sell tickets, they performed their biggest song, Misbehavin'.
Musically, the song is pleasing to the ears. Lyrically, it might be the corniest song ever created. Typing out the lyrics won't do it justice. Just listen for yourself.
Now I need to apologize for getting that song stuck in your head for the next three days. This morning you learned two lessons: Don't trust my music suggestions and never run through the house with a pickle in your mouth. You can trust me to let you know what's happening today around the Big Blue Nation.
Thursday Night Football
It all begins with AACtion at 8:00 on ESPN between ECU and a bunch of Temple tough guys. The stakes are raised 20 minutes later when the Rams, fresh off an embarrassing loss to the Bus s in a shootout, travel to CenturyLink Field to play Russell Wilson and the Seattle Seahawks. You can find all of the action on Fox, Amazon Prime and the NFL Network, but your best choice is to visit KSBar and Grille for half-priced wings and Country Boy specials. I dare you to find a better deal.
Catching up with Josh Allen
The real Josh Allen took a break from terrorizing NFL quarterbacks to hang out with KSR. We talked about his first few weeks with the Jags, how UK can put the pieces back together and he gave me some Dad advice. If you missed the interview on my radio show, it'll be on the site this afternoon.
The A Block makes its KSR Podcast Debut
This afternoon the KSR Podcast network grows by one. You've seen Hayley Harmon, Claire Crouch and Jacqueline Nie on television. Now you can hear them talk about life in Lexington and more. Make sure you are subscribed to get the show on your phone first.
It's not the only podcast coming out today. Jack Pilgrim is putting together a new edition of Sources Say and Adam Luckett and I are handing out bye week awards on 11 Personnel. For those waiting for Free Money, Matt Jones and Drew Franklin will record a fresh episode for you right after Friday's radio show.
No Football Practice Today
You can catch up with the Cats by reading Mark Stoops' comments or by seeing what Boogie Watson had to say after Tuesday's practice.
Hang out with Drew Franklin
Over the last month you've voted in Drew's Restaurant Madness. Tonight Mr. Franklin will be celebrating with the winners of UKFCU's contest, Shamrock's, from 5:00-7:00 on Patchen Drive. Come talk to Drew, grab some great food, and meet our friends at UK Federal Credit Union.
It's Been a Good Bye Week
It's never cool to brag, so I'll let Oscar Combs do it for me. Don't mind me, I'll just be over here geeking.
This is why Nick is one of the very best reporters covering UK and SEC sports. He actually "thinks" before he leaps into the chatter box.

— Oscar Combs (@wildcatnews) October 2, 2019
[mobile_ad]