Today on KSR: Marty Brennaman's Final Call
After forty-six years in the broadcast booth, today Marty Brennaman will call his final Cincinnati Reds' baseball game. The voice of the Reds since the Big Red Machine will keep things business as usual when the Brewers end their three-game series in Cincinnati this afternoon at 12:35 p.m. ET. That doesn't mean it won't be easy.
"Thursday will be the hardest day of my life," Brennaman said at a press conference earlier this week. "I'm certainly not going to prepare anything, and I'm not going to be specific about a litany of people that were important to me."
Brennaman has received salutes from all over the baseball world. The one from his Cincinnati predecessor, Al Michaels, especially hits the sweet spot.
How could Cincinnati do better than Al Michaels to Marty Brennaman. pic.twitter.com/S306nPUafV

— Cris Collinsworth (@CollinsworthPFF) September 26, 2019
The Reds have a few postgame festivities prepared to send off their Hall of Fame broadcaster. Fans who want to be there for the game can still hear Brenneman's last call. The first 20,000 fans at Great American Ballpark will receive a Reds transistor radio to listen to the legend's final sign-off.
Meanwhile, there's quite a lot happening 80 miles south in Lexington, Ky.
Big Blue Madness Campout Continues
It's a little toasty outside of Memorial Coliseum, but the show must go on. Tonight they'll broadcast Tent City Live on the UK Sports Network from 6-7 at UKAthletics.com and over the air at 630-WLAP.
Mark Stoops Speaks One More Time
On the opposite side of campus, the Kentucky football team will conduct a walk through at the Joe Craft Football Training Facility. Once it concludes, Mark Stoops will speak with the media one final time before the Cats depart for Columbia, South Carolina.
THREE New Podcasts
If you already enjoyed the fantastic new Free Money and KSR Football Podcasts, we have a few more podcasts that will please your ears. A new Sources Say Podcast breaks down the latest in Kentucky basketball recruiting after Devin Askew made some significant moves. This morning Aaron Torres has a conversation with Mark Stoops' famous brother, future Hall of Famer Bob Stoops. You can also hear a fantastic preview of the Cats and the Cocks on 11 Personnel. If that's not enough, there's something new coming to the KSR network next week that I know you will enjoy.
Thursday Night Football Begins on Fox
After NFL Network took the program hostage, it returns to broadcast TV on Fox and online with Amazon Prime. The NFL is treating us to a matchup between a pair of good football teams. The best place to watch the action is at KSBar where you can eat half-priced wings and drink delicious Country Boy beers at a steep discount.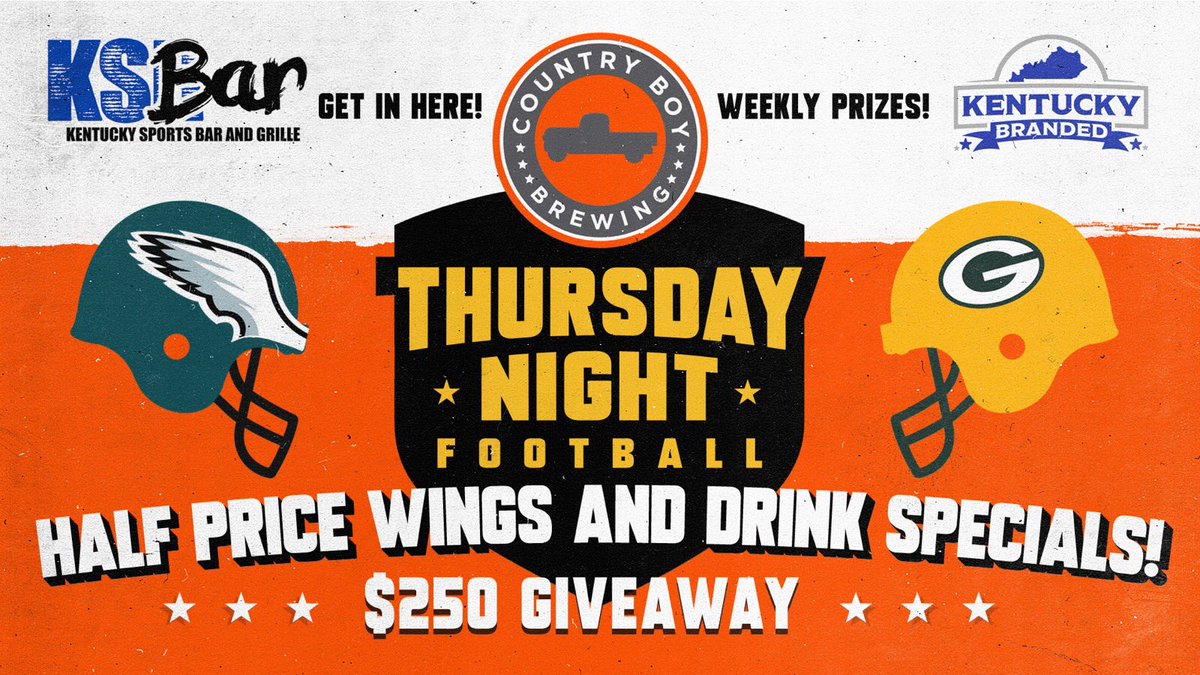 One Final Evening of Racing
If you'd prefer to pregame with some ponies, there's one final opportunity to enjoy $1 beers at Churchill Downs before the thoroughbreds depart the race track for a month at Keeneland Racecourse. If you can't make the races between 5-8:30, night racing will shut down the track for the month this Saturday night.
Shannon the Dude Radio
Matt Jones is out. Shannon the Dude is in and he's bringing a bunch of his friends. Don't miss the STD party beginning at 10 a.m. ET.
[mobile_ad]