Today on KSR: LexTran's Gameday Shuttle is Back
A message from our sponsor:
Ride Lextran to watch the CATS! You can get to the stadium for only $1 each way on one of Lextran's football shuttles. Whether you're coming from downtown or Virginia Avenue, riding the bus is a convenient and safe way to get to and from the game. Learn more here: bit.ly/lextranfootball.
---
Stoops on the SEC Teleconference
Around lunchtime, Mark Stoops will answer questions on the SEC Coaches Teleconference. That could mean we hear his thoughts about the team's performance vs. Toledo or the upcoming game vs. Eastern Michigan. Judging by last week, it could also mean he's asked about his brother's gig in the XFL or his memories of playing college football. Check the site later on to find out.
Brad White and the defense will talk to reporters after practice
Last night, Eddie Gran got to brag about his wide receivers and Landon Young and Terry Wilson got to praise the offensive line. Tonight, Brad White and the defense will take their turns in front of the mics. Until then, here are Gran's full remarks and a reminder that you can find all of the post-practice interviews on KSR's YouTube page.
Saturday is Heroes' Day, Scout Day, and High School Band Day at Kroger Field
On Saturday, UK will honor all active and reserve members of the armed forces along with police, firefighters and first responders on Heroes' Day. One complimentary ticket will be available to each hero online through GovX (for more details, click here). It's also Scout Day and High School Band Day, which is another reminder that junior running back AJ Rose is an Eagle Scout. I'm sure we'll hear more about that as the week goes on.
Speaking of bands…
The Wildcat Marching Band named an SEC "Stud" of the Week
The band's tribute to Jared Lorenzen at halftime went viral on Saturday and drew kudos from FanBuzz's John Duffley in his breakdown of the SEC's Best and Worst Performers of Week 1.
"Sometimes, Saturday's are bigger than football," Duffley wrote.
Kentucky's band formed a 22 to honor Jared Lorenzen. pic.twitter.com/WxXPoceltS

— SEC Network (@SECNetwork) August 31, 2019
Indeed. Well done, Wildcat Marching Band.
A GoFundMe has been set up for Cullan Brown
Last week, UK sophomore men's golfer Cullan Brown was diagnosed with osteosarcoma, an extremely rare type of bone cancer. He has withdrawn from school and will begin chemotherapy this week. The news comes following a promising year for Brown. The Eddyville native was given All-SEC Freshman honors last season and in July, competed in the Barbasol Championship PGA Tour event in Lexington, in which he shot ten-under and finished in the top 50.
A GoFundMe has been set up to help Cullan and the Browns during this difficult time. To learn more and donate, please click here. #BFB
ICYMI, Kentucky vs. Utah tickets went on sale yesterday
Did you get your tickets to Kentucky vs. Utah in #BBNVegas yesterday afternoon? If not, click here for details on how you can secure your seats to the Neon Hoops Showcase, the first game in Kentucky's Vegas doubleheader. KSR is partnering with bdG Sports for the event, and we've got a lot of fun contests and promotions planned, so be sure to follow @BBNLasVegas on Twitter and check BBNVegas.com for updates.
CBS Sports Classic (Kentucky vs. Ohio State) tickets will go on sale October 11 and Champions Classic (Kentucky vs. Michigan State) tickets will go on sale September 30.
Georgia State is still trolling Tennessee
The Panthers' 38-30 upset of the Vols in Neyland is still funny, especially when you find out they rented a mobile billboard to drive around Atlanta showing the highlights. (WARNING: the Tennessee fan filming this video uses very foul language.)
Driving around Atlanta today while working and minding my own business and BOOM my day is ruined pic.twitter.com/ABchyLQiDw

— Chase Miller (@Chase_Miller5) September 3, 2019
TV Rec of the Week: The Righteous Gemstones
HBO's comedy about a televangelist family is the latest binge at the KSR South Compound. John Goodman, Danny McBride, and Adam DeVine are absolutely fantastic as the famous Gemstone family, but my favorite character may be Baby Billy, played by Walter Goggins, aka Boyd Crowder from Justified. There have only been three episodes so far, so borrow your friend's HBOGo password and get to it.
KSR Dog of the Day
Meet Bonnie, who likes to eat her treats while the Cats eat the Cards: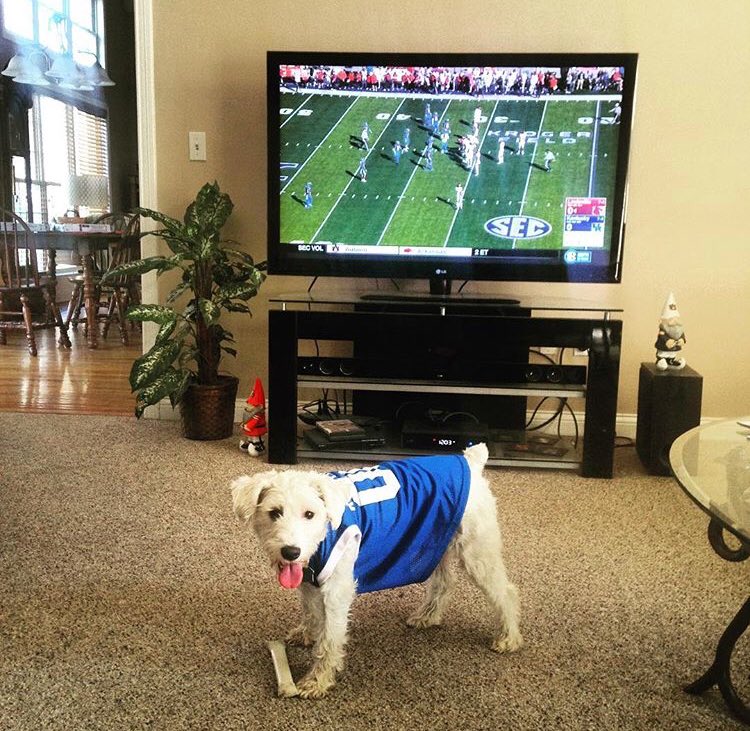 Ryan Lemond is hosting Trivia tonight
Matt's giving the mic to Ryan for Trivia Night, so study up on Hootie & the Blowfish's catalogue and Rodney's on Broadway's menu if you're headed to KSBar.
KSR is live from Meade County today
Tune in to see which mystery location they picked for today's show.