Today On KSR: It's Week 3 of Fall Camp Good morning and welcome to a new Monday. (Groan.)
Over at the UK football practice facility, it's Week 3 of fall camp as the Cats' season opener gets closer and closer. We have a ton of football content on the site from a busy weekend, so click that football tab up at the top to catch up on all you missed. There will be plenty more to come today, tomorrow and beyond until they tee it up with Central Michigan in 12 days.
Go Cats.
Will Mark Stoops pick a quarterback this week?
It's unclear if and when Stoops will name his starting quarterback before the opener, but it's almost time to make the decision behind closed doors. After Saturday's scrimmage, UK's head coach said, "I think we have to settle in and see where we're going to go… We'll zero in on that probably when we get closer to the Monday of game week."
If he's shooting for next Monday, this week will be huge for Gunnar Hoak and Terry Wilson as they each try to separate themselves in the race. If Saturday's scrimmage is any indication of how it will play out, Wilson is the current favorite considering how he shined over the weekend with his best practice to date.
Hopefully we'll know more when Eddie Gran talks to the media tomorrow.
The KSR Football Podcast returns tonight.
With the first football game less than two weeks away, it's time to debut a new season of the KSR Football Podcast. Nick Roush, Jared Lorenzen and I will record a new episode tonight with a special guest taking the fourth spot where Freddie Maggard once sat. The new episode will go online late tonight or early tomorrow morning, so get ready.
UK welcomed a new class of students to campus last night.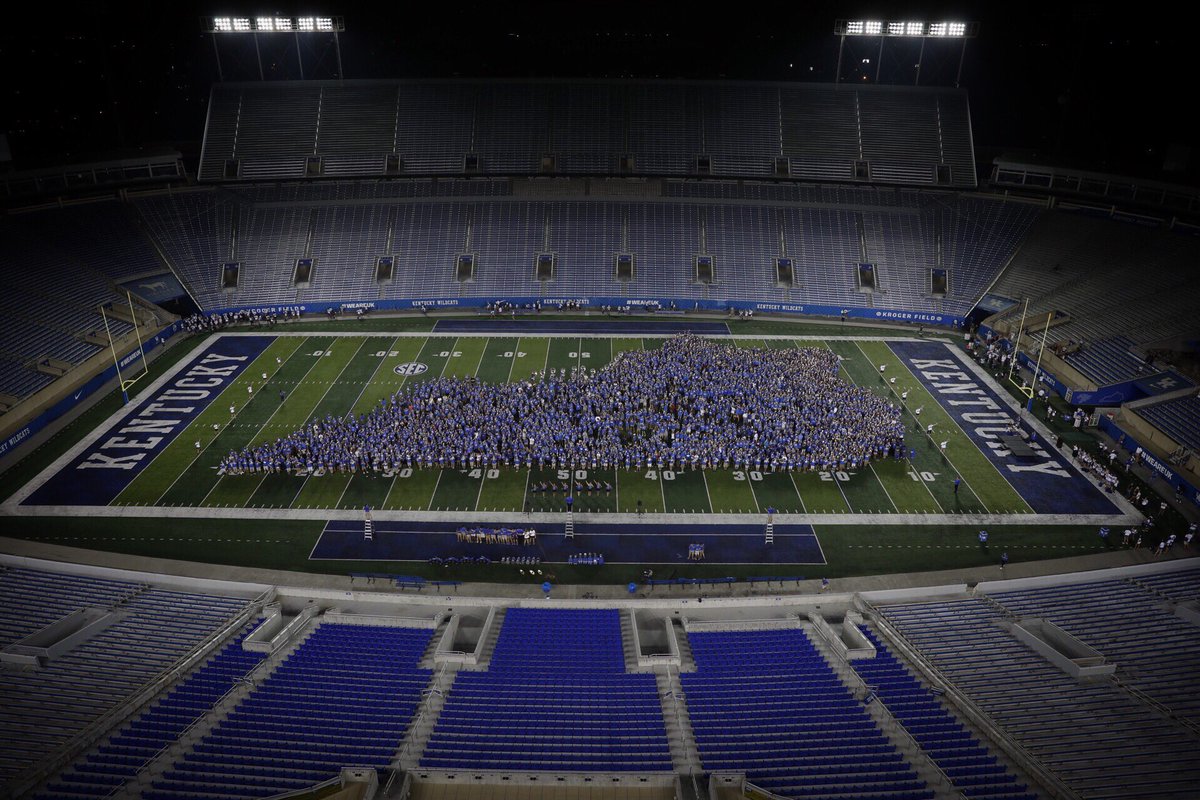 Welcome to Lexington, Class of 2022.
VIDEO: Isaiah Briscoe and Hamidou Diallo working out in New York.
The gym at Life Time Athletic at Sky in the Hell's Kitchen area of New York City has become a popular place for offseason pickup games between pros. It's where Nick Richards and Hamidou Diallo earned minor NCAA violations last summer for working out with an NBA trainer for free; it's also where those two played against the likes of LeBron James, Kevin Durant, and Carmelo Anthony, among others.
Diallo is back at Life Time Athletic this summer (within the rules this time) and he's working out with his former UK teammate, Isaiah Briscoe. Briscoe shared a clip of the action on Instagram and you can spot guys like Enes Kanter and Mo Bamba in on the fun too.
So, Zion Willamson is pretty good.
Duke wrapped up its Canadian tour on Sunday with a 45-point win over something called a McGill University. Zion Williamson was the star with 36 points, 13 rebounds, four assists, three steals and two blocks. It was quite impressive to all who watched on ESPN+.
78 days until the Champions Classic!
Speaking of that, I have no idea when Champions Classic tickets go on sale.
People continue to ask us about Champions Classic tickets and we continue to not have any idea when they'll be available. Once we do, you'll be the first to know. I promise.
New 247 Sports basketball rankings to come out this week.
The fine people behind 247 Sports basketball rankings will provide us with an update this week now that the summer basketball circuit is over. It'll be interesting to see where UK's three commits — Tyrese Maxey, Kahlil Whitney and Dontaie Allen — land on the new list.
TJ Walker will have more recruiting talk for you at noon in his Monday Insider Notes.
The radio show is back in studio.
The KSR Summer Tour has come to a close. Thanks to all who came out to see us these last couple of months. It was a grind, but it was worth it to meet so many nice people and visit so many nice communities. We'll do it again next year!