Today On KSR: Hello from Jacksonville!
Hello from sunny Jacksonville!
The Kentucky Sports Utility Vehicle touched down in Duval County late Tuesday night, just in time for the crew to check in to the hotel and go directly to bed after a 15-hour day. I won't say we are well-rested today, but we're kinda-rested and ready to provide you with unbeatable web, radio, television and social media coverage from the first day of NCAA Tournament events at VyStar Veterans Memorial Arena.
Here is what's on tap for the day…
Kentucky will hold its open practice at 3:25 p.m.
If you're in the Jacksonville area, whether it be as a permanent Floridian or someone in town early for the games, get on over to the arena to catch 40 minutes of open practice from the Cats. And if you're interested in scouting Kentucky's opponents, Abilene Chrisitan goes at 11:45 a.m., Wofford is immediately after Kentucky at 4:10 p.m., and Seton Hall goes last at 5:40 p.m.
Coach Cal and the players' pre-tournament press conferences begin at 2:45 p.m.
The players are up for questioning first, beginning at 2:45 pm here in Jacksonville. John Calipari will take over at the podium at 3:00 p.m. The whole thing will be streamed live and we will carry it for you here on Kentucky-Sports-Radio-dot-com so you can follow along like you're there.
I suspect one of the first things out of Calipari's mouth will be an update on the status of his star player, PJ Washington. Log on to KSR or turn on notifications on the KSR app to find out what that update is.
So what's up with PJ Washington anyway?
The rumor mill sent Big Blue Nation into a panic as whispers circulated the interwebs and group chats around the Bluegrass about a possible significant foot injury to Kentucky's All-American. Jeff Drummond of Cats Illustrated was the first to actually report anything once he got UK to confirm that Washington was indeed hobbling around campus in a walking boot. "A precautionary reason," Drummond was told.
There is no sense in overreacting at this time because we will soon know the truth once Calipari addresses the media from Jacksonville. I will say, though — Cal sure seemed confident in his many interviews on Sunday and Monday, not like someone would if they had just learned some damaging news. Washington has been in the boot since the team got back from Nashville, so unless Cal buried his concerns behind his smile and swagger, he did not seem too worried. My very uneducated guess is Washington may sit out Thursday to recover from whatever is bothering him and then he will play Saturday. Again, that is a complete guess, so don't read it as anything more. If the injury is anything beyond that, then we can set our heads on fire.
Hang in there until 3:00 pm.
Have you entered KSR's Bracket Challenge yet?
If not, click here to get going. You have until noon tomorrow.
Win $250 from the Action Network!
KSR's Wednesday Pick 'Em Contest is now live. Click here to make your picks and you could win $250. It takes like one minute to fill out.
Get to KSBar and Grille to make your tournament picks for the first two rounds.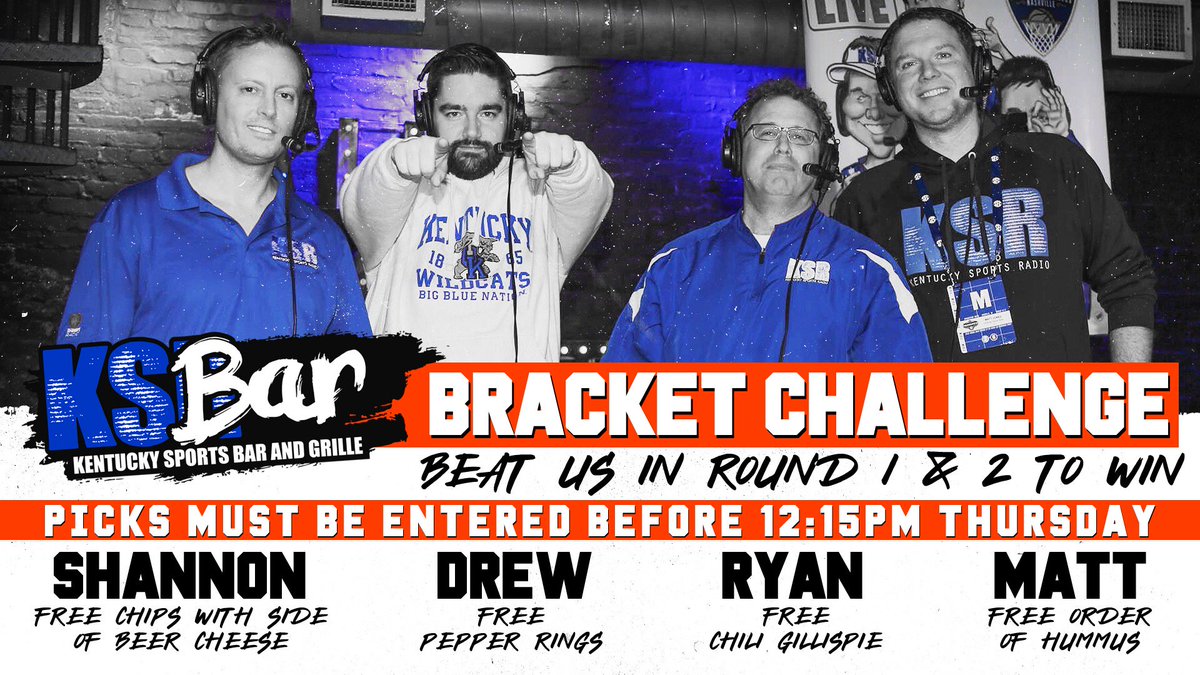 Stop by the best sports bar in Lexington to get your picks in before 12:15 pm tomorrow afternoon to participate in the KSBar Bracket Challenge. If you can beat KSBar's "experts" (we use that word lightly in this case) you win the following:
Beat Shannon The Dude, win free beer cheese and chips.
Beat me, win free fried banana pepper rings.
Beat Ryan Lemond, win free Chili Gillispie.
Beat Matt Jones, win free hummus and chips.
Beat all four and that's four free appetizers. What a deal!
Game of Thrones Trivia tonight at KSBar and Grille.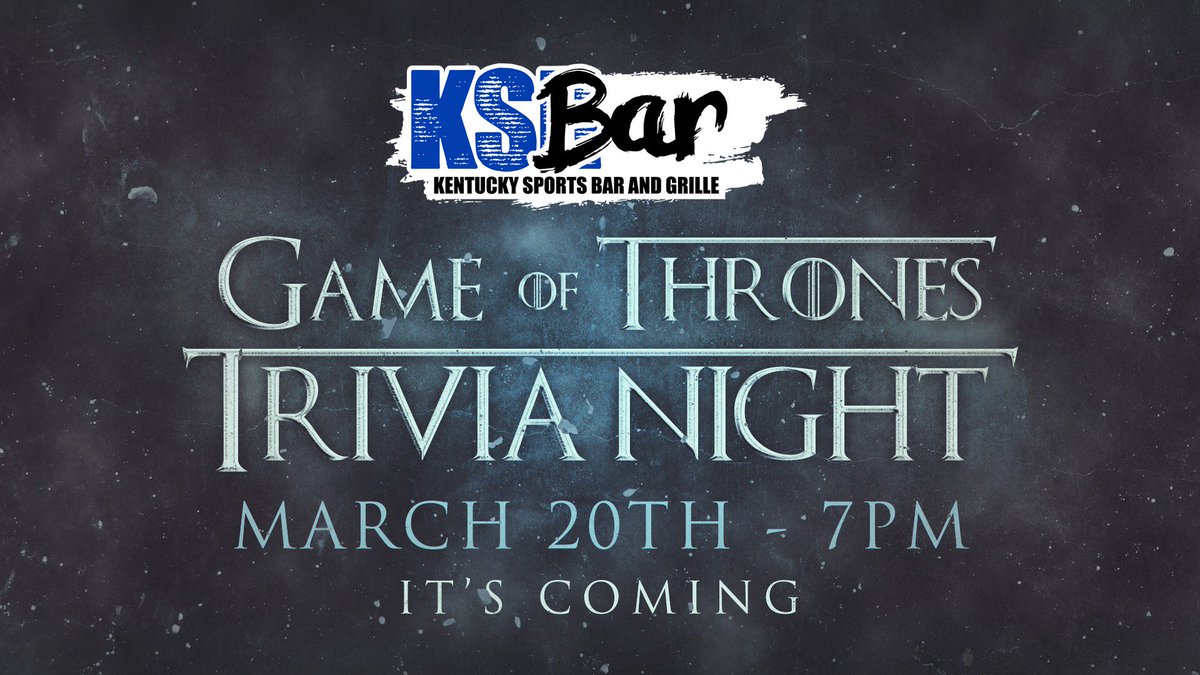 To my fellow Game of Thrones fans out there, get to KSBar tonight for a special Game of Thrones-themed trivia night. I'm pretty jealous I can't be there; then again, I am at the NCAA Tournament so I can't complain.
Today's March Madness TV schedule:
NCAA Tournament First Four:
6:40 p.m. ET | (16) NC Central vs. (16) North Dakota State | truTV
9:10 p.m. ET | (11) St. John's vs. (11) Arizona State | truTV
NIT Tournament
7:00 p.m. ET | (6) Toledo at (3) Xavier | ESPN 3
7:00 p.m. ET | (8) Norfolk State at (1) Alabama | ESPN U
7:00 p.m. ET | (6) Harvard at (3) Georgetown | ESPN 2
7:00 p.m. ET | (6) Wichita State at (3) Furman | ESPN 3
9:00 p.m. ET | (8) Sam Houston State at (1) TCU | ESPN U
9:00 p.m. ET | (5) Butler at (4) Nebraska | ESPN 2
CBI and CIT Tournaments
Do you really care?
KSR radio in an hour. Tune in!